Quartz watch: Different Parts
Quartz watches, also known as electronic or battery-powered watches, are the most popular watch types worldwide for their accuracy and low-maintenance. Although they get a bad rep amongst watch wearers who prefer the prestige of vintage-style mechanical watches, quartz watches have superior accuracy.
Let's just say that if the Rabbit in Alice in Wonderland had owned a quartz watch instead of a pocket watch, he probably would never have been late!
Unfortunately for him, quartz watches were not invented until the 1960s, when the Swiss (surprise, surprise) revolutionized the watch world with a new way to power a watch with one beautiful mineral: quartz. Whereas mechanical watches occasionally must be reset to make up for the +/-4-5-second margin of error, quartz watches have stellar accuracy with a minuscule margin of +/-0.2-0.5 seconds.
Quartz watches are inexpensive to maintain since the wearer only must replace the battery every occasionally. The inexpensive maintenance is likely why they get an unfair reputation for being "cheap." But if you prefer an accurate watch that doesn't require time-consuming and expensive maintenance, a quartz is definitely your go-to timepiece!
The Process of a Quartz Watch Caliber


Quartz watches are easy to identify because the second-hand moves in a ticking motion. The workings of a quartz watch are brilliant thanks to their relative simplicity:
1) The watch gets the initial power from a battery.
2) The electric current from the battery zaps the quartz with energy, which causes the quartz to oscillate rapidly at a rate of 32, 768 Hz per second.
3) The vibrating quartz sends electrical pulses to the stepping motor, which acts as a converter.
4) The energy from the stepping motor powers the dial train.
5) The dial train regulates the energy and caliber (movement) of the watch hands.
6) Et voila! Look at the time!
Components of a Quartz Watch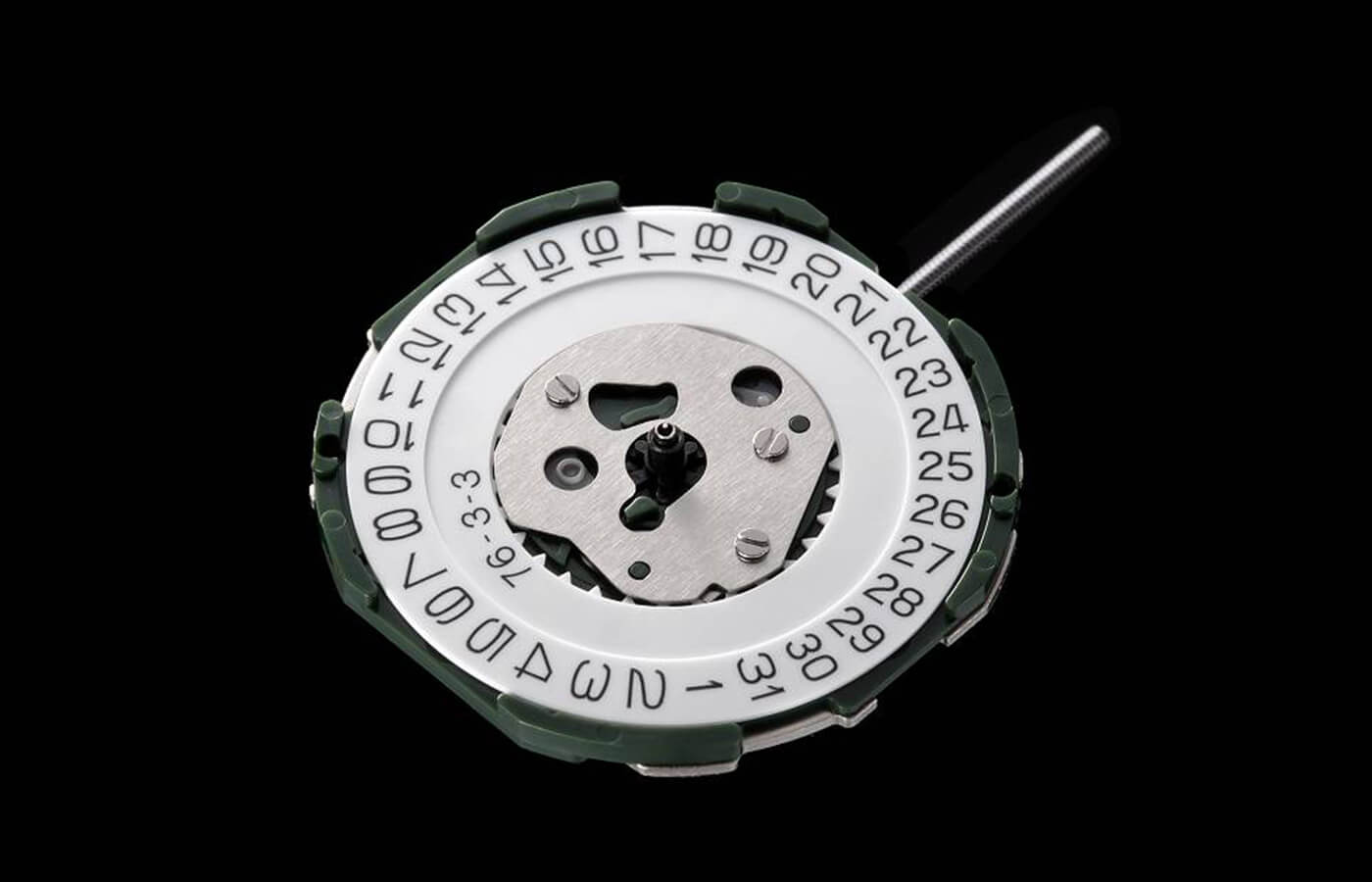 Fortunately, for wearers of quartz watches, the only part the wearer needs to be concerned with replacing is the battery; however, the other components are essential to the caliber of the watch, with every part working together in a beautiful choreography of synchronicity and efficiency!
Battery—The power source of the watch; depending on the quality of the battery, the watch wearer won't have to replace the battery for 1-5 years.
Integrated Circuit—Carries the electrical charge between the various components.
Quartz Crystal—A crystal inside the watch that vibrates from the electricity of the battery and generates voltage.
Stepping Motor—Converts the electrical pulses from the quartz vibrations into mechanical power.
Dial/Gear Train—A series of gears that regulates energy from the stepping motor to make the hands of the watch move.
Our Quartz Men's Watches