Best Black Friday Watches 2021
OUR BLACK FRIDAY CAMPAIGN IS NOW LIVE!
25% of ALL watches. Limited stock!
It's that time of the year again - Black Friday - and boy, do we have some great deals on Black Friday watches for you.
We don't usually do discounts or great deals on watches - mainly because our prices are already fair and you get a quality timepiece for your bucks - but here's your chance.
We just want to start off by listing a few perks, all of which are included in our Best Black Friday list. This is something we don't ever budge on, so count on these perks being included:
Great perks on Black Friday Watches:
10-Year Warranty (Yup - it's true. 10 years)

60-Days Free Returns & Exchanges

Free shipping worldwide

Beautiful watch box included with every watch

25% discount on all watches!
So by now - you've probably realized that we do already have very generous benefits with your Black Friday watch deal. Not only do we focus on great quality and design, we care about you and want to make the entire process as easy and smooth as possible.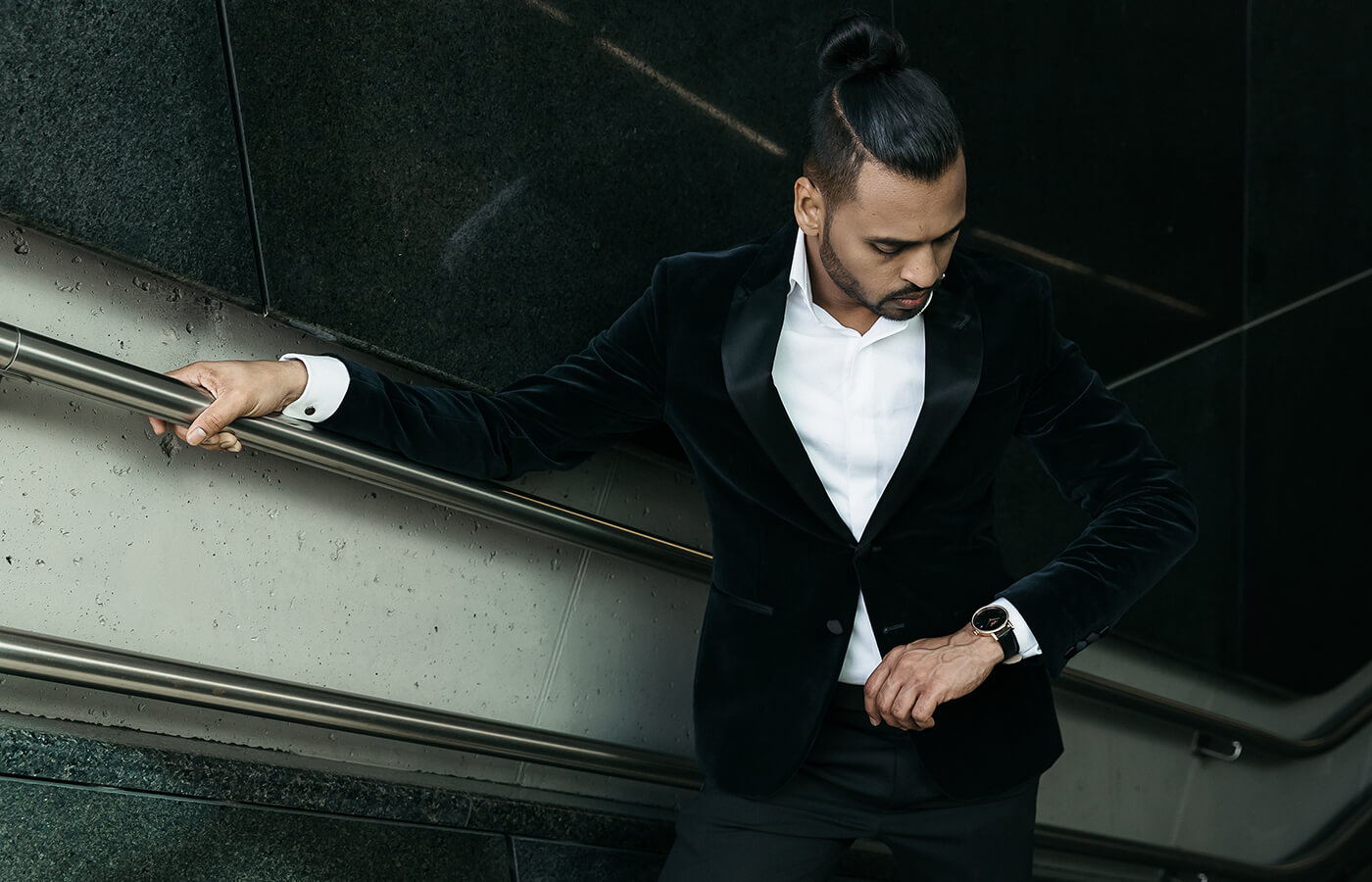 Black Friday Watches - #1 investment?
If you ask us, watches are the best thing to get for Black Friday 2021. It's a long investment that you can enjoy and use for many years to come, and to actually hold its value. Since we have a very generous warranty, if the watch breaks before 2028 - we'll send you a new one, no questions asked. We're that confident.
Other than that - it's something to add to your daily outfit and will have a great impact on your overall style, which is something we value highly.
Our Collection of Watches
Heritage 1863 
with Black Leather Strap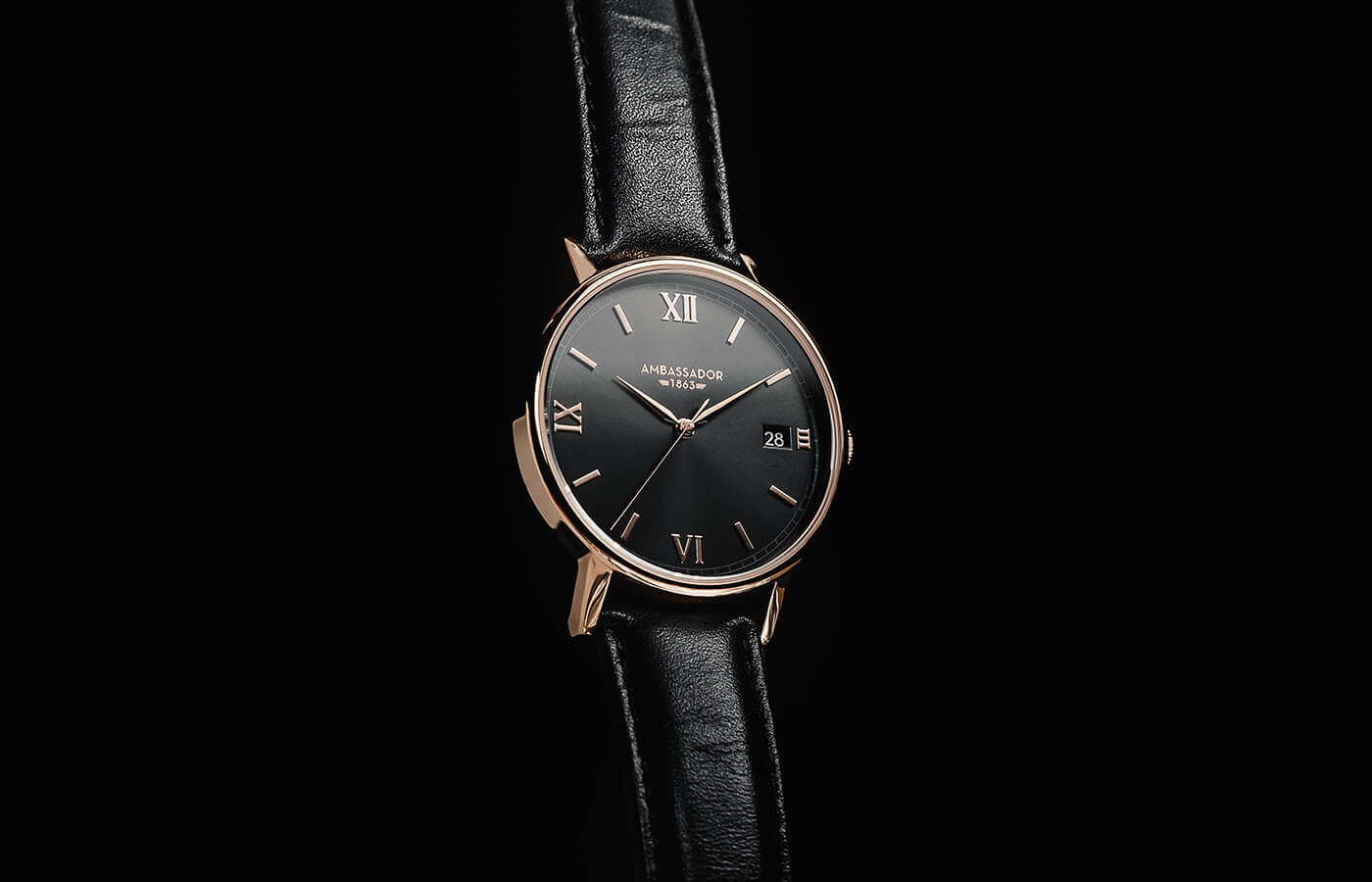 Our Heritage 1863 timepiece has a unique vintage look, with the black dial texture combined with rose gold elements, it leaves nothing behind. The black leather strap and its golden polished stainless steel case induce an authentic feel and look to it. Heritage 1863 is a well-crafted timepiece that, without a doubt pays tribute to vintage watches.
This watch is all about the classics and you can feel that from the get-go. Make no mistake, Heritage 1863 still features all the modern aspects of a premium watch, but we wanted to inject a classic vintage vibe into it. We felt like there're many people who needed that in their lives and that was the best decision we ever made. Just link it up with a cool looking suit and you've got yourself an unbeatable look.
Heritage 1921 with Brown Leather Strap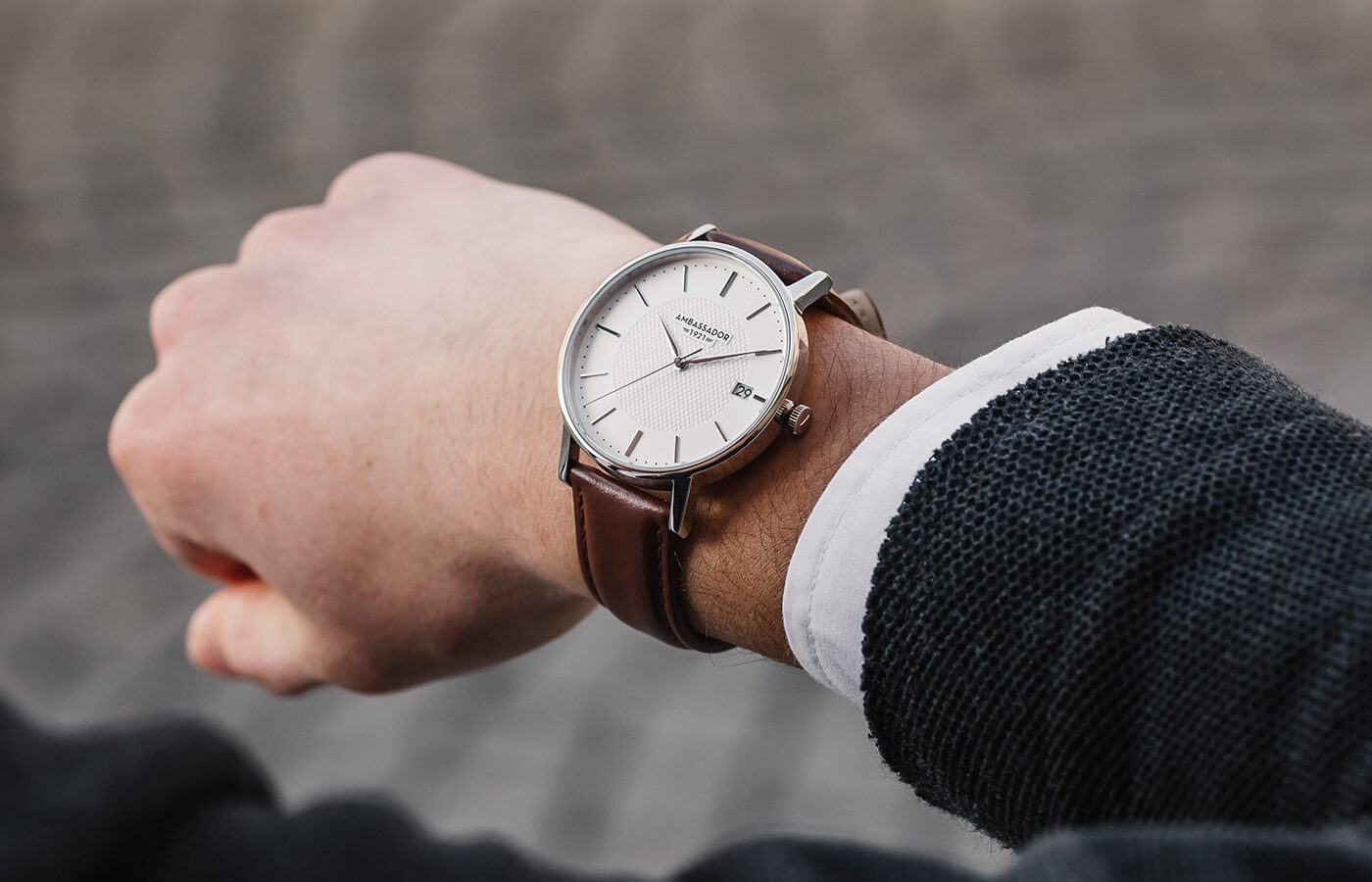 Possibly the best choice in terms of dress watches. A very neat, modern dress watch that is meant to signal luxury. The watch sits within a beautiful polished silver case, and is just 9mm thick. Inside the watch, you'll find the popular Miyota Quartz movement - a proven movement that is made to last decades to come.
The Heritage 1921 is a tribute to Paris - which is why it features a unique Clous de Paris texture on the egg-white dial. If you're looking for an elegant watch, you've found it.

Heritage 1959 with Rose-gold Mesh Strap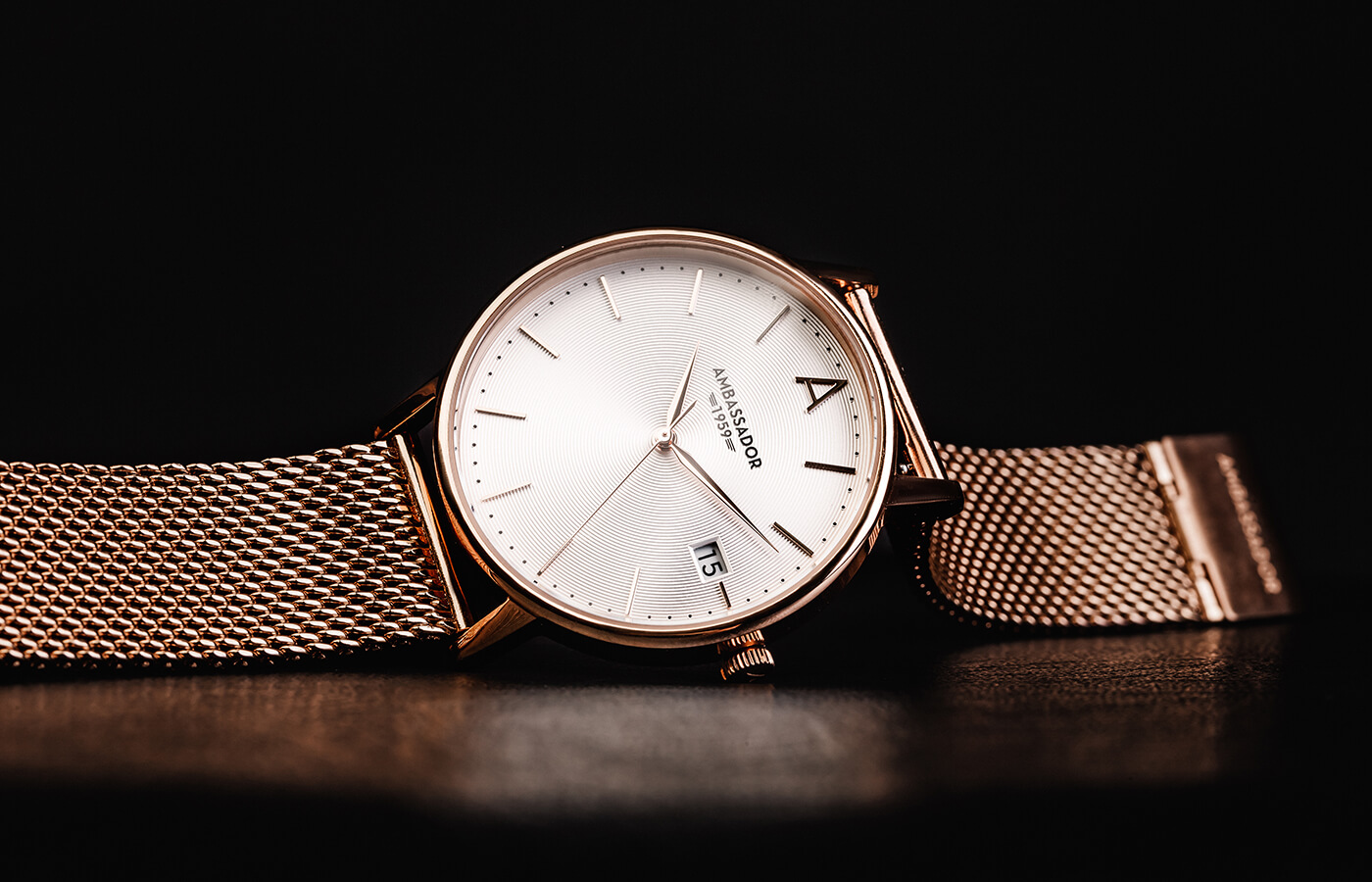 Creating an exceptional watch is no easy task. Great craftsmanship, paying close attention to the details and the mastery of classic crafts are very clear with the Heritage 1959. This watch presents an understated elegance yet very sophisticated. Its modern dial complements beautifully the gorgeous golden hands. The splendid rounded golden case and the gold mesh strap make sure this watch screams luxury. This watch shouldn't be passed by without notice, and is undoubtedly a great choice of watch for Black Friday.
Heritage 1921 with Silver Mesh Strap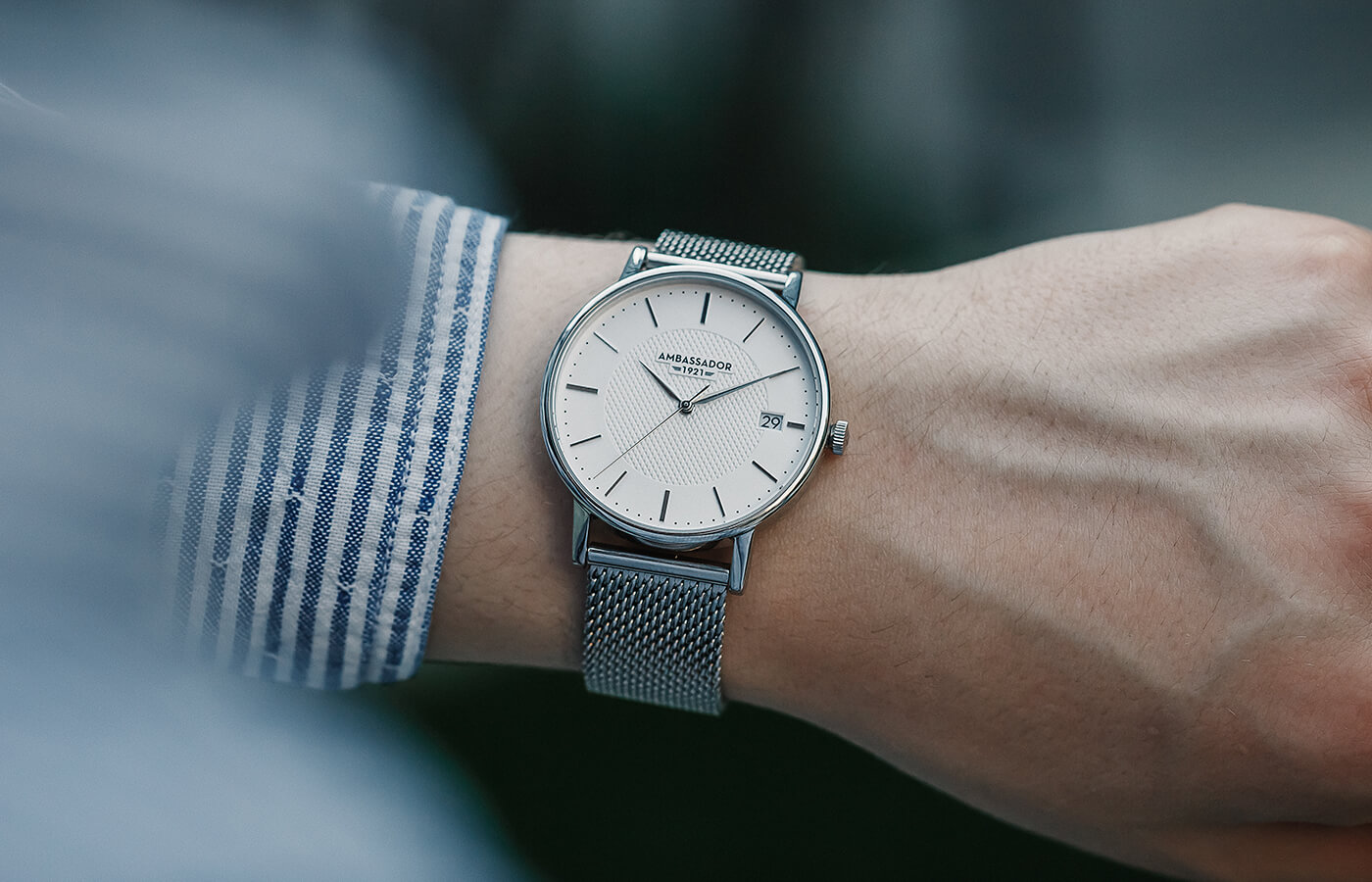 Inspired by the early 19th-century, this timepiece is made to express elegance and style. This watch features a fancy thin stainless-steel case, creating a very sleek look on your wrist. It's polished silver hands blend well with the case and dial. It has just the right amount of simplicity without sacrificing its intrigue. We've chosen to put it inside a 40mm stainless steel case, making it ideal for both men and women - with small or large wrists'.
The 30m water resistance will not be a problem unless you're willing to Jet Ski in your business suit. This model comes with an exquisite silver mesh strap adding even more grandeur to the design. Heritage 1921 raises the standards in term of quality and class. A perfect watch that suits almost any outfit.
Heritage 1863 with Rose-gold Mesh Strap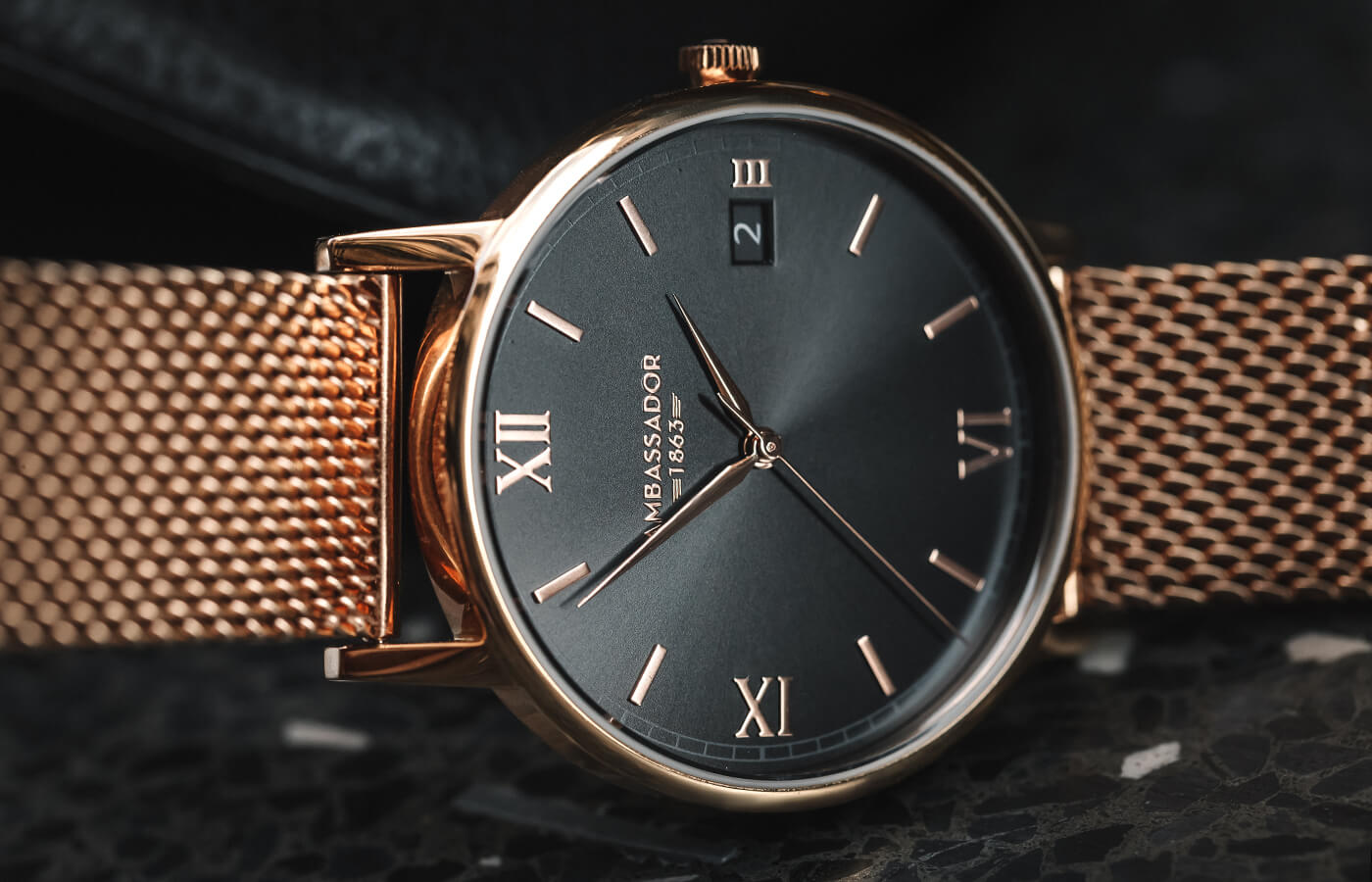 I know what you think - this watch surely is over $500? Well, no. Even though it looks extremely good, you can grab it now for under 200 bucks. In terms of design and spirit, this watch remains faithful to its predecessor from 1863. The case will silence any haters with its polished breathtaking surfaces.
Perfectly straight lines, sharp angles, and its surface are impeccable. Nothing complicated, everything is placed where it belongs, how every watch should be. What makes this piece stand out is the dial. From every perspective, this watch looks good, be it the hands, indexes or the beautiful embossed Ambassador logo.

Heritage 1959 with Black Leather Strap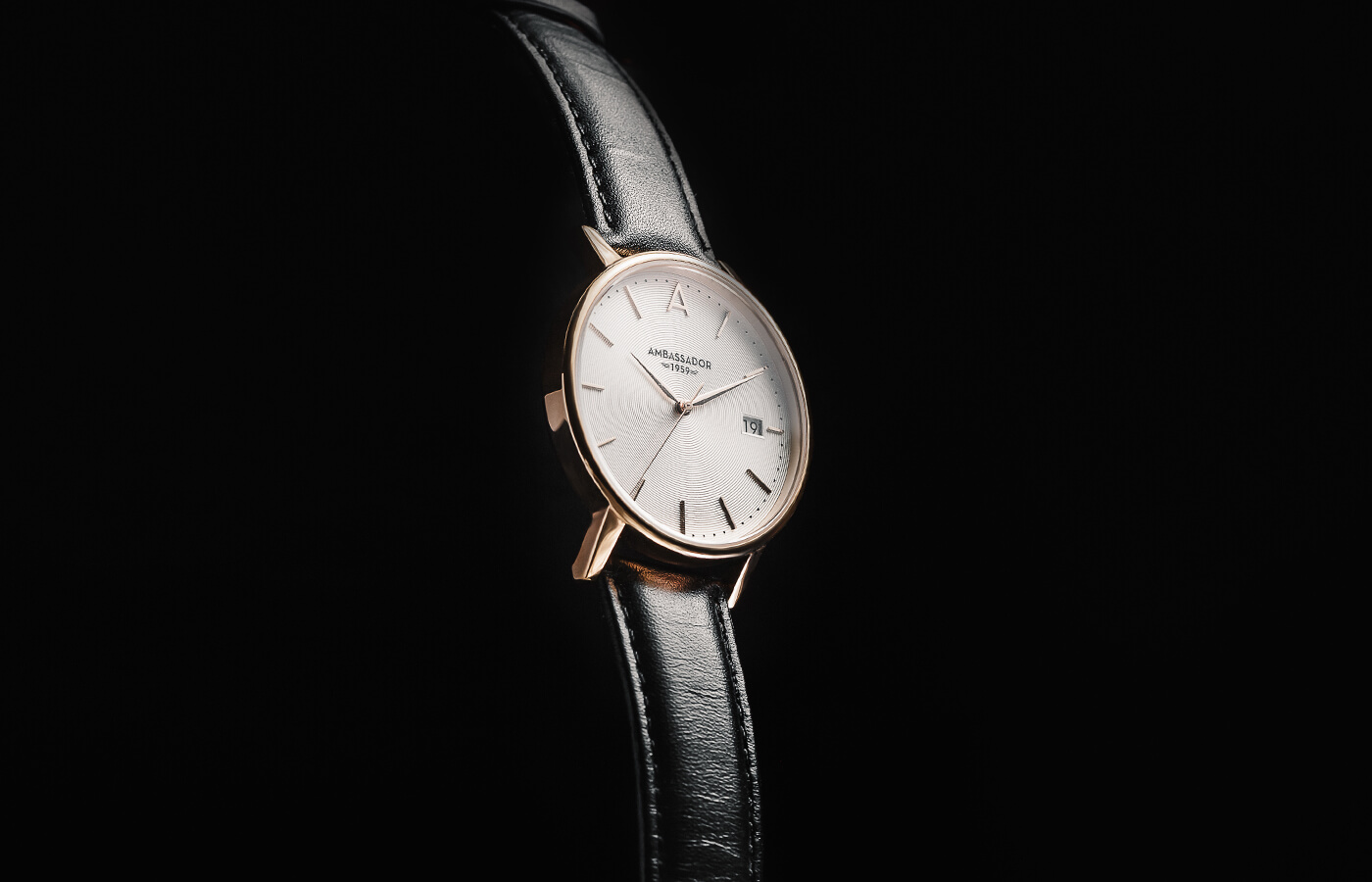 From the first glance, you can tell that Heritage 1959 is an amazing dress watch. A display of extravagant craftsmanship and time-honored attention to detail that's what defines our brand. It features a fine dial with charming swift dashes instead of numbers marking and baton hands. This piece of art requires quite some work to create its concentric circular pattern enhanced by a fine line of silver, all covered by study sapphire glass.
Not just a pretty face either. It is powered by a complex Japanese movement which depends on a crystal oscillator to generate a motion with an almost exact frequency. Which means a Japanese quartz movement is superior in terms of keeping time than a mechanical one per se. Are you that type of man who's looking for elegance and grandiosity? Then go ahead, don't waste any more time, and buy it now. You have some fantastic Black Friday watches deals and fast delivery. You won't get this opportunity for another year.

What do we offer?
Fast Delivery

To make sure you'll get your package in the fastest time possible, we are increasing our team members. During Black Friday, your desired watch will be at your door in about 72 hours! We usually ship even faster than that but considering the number of orders we'll have to deal with, I'd say it's pretty fast. Did I mention that we also offer FREE worldwide shipping?


Assured Quality

Every timepiece from our collection is built from high-quality materials.  From metals to leather we only use the best quality available. No such thing as color loss, we are coloring coating every piece multiple times.  And to prove it, we are confident enough to say that our watches will last decades. Thus the name Heritage. 


Comfort

Wondering if it's the size needed?  Stop worrying, you can adjust our watches accordingly to your needs. It'll work both with leather and mesh straps. So besides having a stunning watch that'll get all the attention, the comfort will be guaranteed too. 


Changeable Strap

Want a change of style? Our watches feature a very smart and easy to use strap changing system, which will allow you to adjust as you like in seconds. All you have to do is press the build it lever to release the strap. Watch our tutorial to see how easy it is yourself. 


Convenable Return & Exchanges Policy

Everyone should be able to return their product and get a full refund. And we make that possible, you have 60 days to return your watch and get your money back, no questions asked. If you are not entirely happy with your current watch, you can change it to a different model in our collection. Contact our 24/7 support team for the step by step process. 


Variety Of Styles

We got a broad collection of watches to suit any personality. If you want a subtle dress watch that goes well with your office outfit - we got it. If you like to grab attention at the club, yes, we got that too (psst.. Heritage 1863). Browse our vast collection and pick what you like the most!


 Value

Our goal at Ambassador Watches is to bring quality and style at affordable prices. We've managed to do that very well while beating the competition. Now it's the best time to get even a better deal! Black Friday is here and we offer 25% discount for every piece! Better to take advantage while it lasts, we usually don't offer discounts. The clock is ticking!  


Great Unboxing Experience

The unboxing experience is a very important aspect today. Other may neglect this, but we value it. We made a high-quality leather box, designed to keep your watch safe for the years to come.
---
Black Friday Sale
The Black Friday sale is only valid from November 22 to November 24. After that, the coupon code becomes expired and will not work. Make sure to be on time and to act quickly, as there's a good probability of stock running out.
The Black Friday event is unique at Ambassador as we don't regularly have sales or deals, so don't wait around for a better deal.This is it.

Black Friday Coupon Code

The code for grabbing the deal is "BLACKFRIDAY". Enter this at checkout page, and 25% will be deducted off the entire order. That's right - it doesn't just apply to one watch, so you might want to consider getting one for a loved one as well.
---
So there you have it. Our picks of the very best Black Friday watches in 2021. Yes, we might be extremely biased - but honestly - we stand by our watches to 100%. Having a Black Friday sale allows us to open up to new customers and reach a new audience - and we're super eager for you to browse our vast collection of watches and become an Ambassador.

Apart from designing great, quality watches that are meant to last for many years to come (hence the name Heritage collection), we care a great deal about you as a customer. If you're not satisfied, neither are we. That's why we want to make this entire process as simple and straightforward as possible.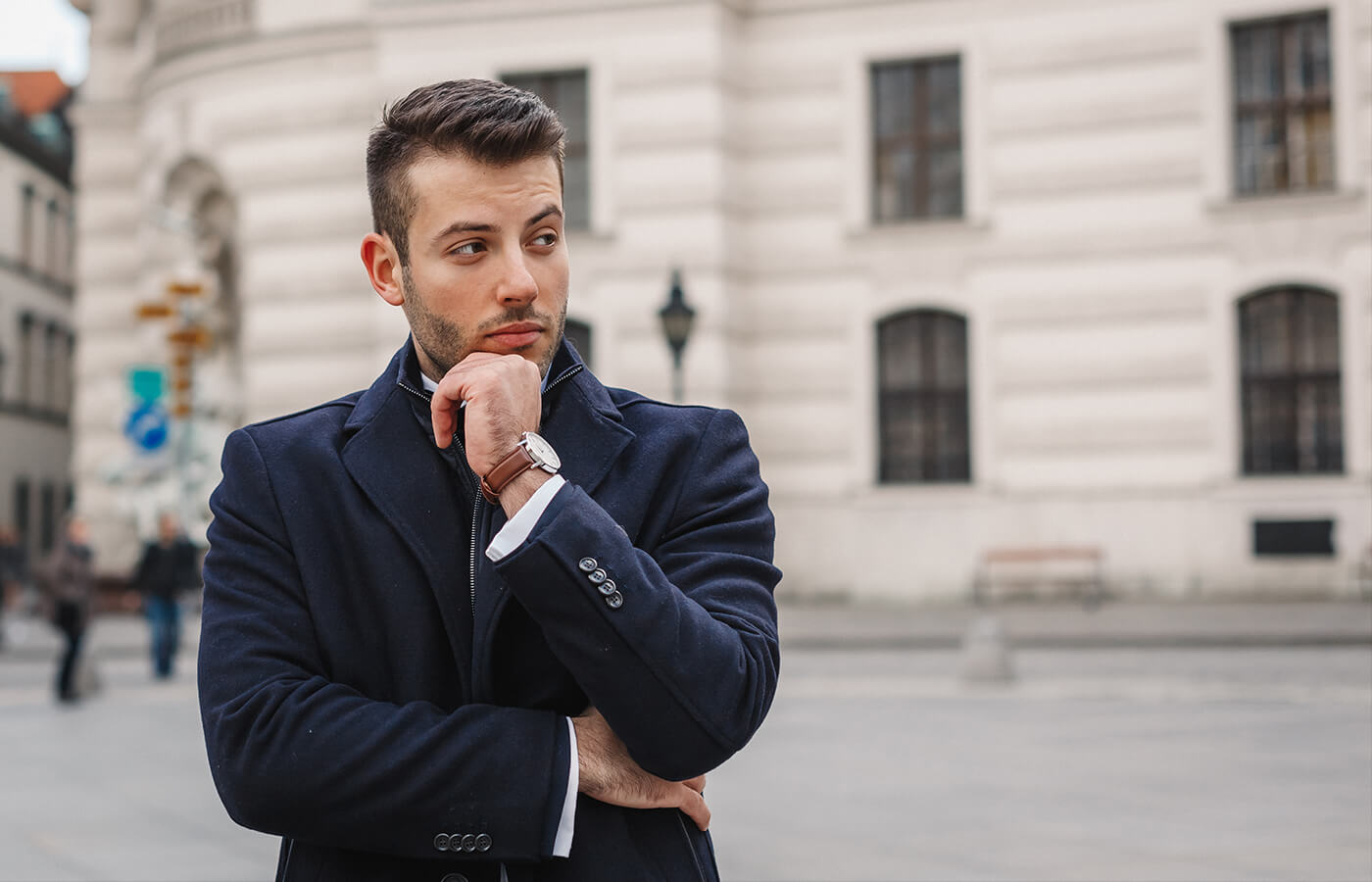 What if I change my mind after purchase?
No worries. After delivery (which takes 2-3 days), you can keep the watch for 60 days, and then return it if you don't like it. We will pay for the return shipping costs.
I'm buying as a gift. Can I exchange it for another model later?
Yes, absolutely. You can exchange to any other model - making an Ambassador watch a great gift for that special someone.

How long does shipping take?
We are increasing our staff during Black Friday, so we'll process your order within 24 hours, and will be delivered to you shortly after that. Expect 72 hours in total to reach your door.

What about warranty? Will it last?
Every order comes with a 10-year warranty card. If the watch malfunction or breaks in any way - we'll replace it, no questions asked. Don't worry for a second. The battery life expectancy is 5 years - and we even offer free battery replacement. That's good service, right?

Do you ship worldwide?
Yes, absolutely! We ship worldwide and have multiple shipping facilities spread across the world, to make shipping as fast and pain-free as possible.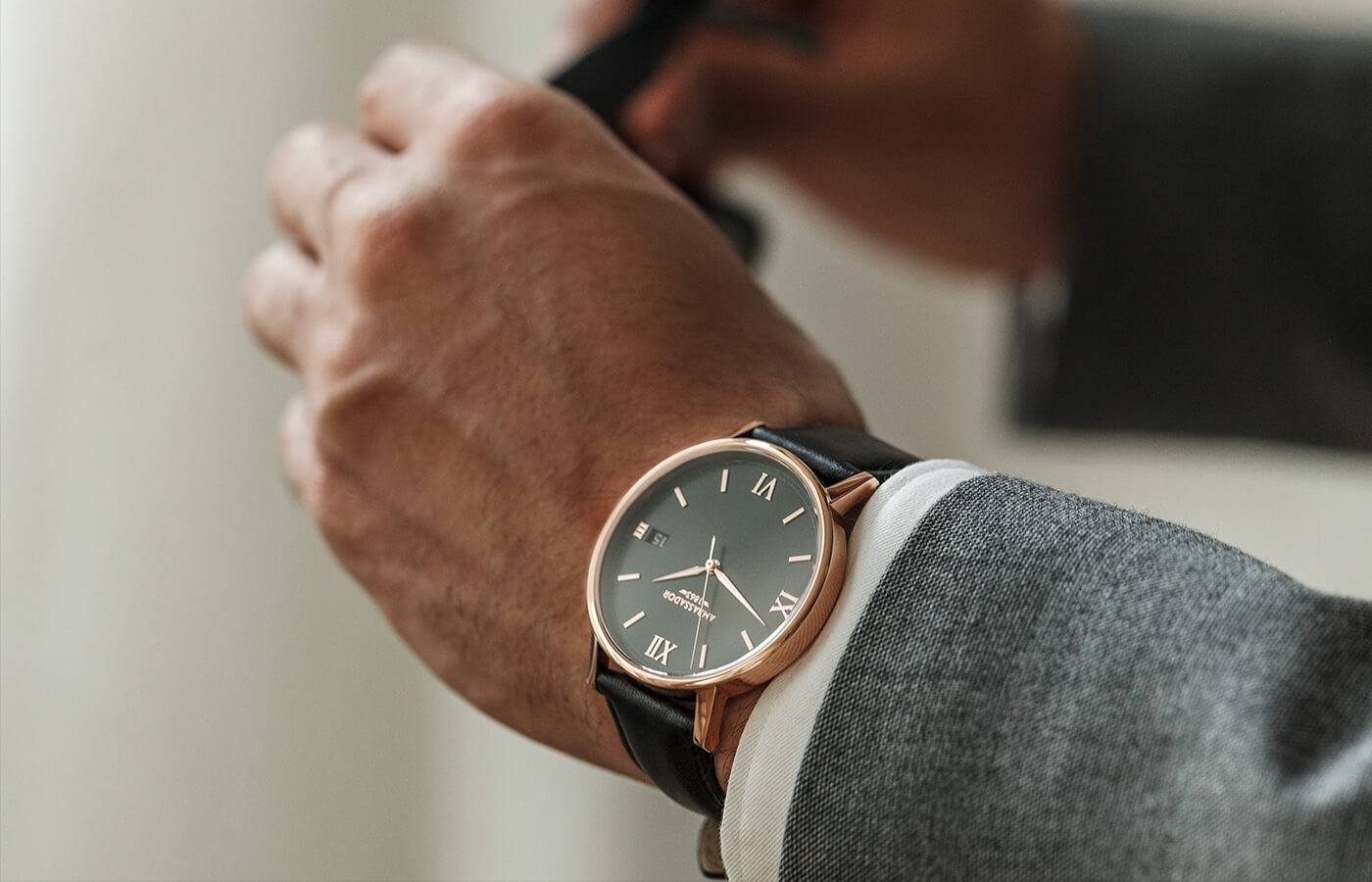 Enough reading. Now, go browse our broad collection of men's and women's watches and grab one before it's too late. If you should have any questions, don't hesitate to ask in our Live Chat or email us, we're here around the clock to answer any and all questions you may have.

See the entire collection of watches »