A watch is like your pair of shoes; it is not only a functional item to tell the time. Your wristwatch is an essential accessory that can help show your personality and style. It can also show off your status, as priced timepieces are the most coveted wrist wear. The market for wristwatches is vast, and one should have a unique feature to stand out.
There is nothing permanent about fashion; it keeps on changing with the times. Watches being a fashionable piece is no exception. You have many options when it comes to watches, and the trends are improving too. There was a season where Blue-on-Blue have gained significant attention, but nothing has dethroned the blackened watches for men. It has gained a considerable following.
Black did not just fade in the background; it just gave way to more colorful and flashy watches that few designers came out with to appeal to a certain crowd. However, black is still the hottest color when talking about classic pieces for men. Black will always be the new black.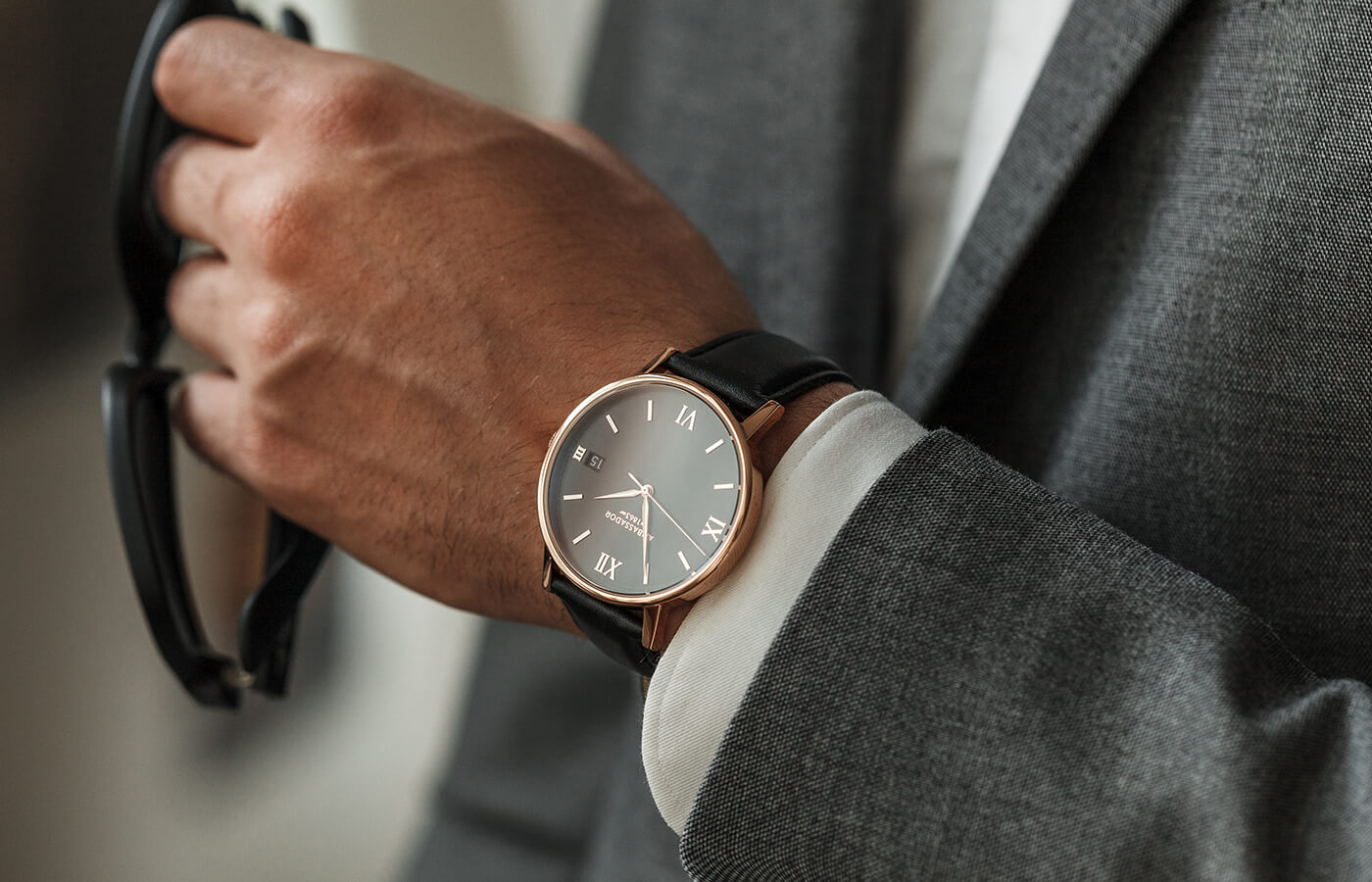 It is the only color that commands attention without being too loud or over the top.  The understated elegance it projects ask for respect. It is all about being less flashy and more about discretion. This quality is what made black the most versatile in the realm of men's fashion.
It is classic and timeless, a color that will never go out of style. Wearing black commands respect and authority. It is discreet with the masculine feel. A watch with a tinge of black can fit with anything. Many male fashionistas are embracing all black everything as their credo because you cannot go wrong with black. It can be both formal and rock'n'roll.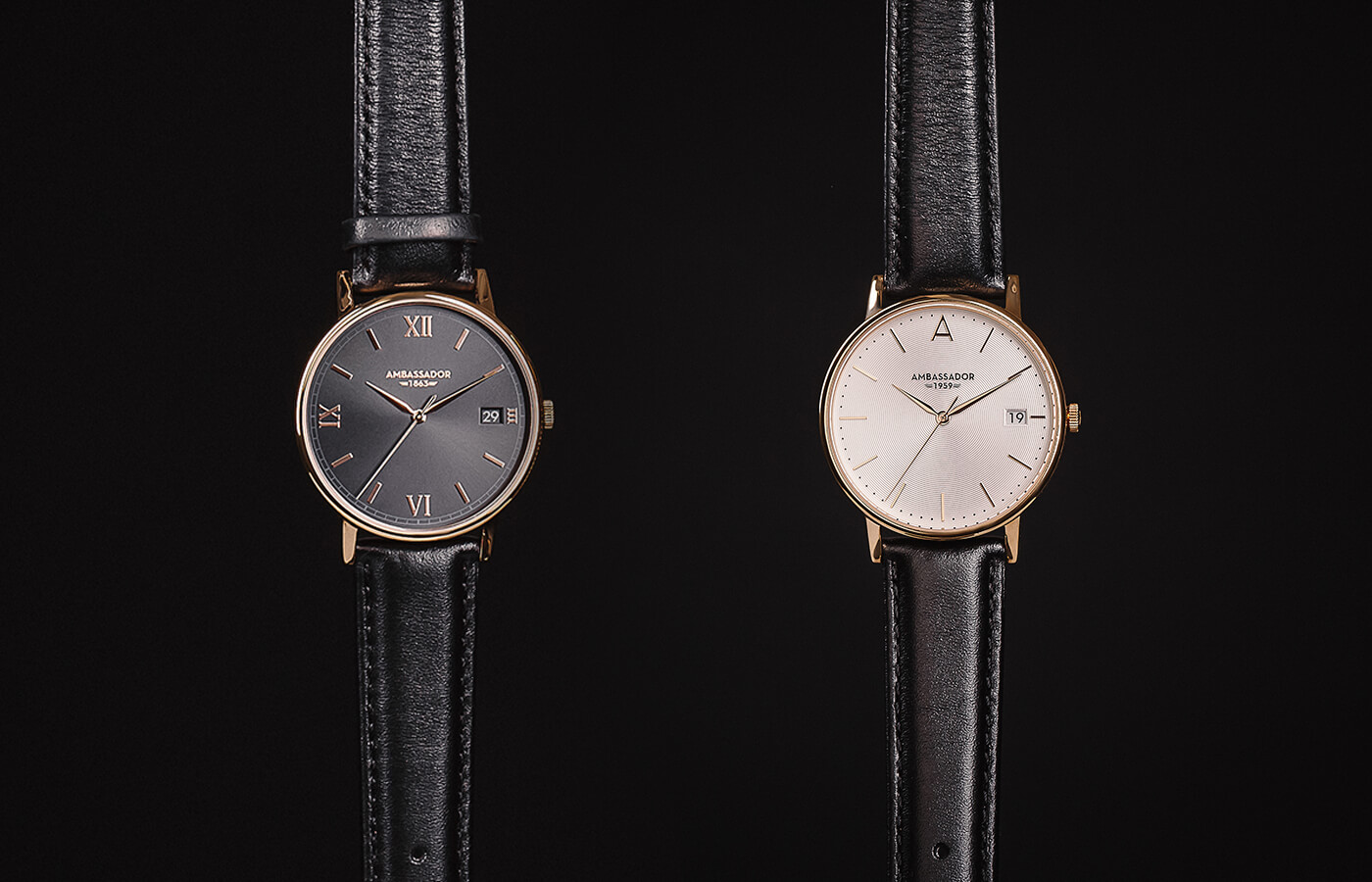 Sleek Black Watches for Under $200
To start your all-black fashion, you need to find the best all-black watch, and the rest will follow. Choosing a black watch can be daunting with all watch brands offering some form of their version. These timepieces covered the whole spectrum of wristwatch's price point from $100 to thousands of dollars. This is where we have come to help. Whether your style icon is Johnny Cash or Jay Z, we will help you decide with this compiled list of best black watches for men.
If you are looking for cool black watches for men, you can get them from any brand the only limit will be the thickness of your wallet. Instead of setting your sight on the usual suspects, why not look into micro brands. They offer affordable choices that do not hurt your budget.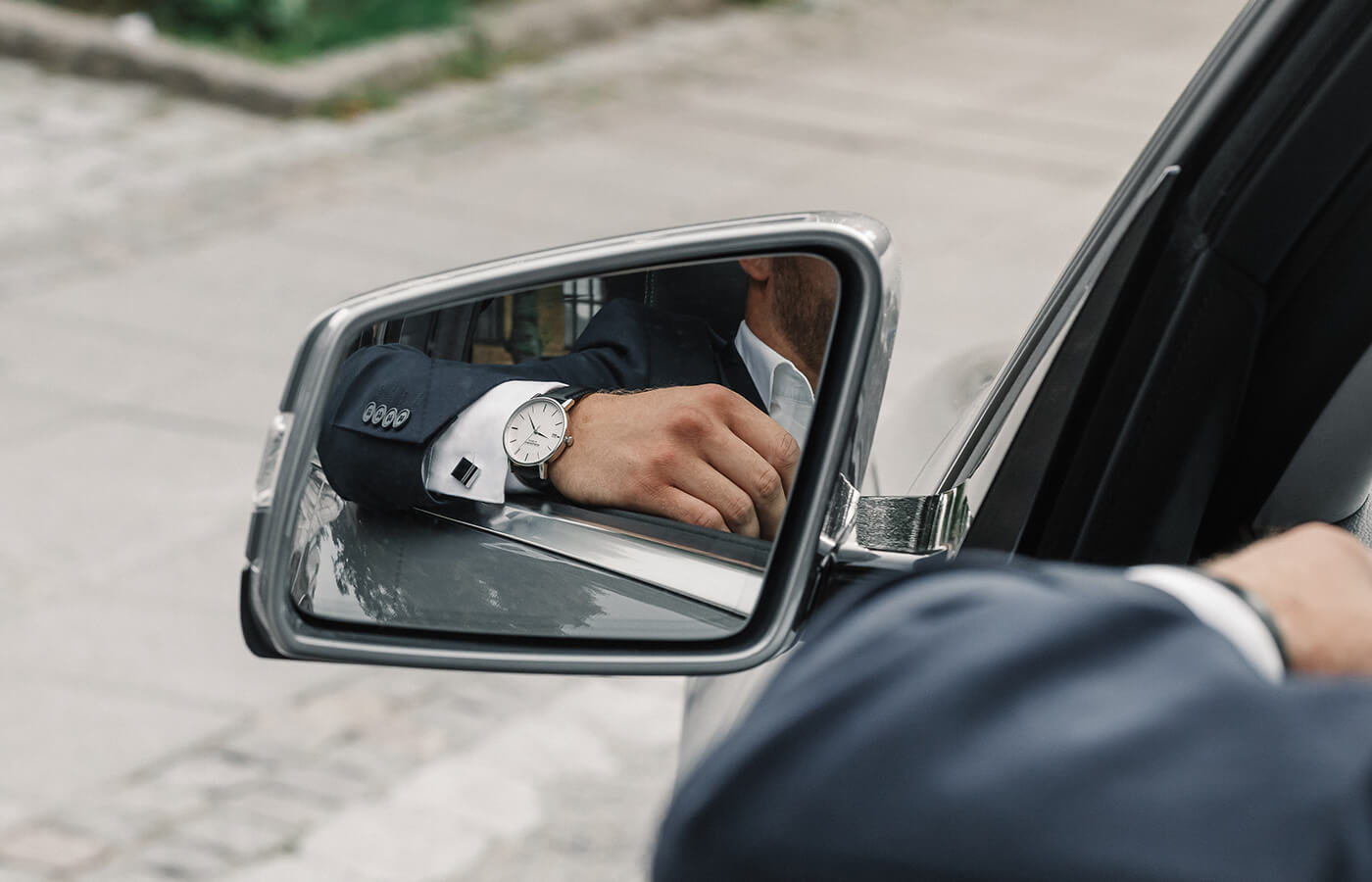 The good news is you do not have to plan a heist to afford an all-black chic. You can have a versatile black timepiece for under $200. Yes, you have read it right. There is only one brand that will let you fly, and that is, Ambassador Watches.
Let us look at the timepieces that will help you channel your inner menace and look good while wearing it. 
Our Cool Black Watch for Men:
Buying a sleek and sharp a black and gold watch does not have to be an expensive endeavor. Ambassador watch is out to prove that with its Heritage 1863 with a black strap. To put it succinctly, it is an easily wearable and affordable timepiece. Moreover, the refined and elegant nature of this watch adds to the brand appeal.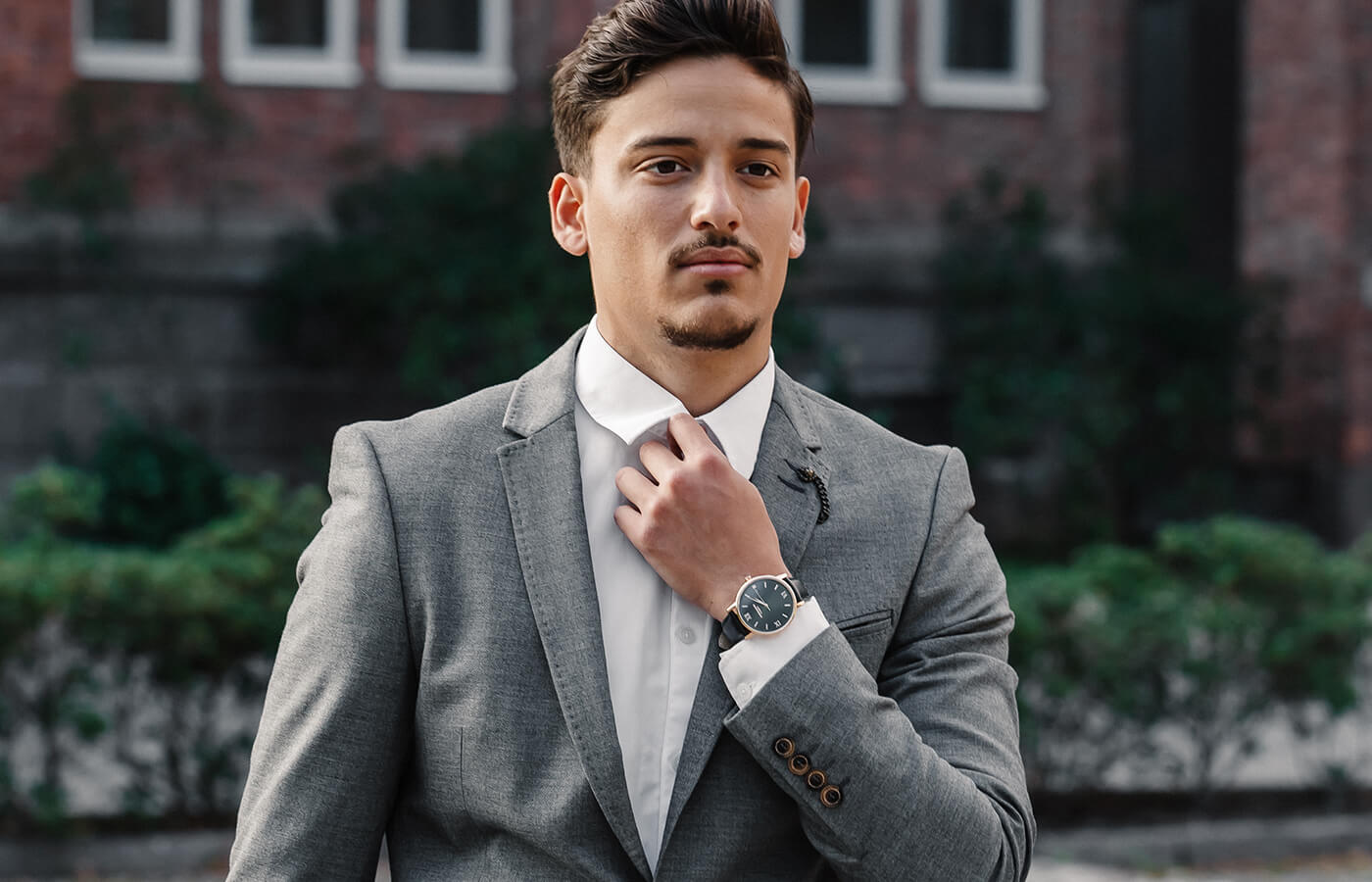 The handsome black dial and the black strap accentuated with the gold case is just perfect for a crisp white shirt and slim pants. This men's gold black watch exudes undeniable confidence and matches a man who is sure of himself. The Sunray dial with gold baton hands and Roman numerals in gold break the all-black monotony. This gold and black theme echoes luxury without saying too much. 
This timepiece is inspired by the pocket watches from the 1800s as evident in the Roman numeral marking, the elongated hands and the classic crown. To juxtapose the traditional circular look of the pocket watch the case and the crystal of this watch is made to look more box-like and crisp. The lugs are longer to transition from the pocket watch completely.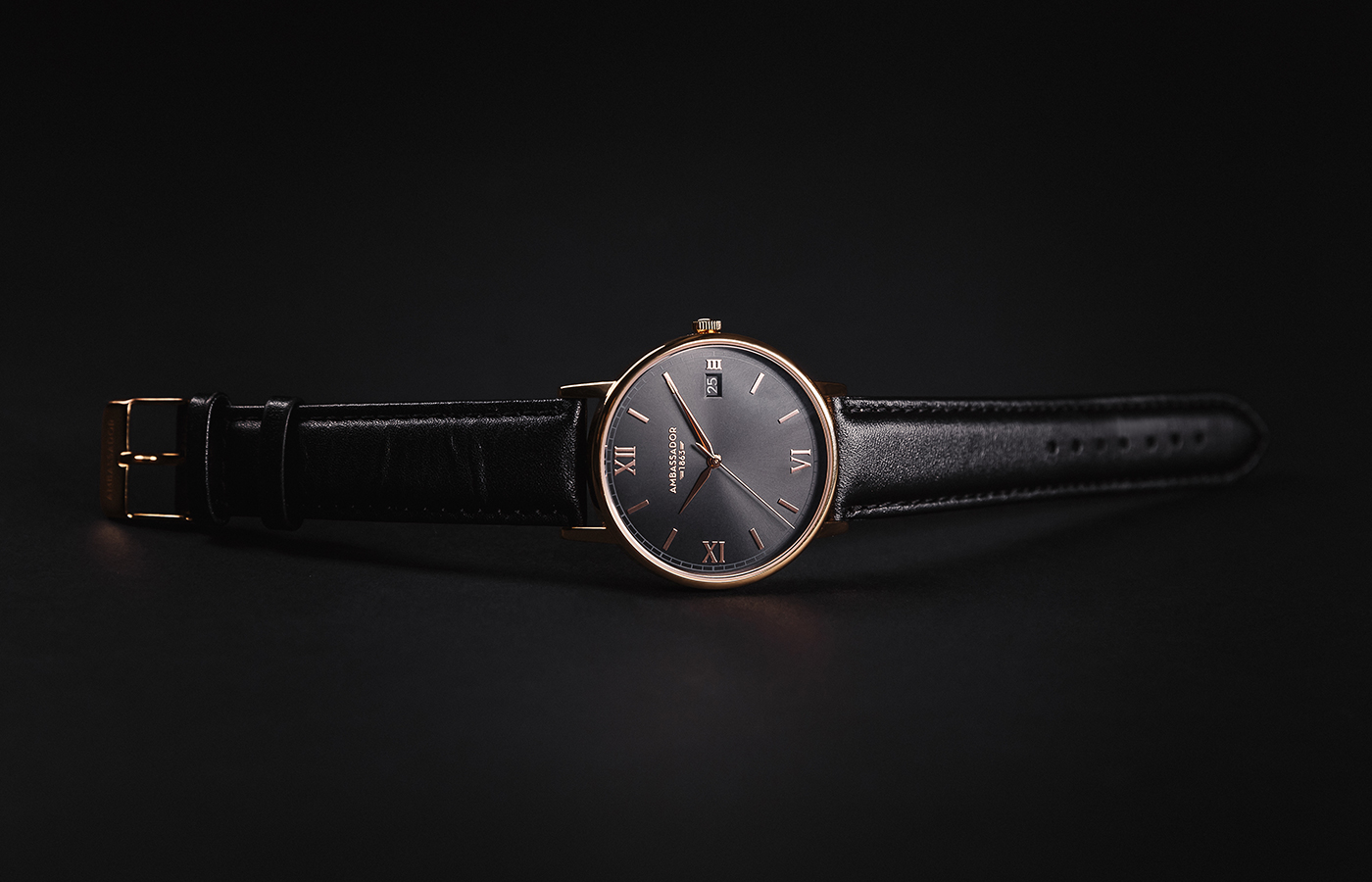 With a very agreeable price, and a handsome gold and black theme, this watch has the clean and crisp heritage look and a nice steal for less than $200, what more can you ask for in a beautiful all-black watch. 
Luxurious Black Watch with Rose-Gold Strap
Women want diamonds and men go for gold. This precious metal is the statement of class and luxury, which makes it an ideal feature for any man who wants an eye-catching timepiece. When gold is paired with black, the timepiece exudes timelessness, masculinity, and luxury.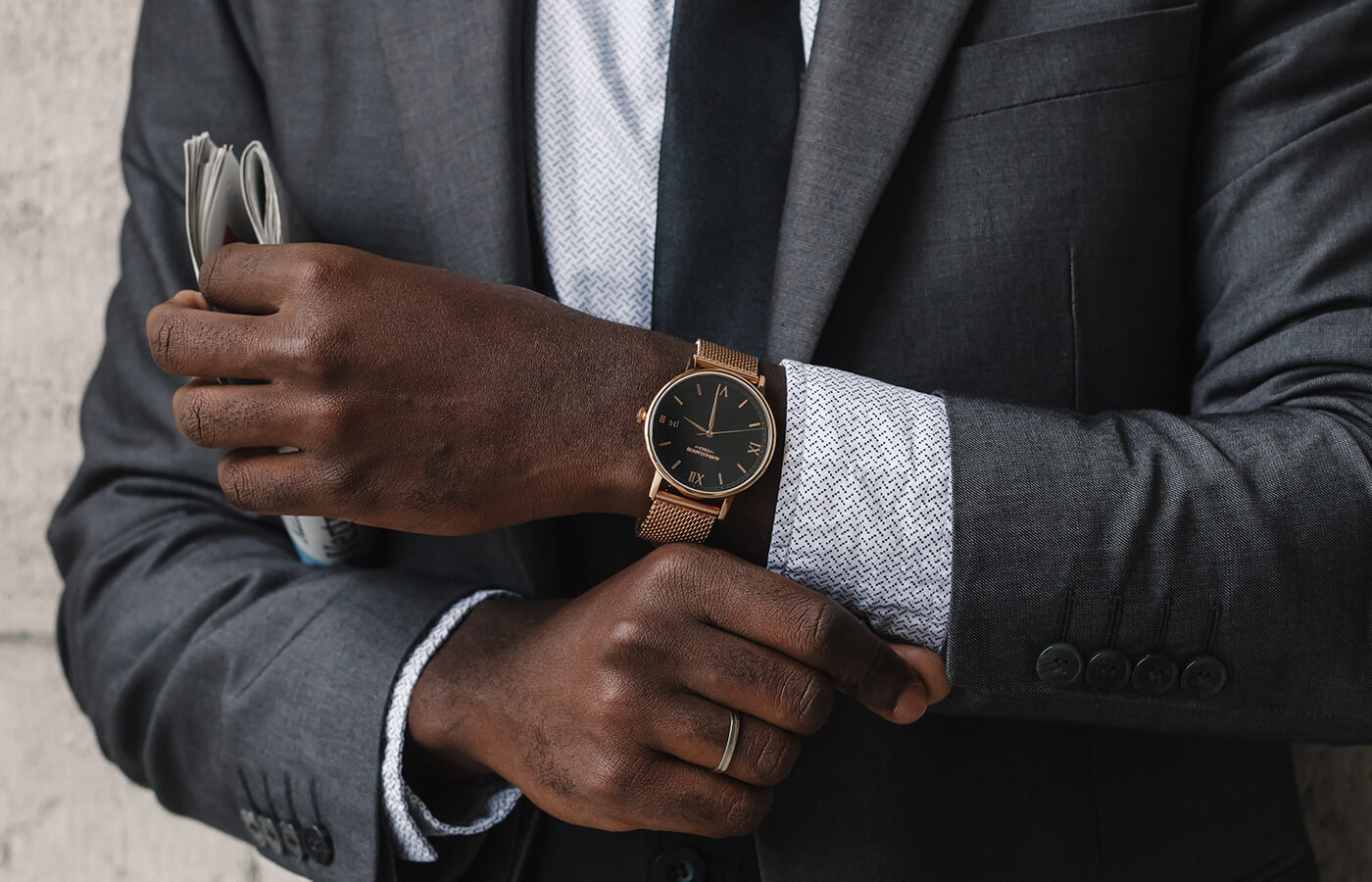 This men's gold black watch is not hard to miss because the captivating rose gold case, strap, and the hour markers. The black dial adds refinement to the masculine design. The unique black and rose gold theme of this timepiece suit any occasion. Its size is just enough for this cool black watch to match any outfit and any occasion. 
Having the original features of the Heritage 1863, the black face of this watch has beautiful Sunray dial, Roman numerals as time markers and gold baton hands. The elegant engraving at the back is an additional takeaway. The detailed crown, lugs, and case back all finished in gold and black are a conversation piece. This watch carries the true values of an Ambassador, luxury, class, and bravery.
The Modern Heritage 1959 with Black Leather Strap
Pairing a rose gold case and bezel with a black leather strap is a smart move. It makes the watch look elegantly smart in many ways. Taking its cue from the timepieces of the mid-20th century, Ambassador Heritage 1959 represents this decade in the dashes for time marker, the baton hands, and the round gold case. The shortened lugs made the look even more unique to the brand. A date window and the Ambassador signature is also added.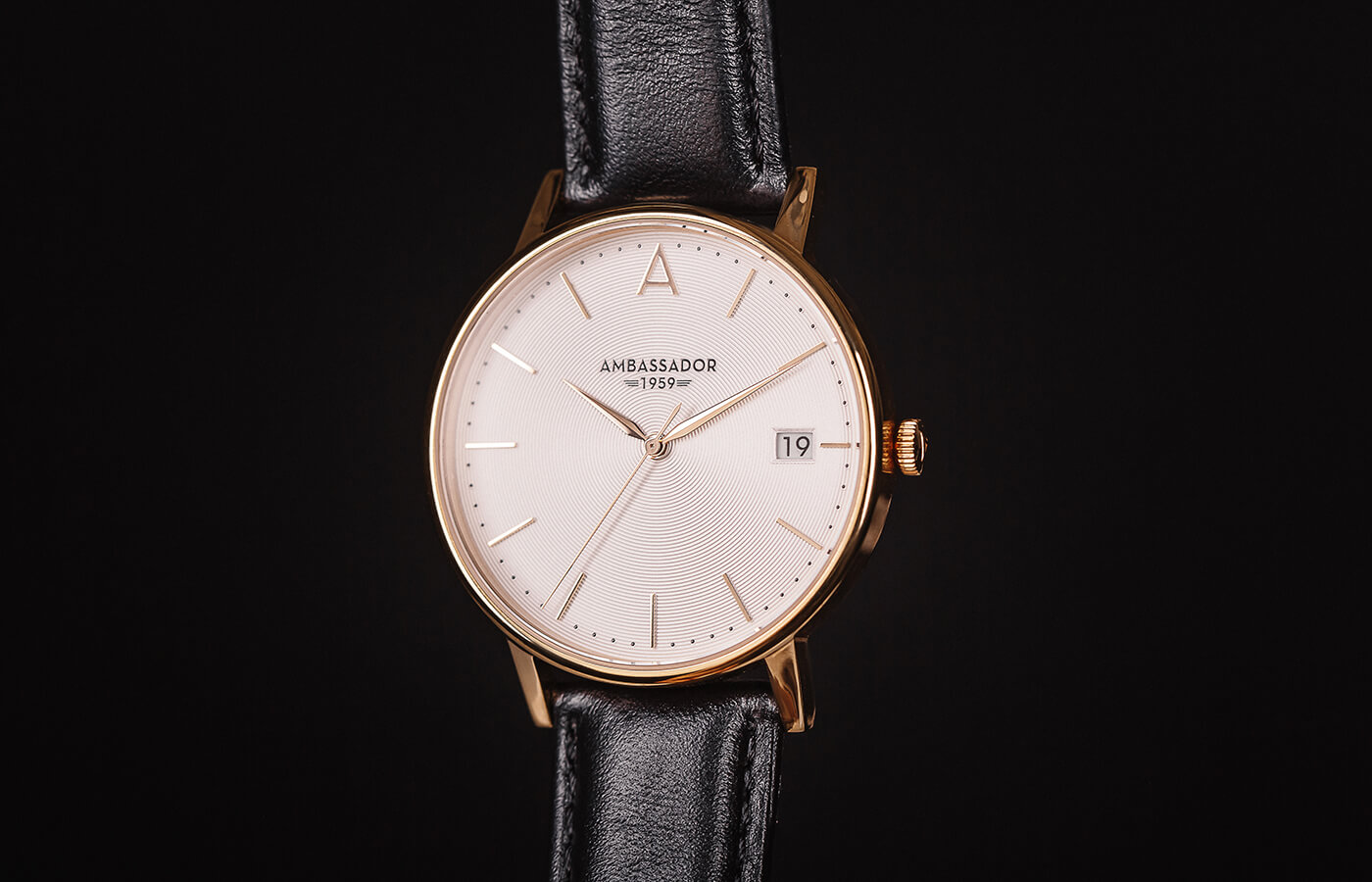 Combining sophisticated design with efficiency and accuracy, this watch uses quartz movement to tell the date and time. The dial is unique with the concentric circles as a pattern. It is also highly durable, versatile with a scratch-resistant sapphire crystal, and water resistant to 50 meters.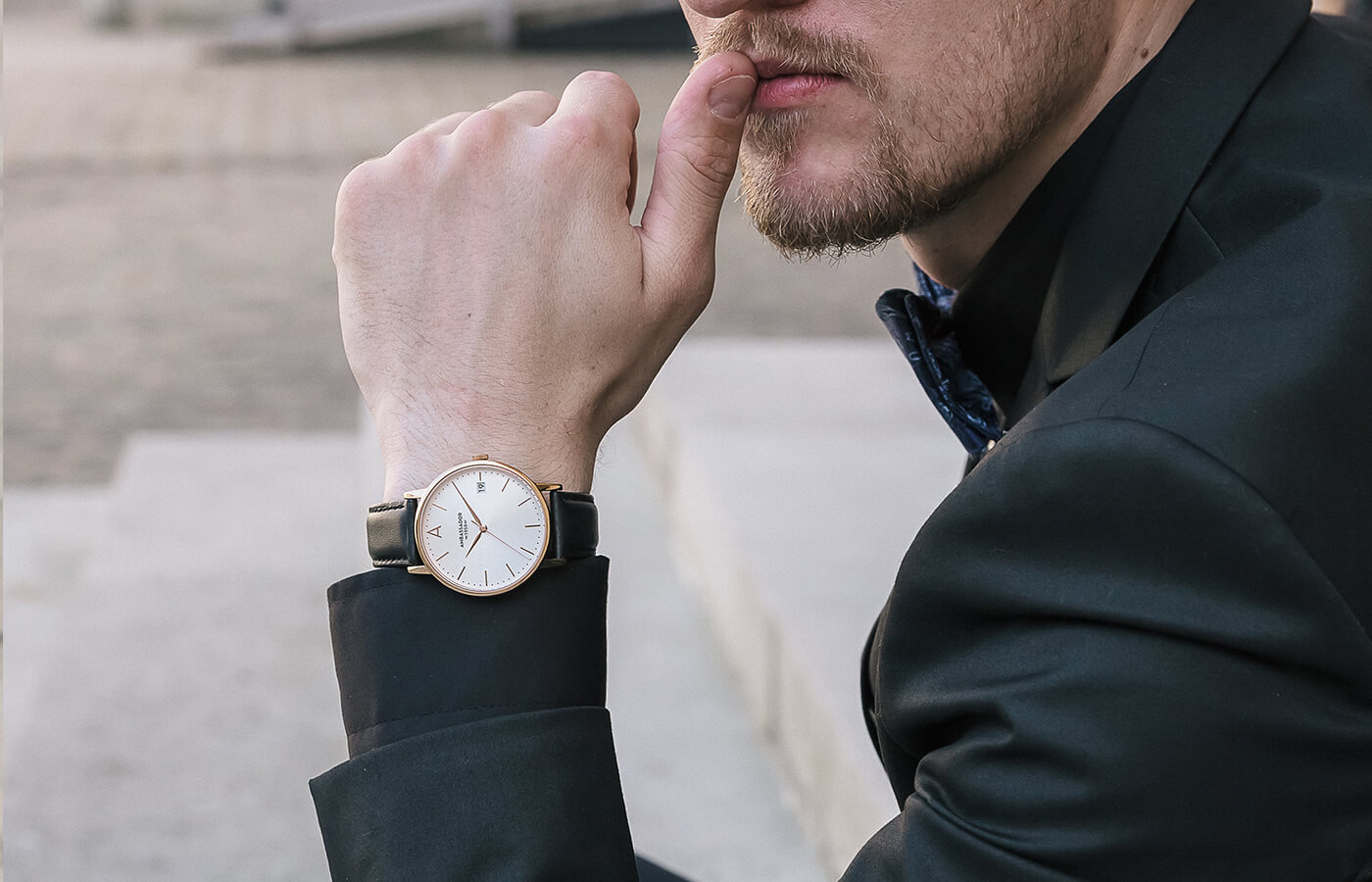 The coveted gold presents a sharp contrast with the elegant black leather strap. By combining function with flawless design, you have here a masterpiece that is ideal for formal occasions and even for an everyday style that calls for a touch of luxury. You can have on your wrist one of the best casual watches for guys during the day and a classic dress watch for an evening affair without changing your watch. 
Best Silver Watches - Classic White Wristwatch with Black Leather Strap
This watch is for the minimalist and modern man who wants a watch that speaks subtleness and respect. Compared to the art deco watches in the Ambassador collection of watches, Heritage 1921 it does not have the delicate features of the classic watch from the 1920s. What the designer did for this piece is to take all the essential elements from the many popular watches of the era and put them all together in one timepiece. Some of these critical takeaways are the large spring slug and the broad face.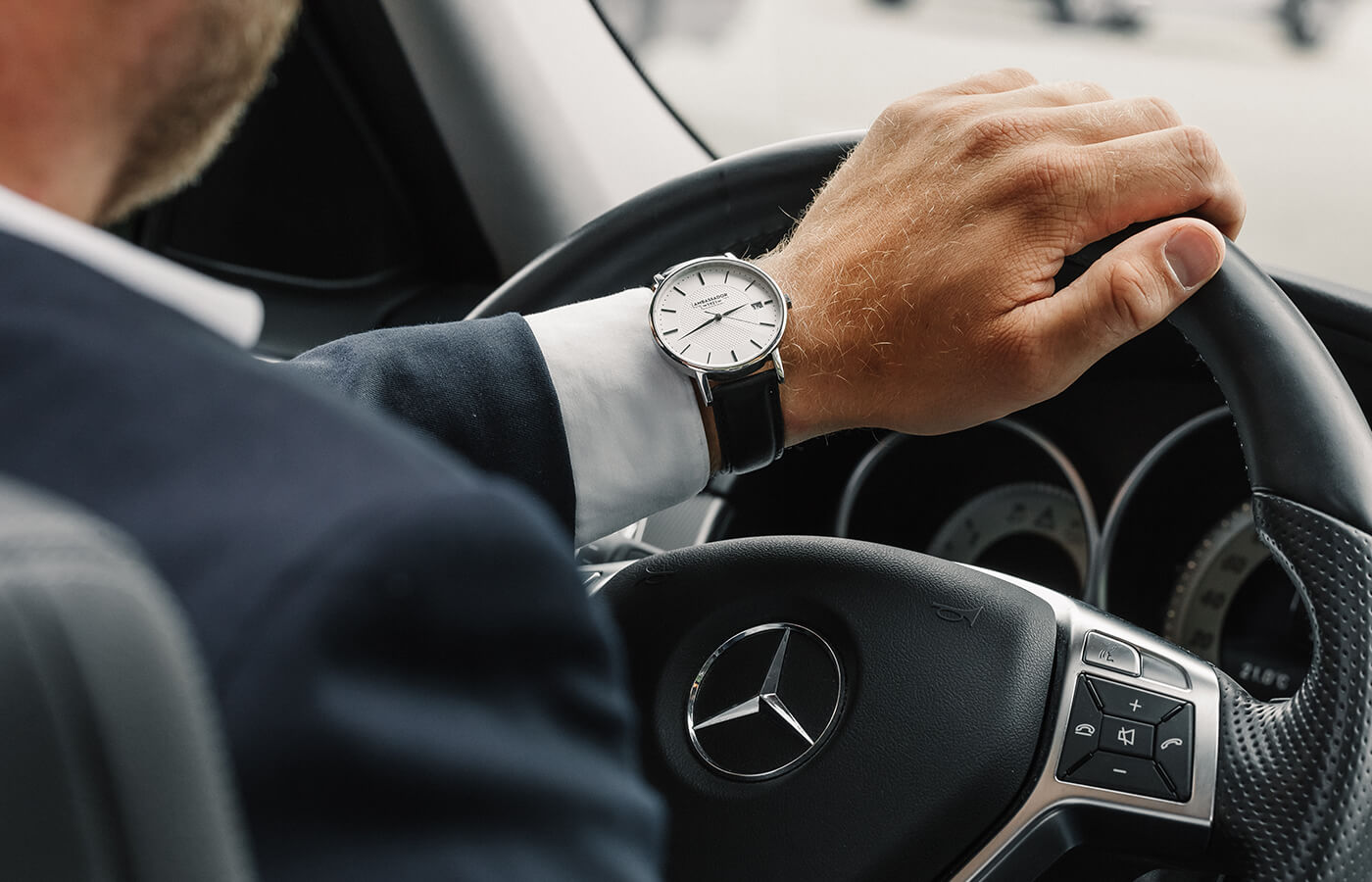 A homage to Paris, it features the unique Clous de Paris feel in the egg-white dial, an additional detail that adds sophistication and understated elegance to the timepiece. Yet these timepieces from Ambassador can also be one of the men's casual leather watches.
This Heritage 1921 is the best choice when it comes to dress watches because it is neat and modern with a hint of luxury. The beautiful silver case stands out with the black leather strap; clearly, it is the most affordable yet fashionable black leather silver watch.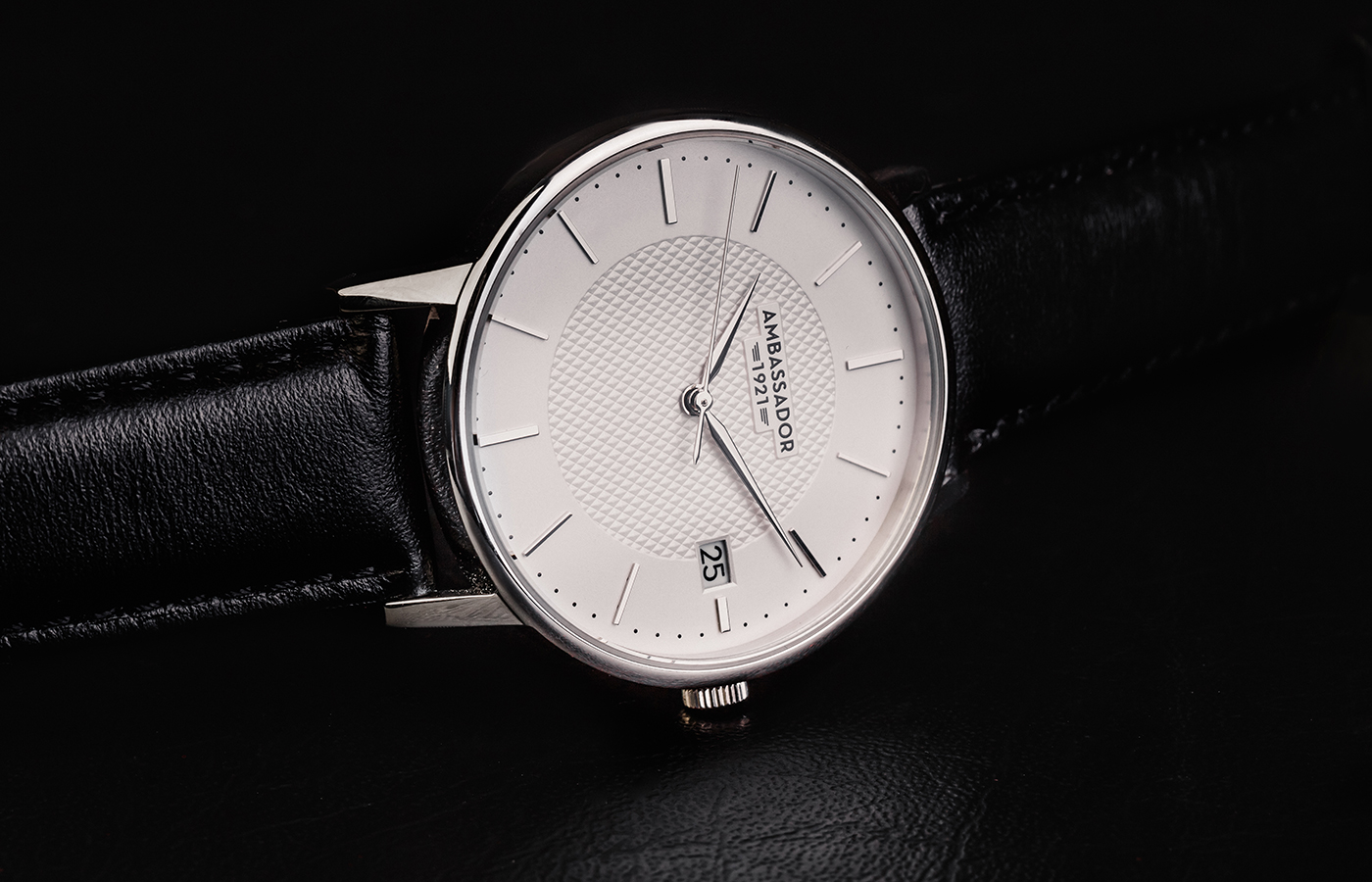 You can wear it with your business suit or dress it down with jeans and shirt combo as a casual wristwatch. If you are looking for casual watches for men, this timepiece is highly recommended.  
Best Mens Silver Watches - 1921 with Silver Mesh Strap
This beautiful silver bracelet watch is a nod to the 1920s showing the vintage decadence that can fit a modern man. There are many best silver watches for men, but none has many of the stunning features that make this watch stand out. The textured centerpiece is a nod to Paris in a true Clous de Paris style that is set against a polished stainless steel case. This makes it an elegant white and silver watch that is elegant and definitely will turn heads. When you look at other vintage watches, it has a similarity to the early models of a famous watch brand, but it is undoubtedly the best men's silver watch to have on your wrist.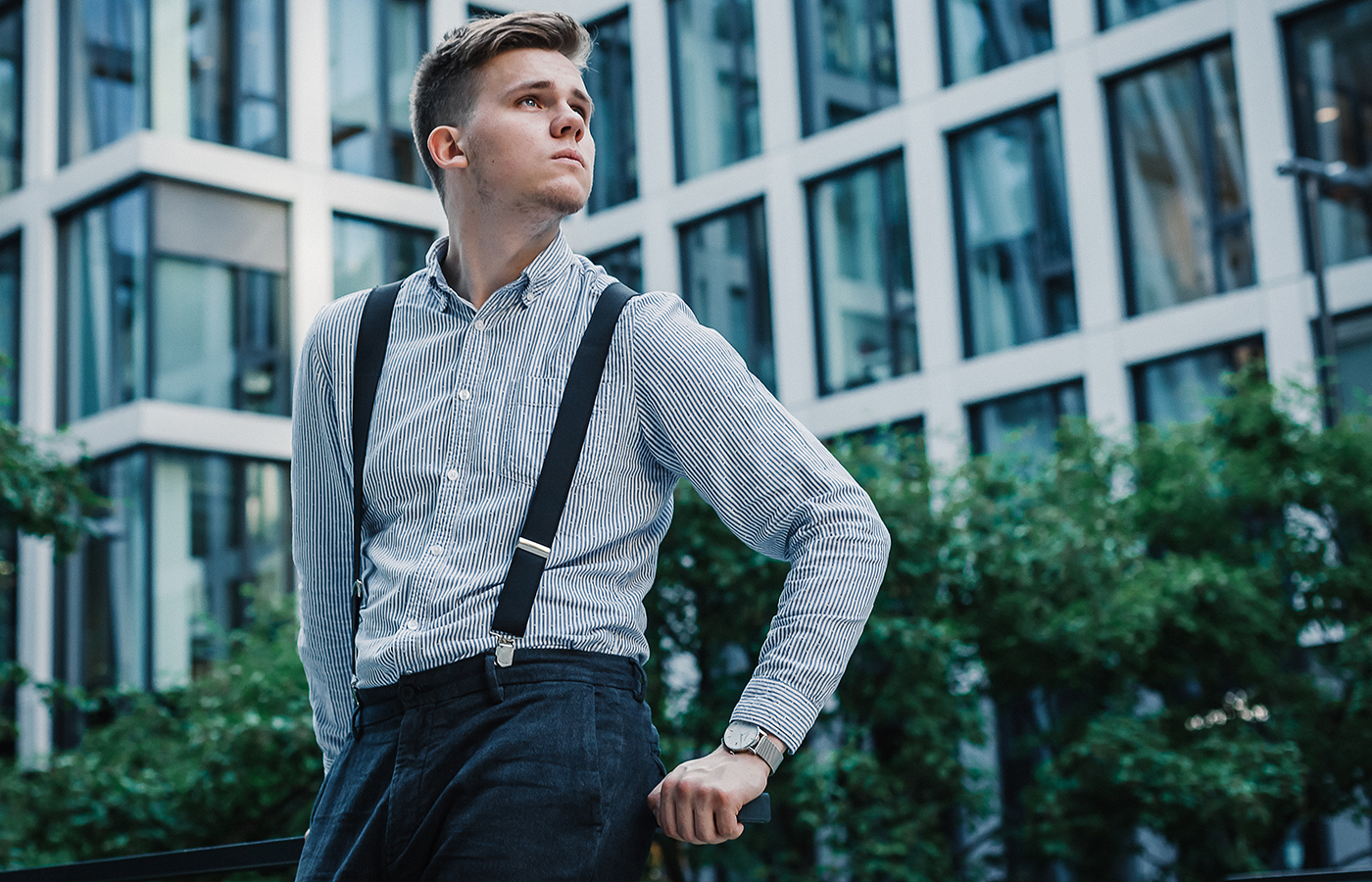 The full clean dial that is encased by gleaming silver steel that offsets its detailed face further. When you look at Heritage 1921, you will instantly notice that it is unique but fits the contemporary style of a modern man. The silver indices, hands, the buckle and the crown plus the silver mesh watch bracelet strengthened the silver theme. It will surely capture attention and earn compliments when worn with a business suit or everyday casual outfit.
The watch has a balanced weight when worn on the wrist, which is just enough to make its presence known. It has stainless steel lugs that are molded into the dial to hold the luxurious silver mesh bracelet that can mold perfectly on the wrist for a perfect fit.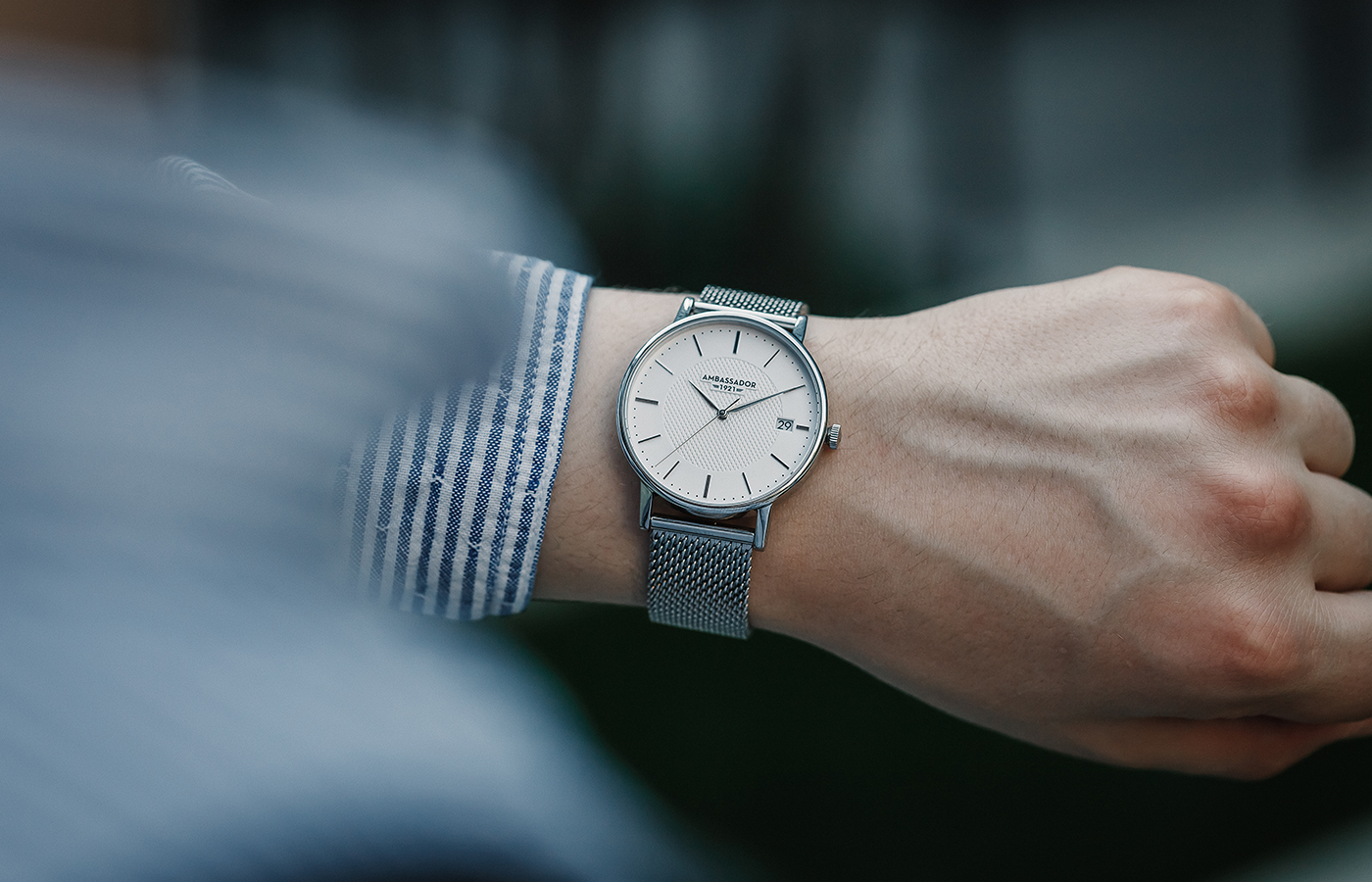 Not all these features will make the watch run without the heart of its operation, the latest in Japanese Quartz Movement technology. The shatter-resistant sapphire glass protects this mechanism so that this watch can withstand the test of time because it is made in the highest quality. 
How to pick the best watch: 
Choosing the best black wristwatch is not an easy task. What looks good on your friend may not be a good choice for you. This is because everybody has his or her style and preferences. Here is a simple guide for you to find your perfect watch in time.
Style of the watch
A timepiece is a sum of many different parts like the case, hands straps and color. To help you narrow down your choice, you need to determine the style of the timepiece that you want. The shape of the dial can be square or round and depends on your preference. There are many colors to choose from, and these colors should go well with the color of your skin and the outfit of the day. You can be classy and formal or vibrant and casual just by changing the color of your watch.
Size of the watch 
The diameter of the watch is something to look out for. It is a small watch when the case is less than 40 mm in diameter. Anything bigger than 40 mm is already a big watch. Some people go for big watches because they are trendy, however, do not go for anything watch that is bigger than the size of your wrist. It will make you look like you are trying hard to call attention.
Materials used
Wristwatches can come in different materials. The really expensive one is made of gold and silver. The more reasonable ones are from stainless steel. This is also an excellent metal because it is rust resistant and scratch resistant too. Titanium is also used in watches, but they can be of only one color, grey.
The straps can be made from metal, leather or plastic. The leather is smooth and soft but can be a little expensive. Metal is sturdier and can last longer, but it is also heavier. The plastic material is the cheapest but a little bit uncomfortable.
Features of the watch
For a simple watch, you need it only to tell an analog time and a calendar to add. The more features the watch has, the more expensive it will be and can be more complicated to use. You need to think about your unique needs before you choose a wristwatch. Otherwise, you will end up with a fully loaded watch when all you need is a watch to tell you the time.
Best Casual Watches For Guys – Final Thoughts
When you are looking for the best black wristwatch, do not fall into the trap of choosing a watch because of its brand or its price. Look for a timepiece that has all your needs but is trendy and fashionable too. Ambassador watches has plenty of styles to choose from that will express your personality while being faithful to your credo that black is this season's most coveted color.