Heritage 1959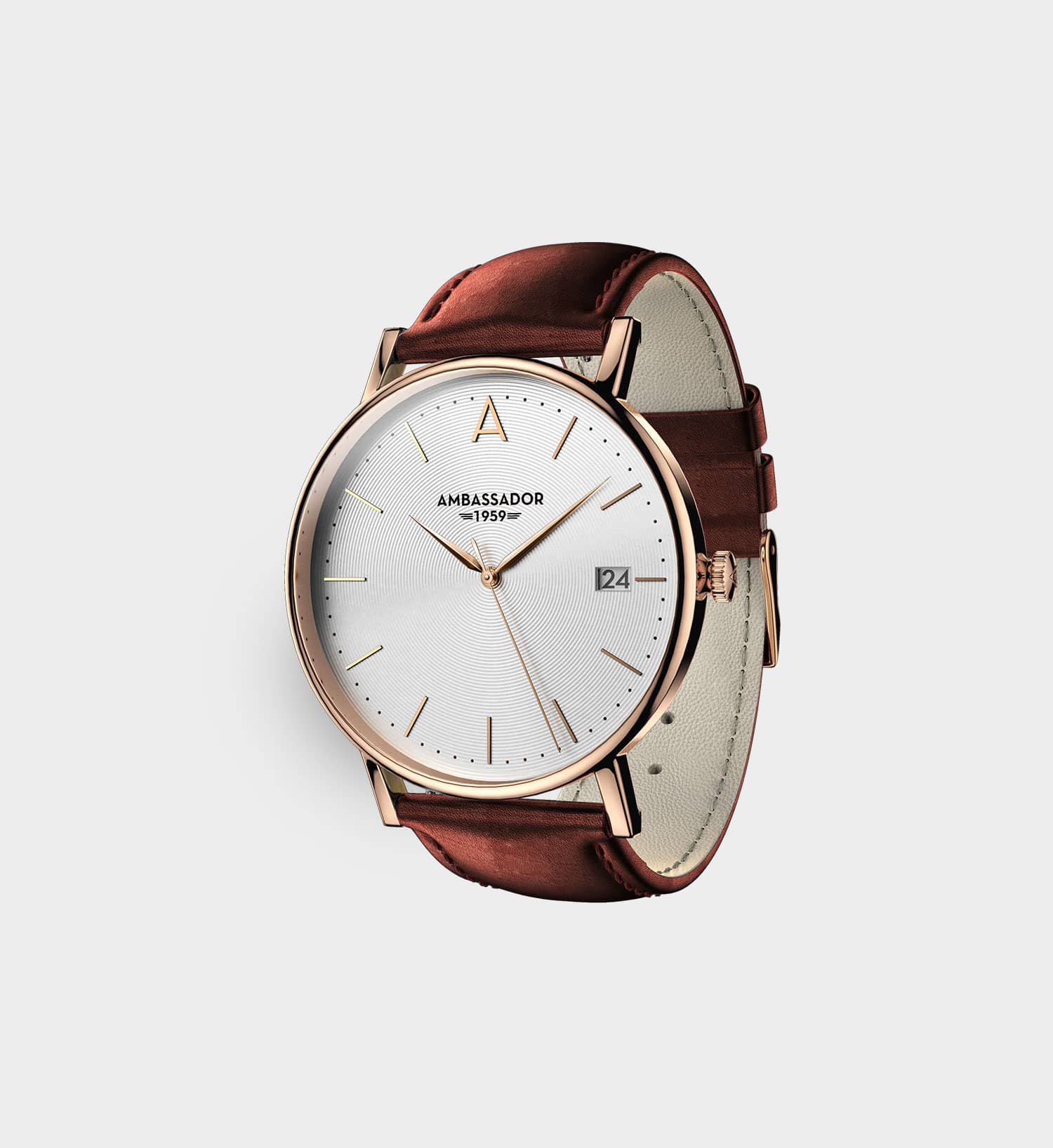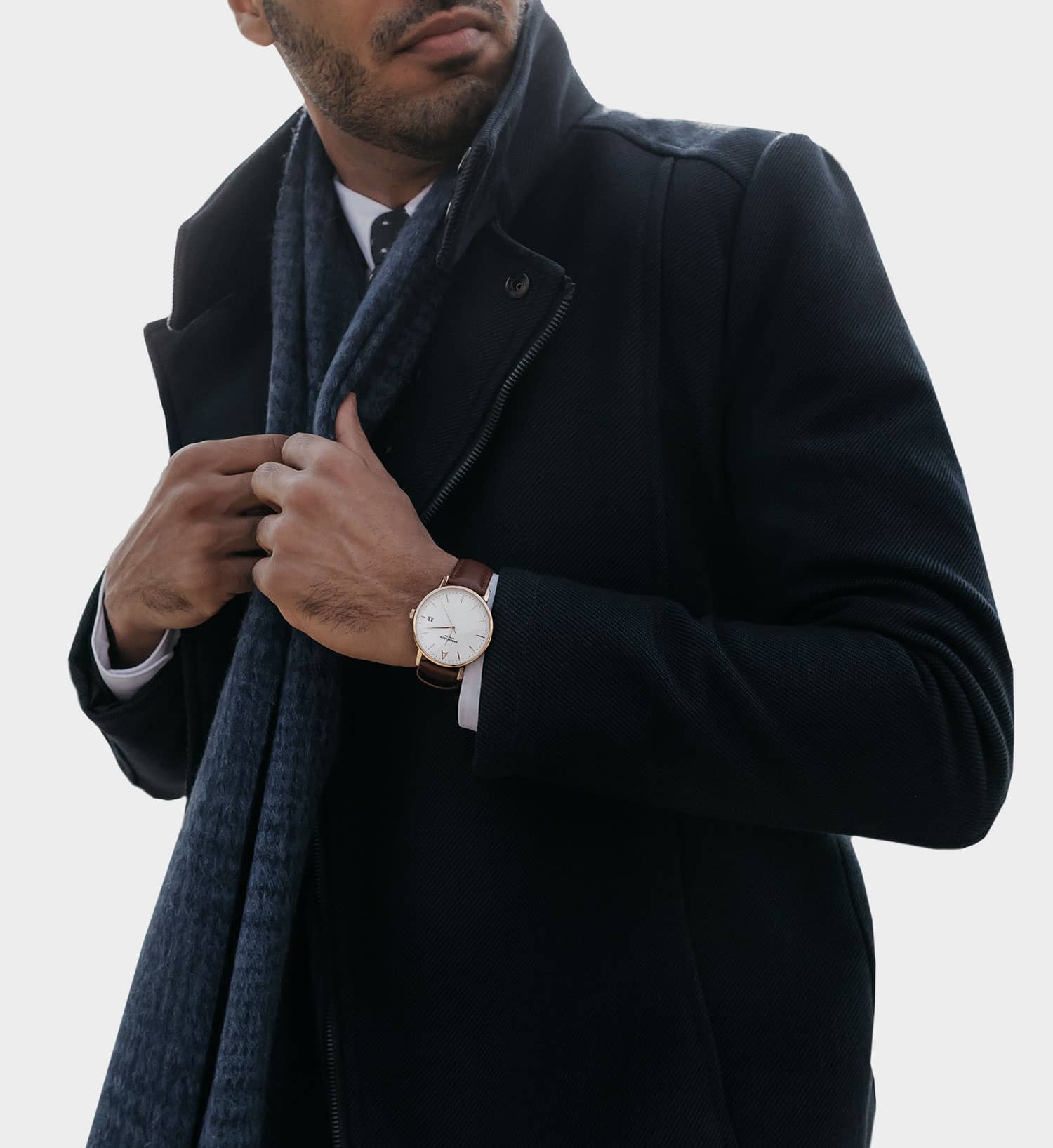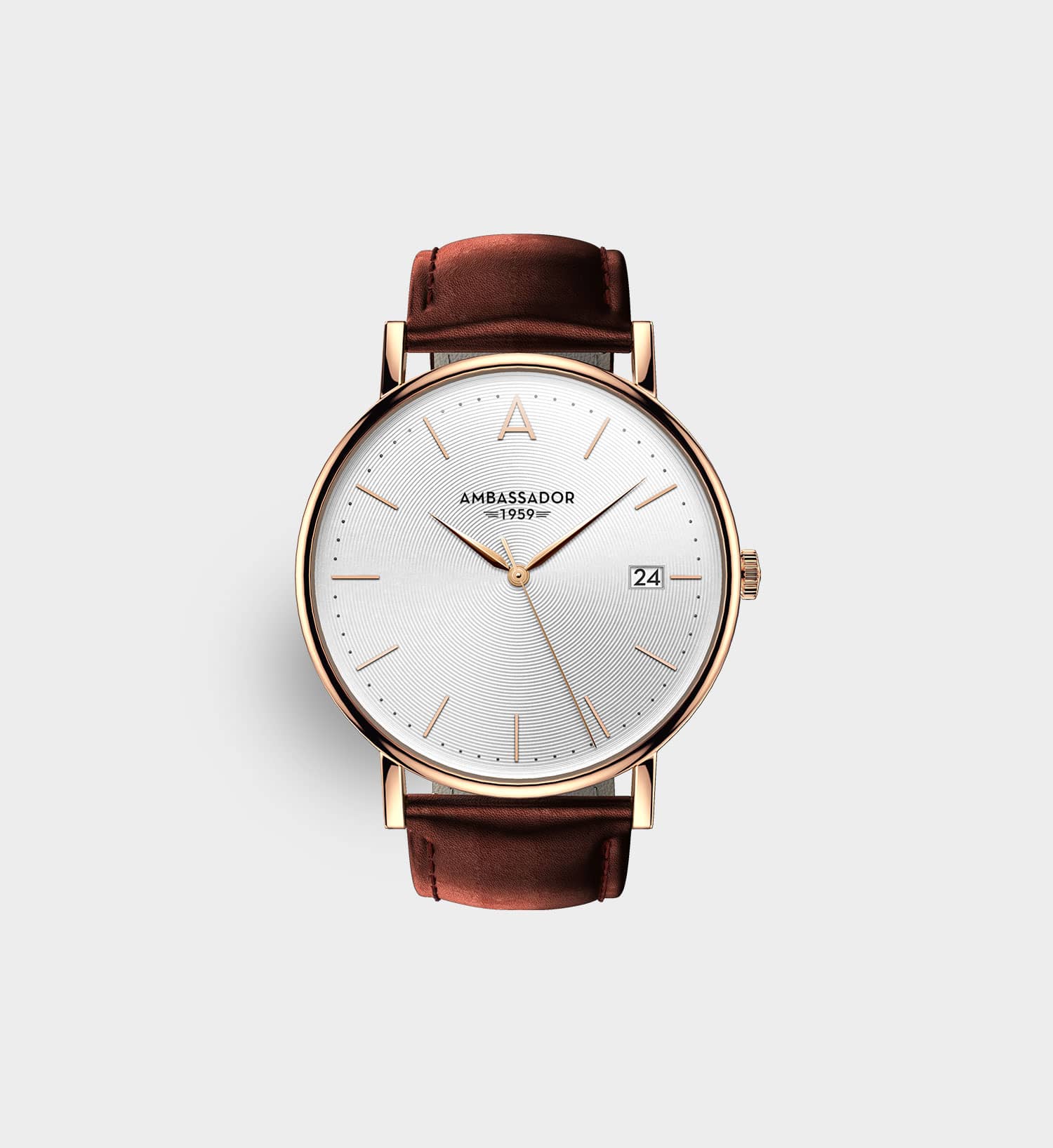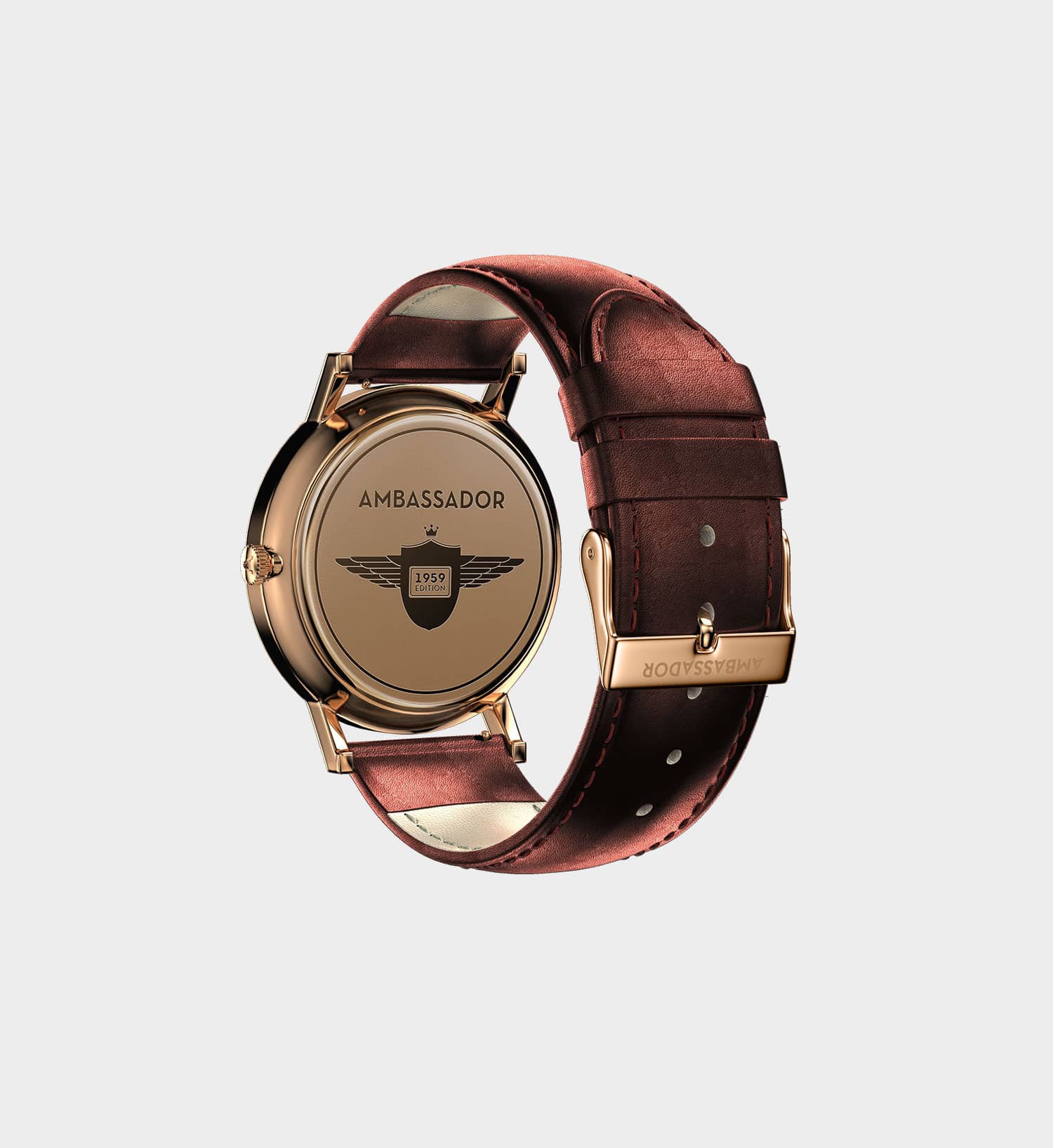 Heritage 1959
Overview
Quick Facts
Reviews
The Heritage 1959 is 9mm thick and 40mm in diameter, it fuses a classical concept with an explorative modern touch of luxury. Featuring a unique, minimalistic dial and embossed rose-gold indices, stamped with our trademark "A", and covered by genuine sapphire crystal glass.
Case Dimensions:

40mm

Movement:

Miyota Quartz

Glass:

Crystal Sapphire

Waterproof:

30 meters

Dial Features:

Date Window

Strap:

20mm
Free Shipping Worldwide
Free Shipping
60 Days Free Returns
60 Days Returns
The Ambassador
Heritage 1959
This watch is nine-millimeter-thick steel, forty millimeters in diameter, with a 316-L polished case that is coated in rose-gold. The dial on this timepiece is extremely unique, as it is a concentric circular pattern that is covered by sturdy sapphire glass. Keeping time with a Miyota quartz movement, the face of this wristwatch embodies our brand with a signature 'A' at the top to complete the look.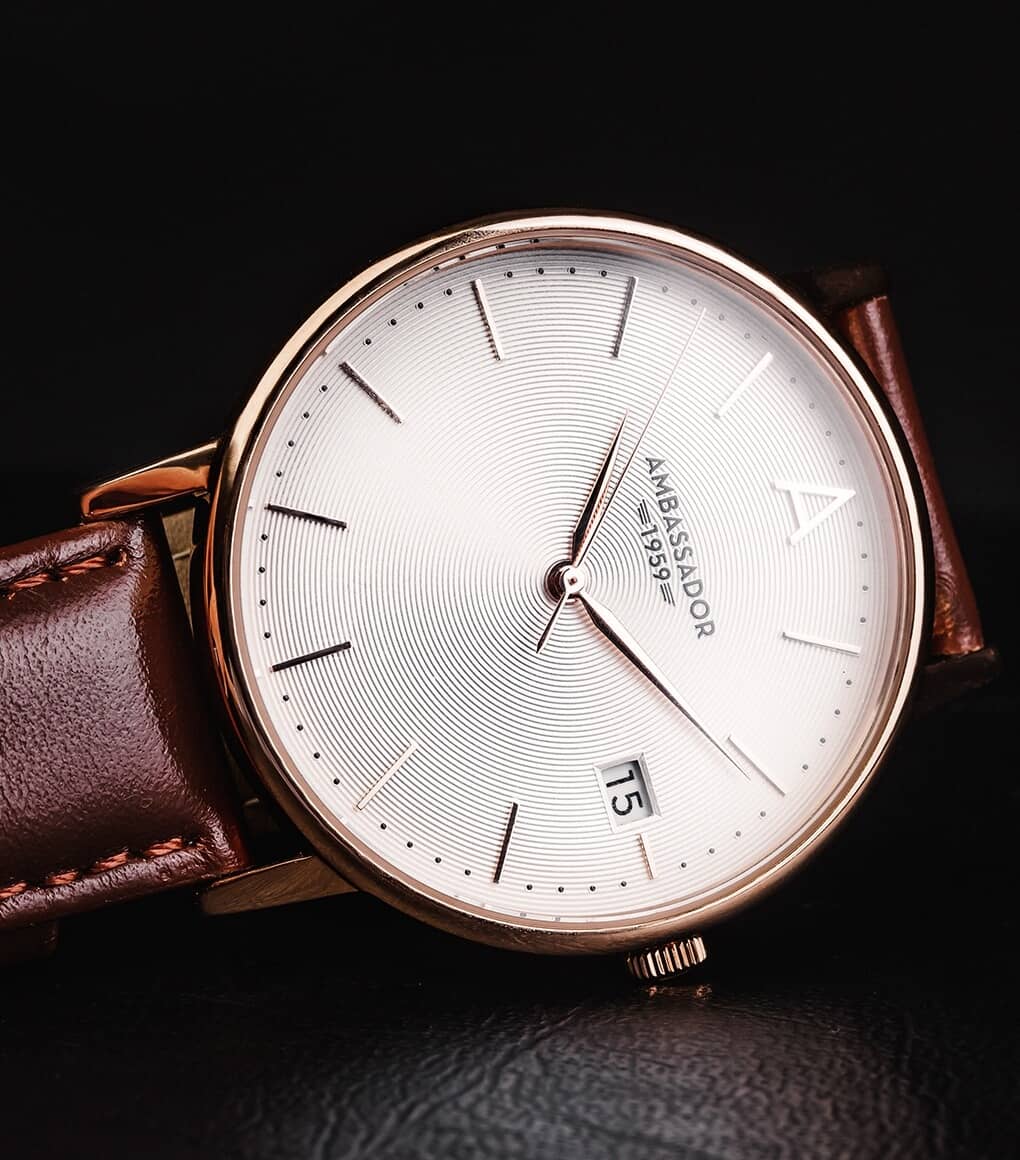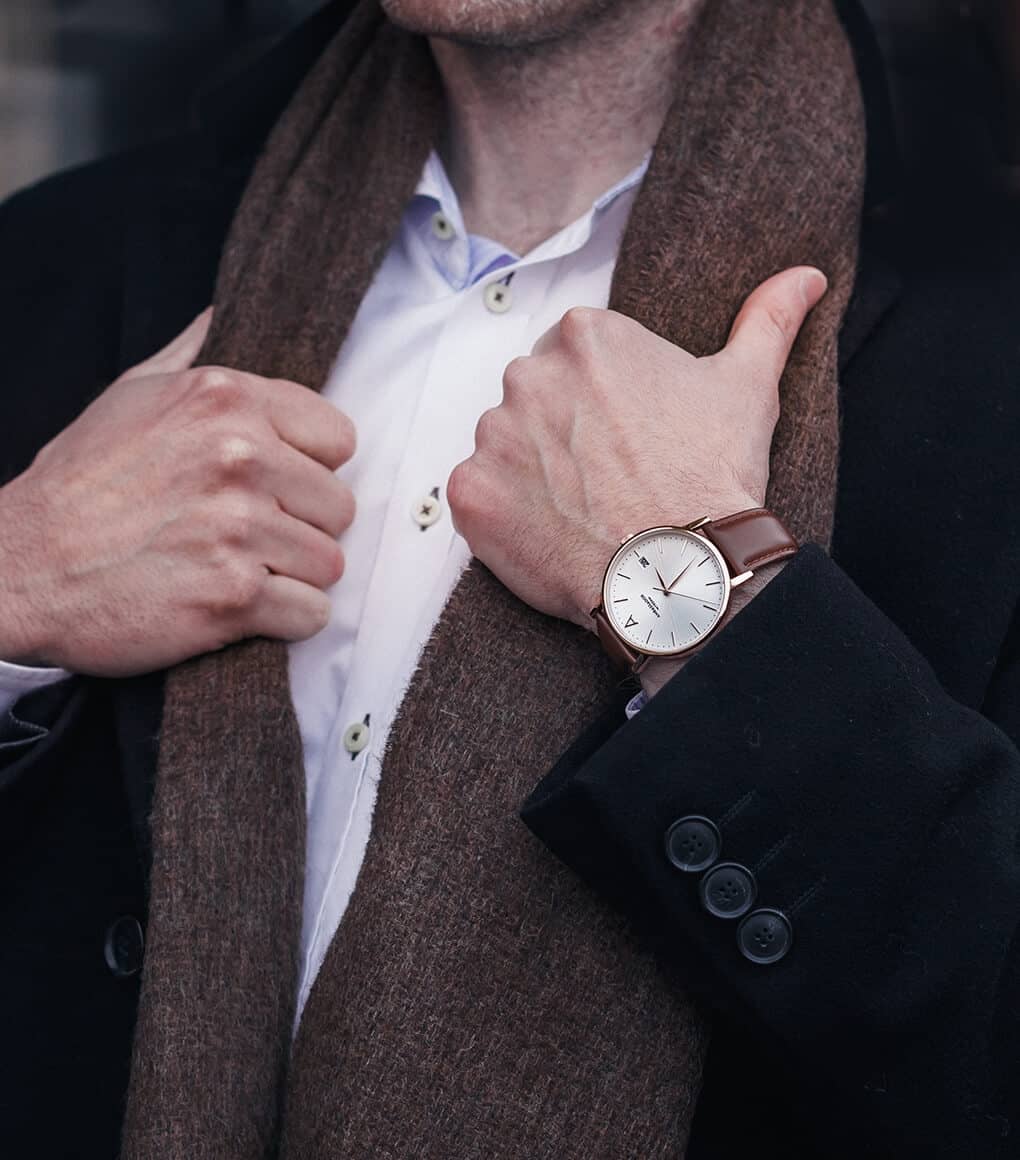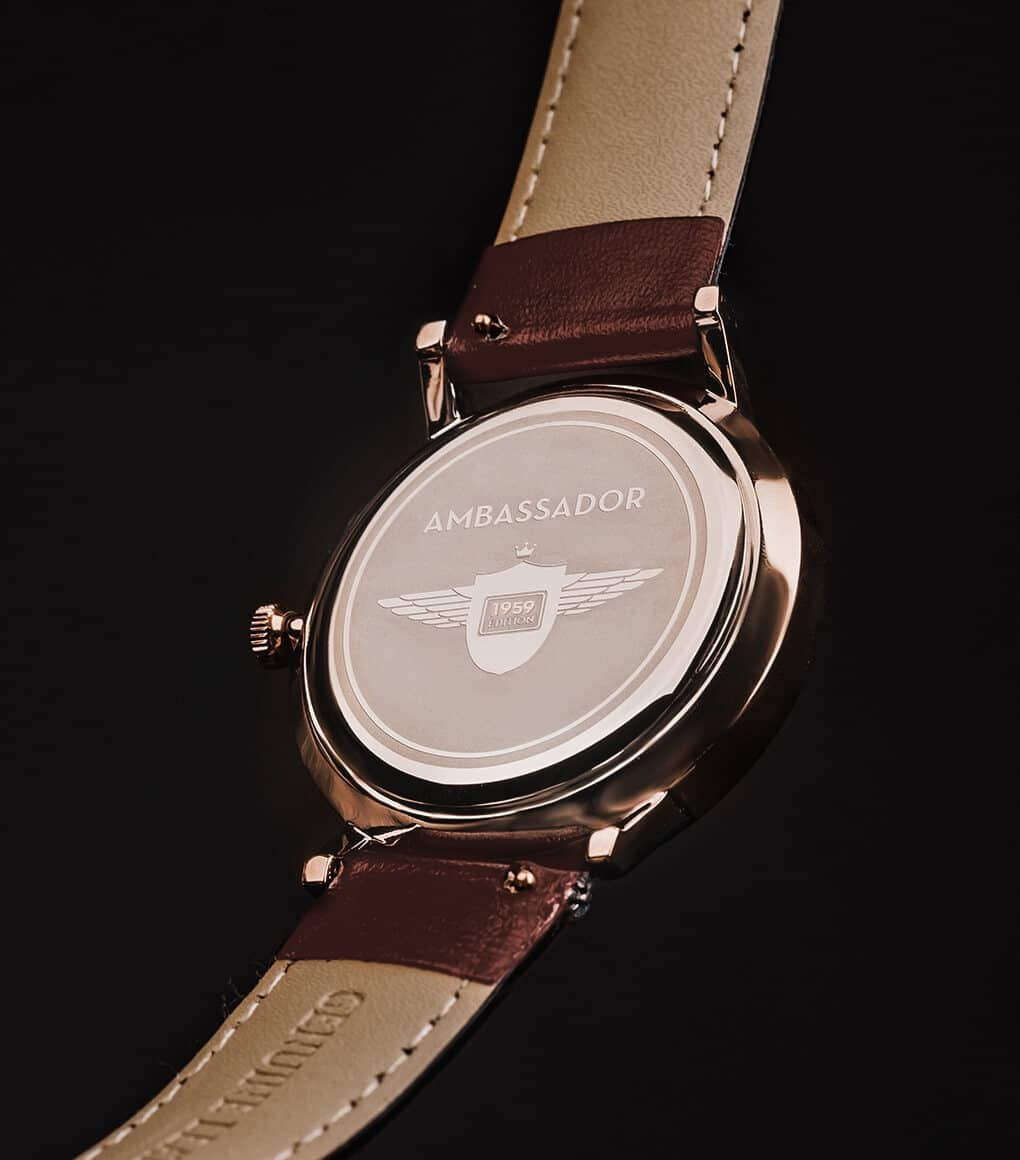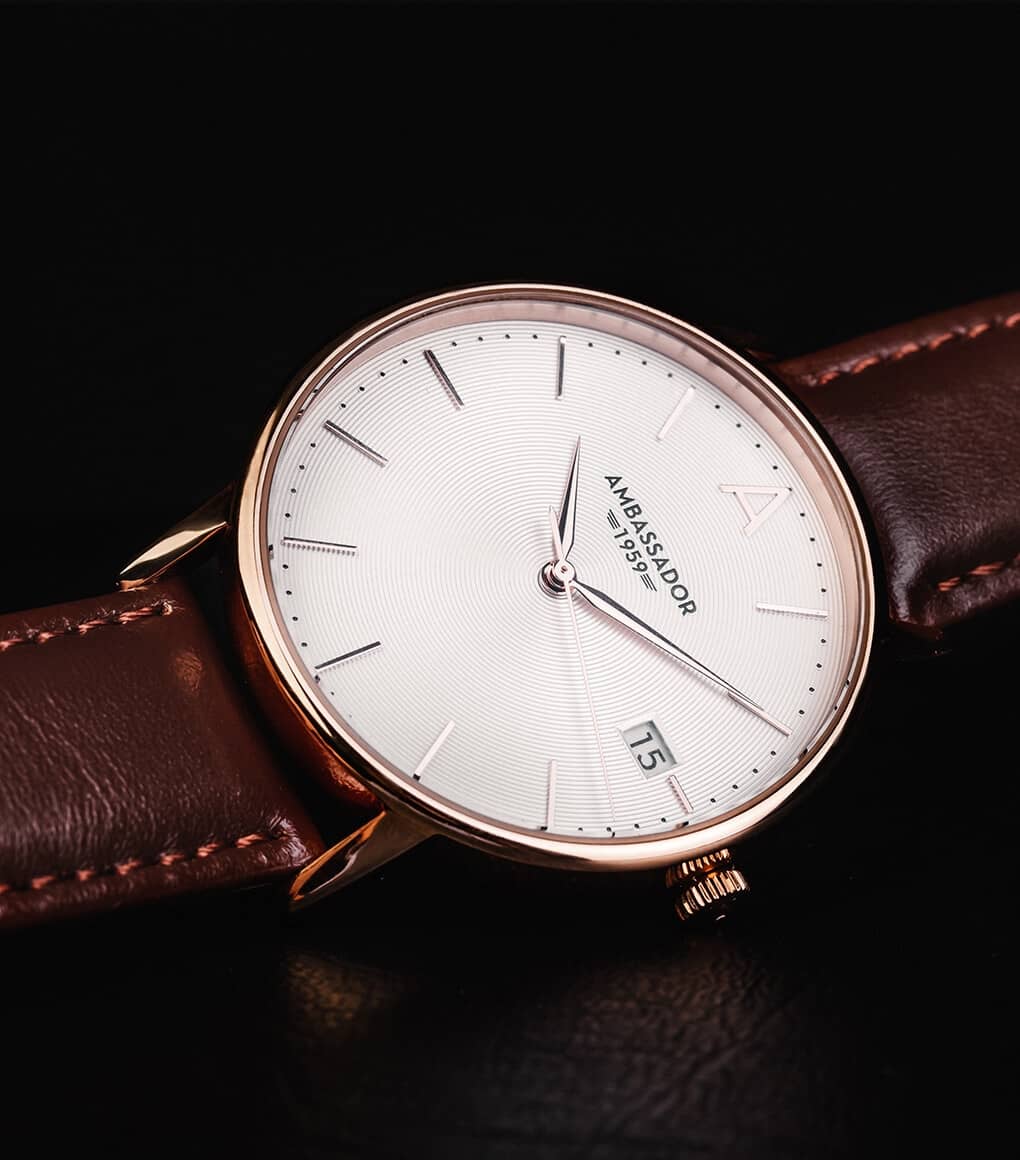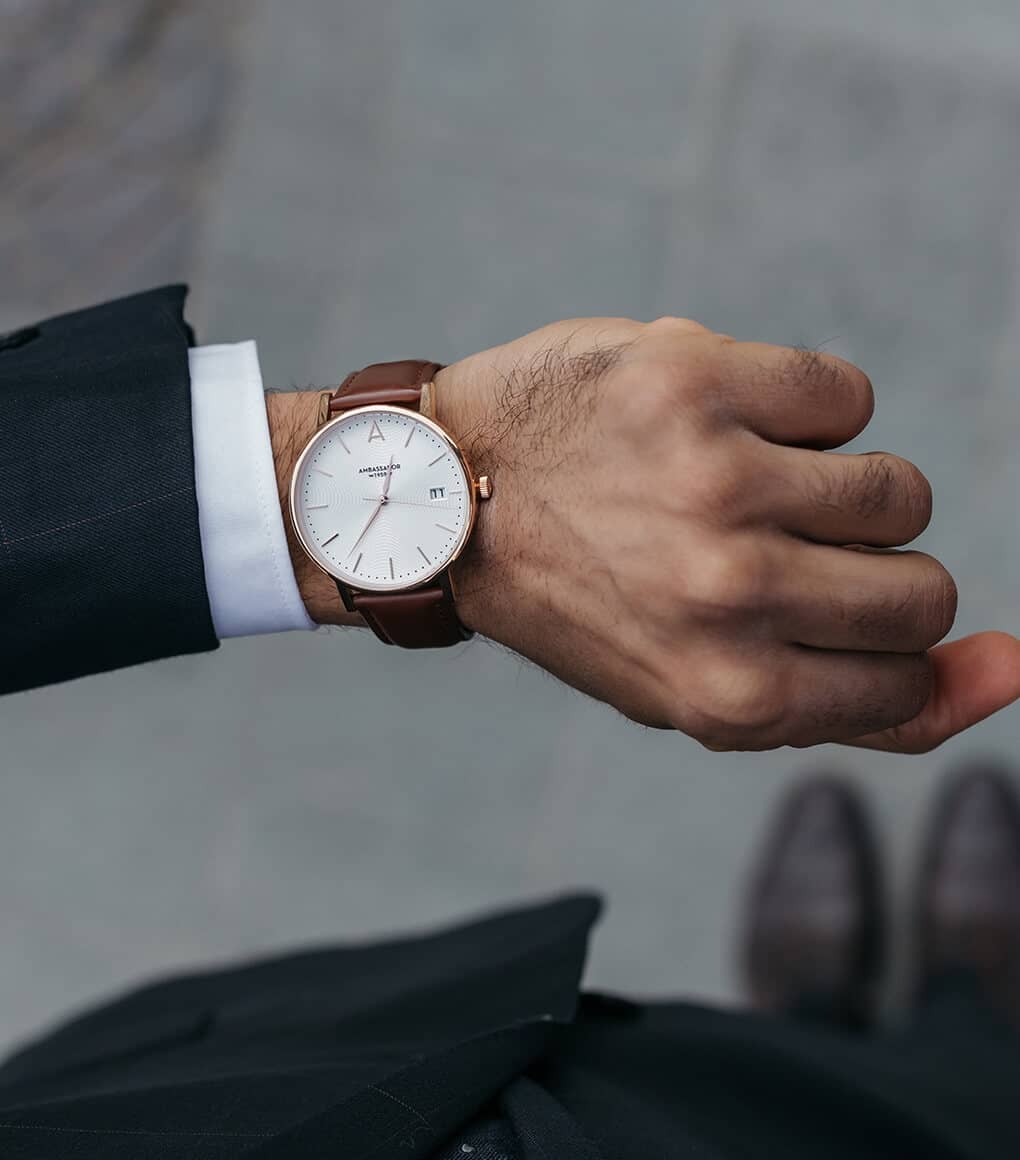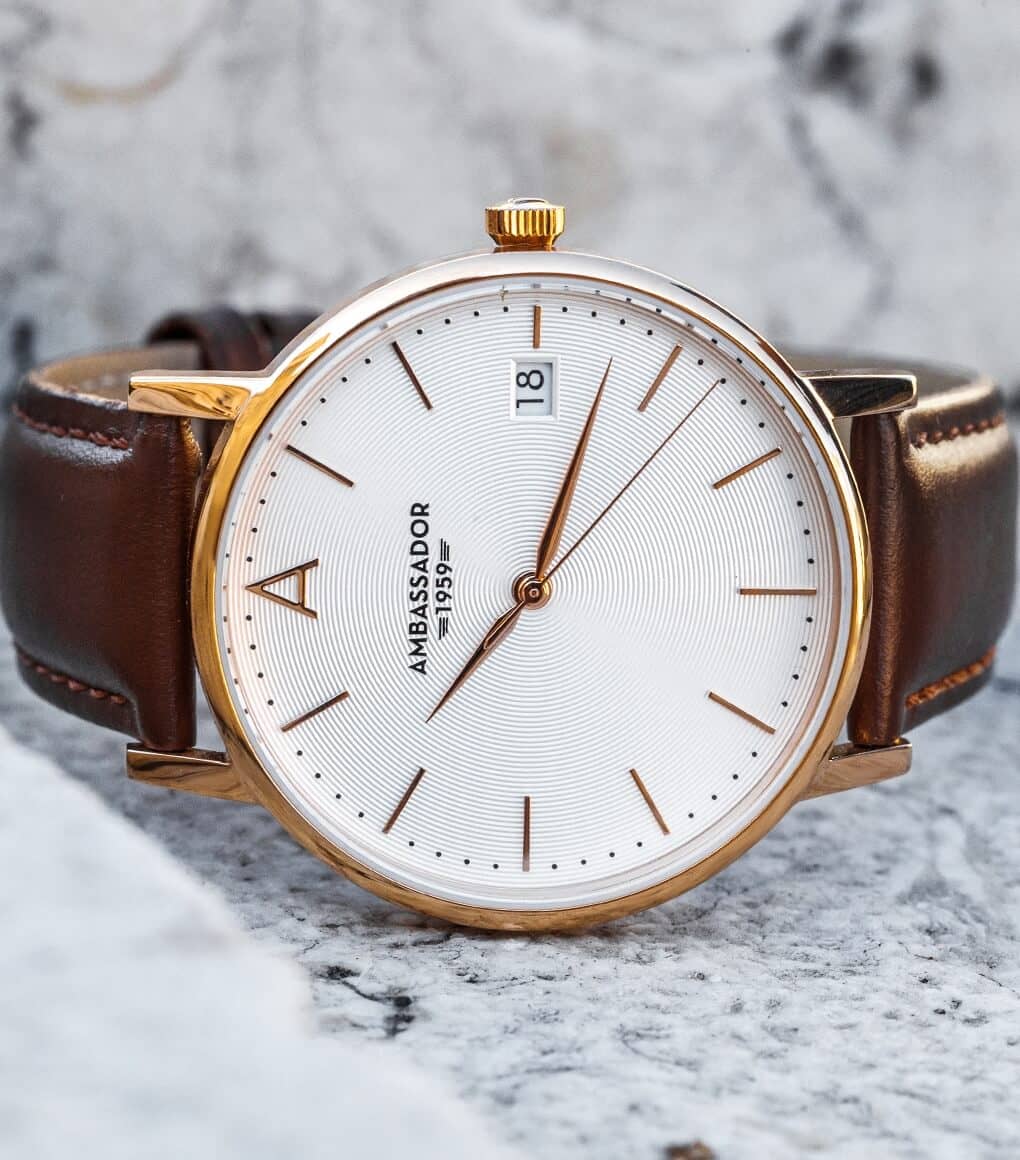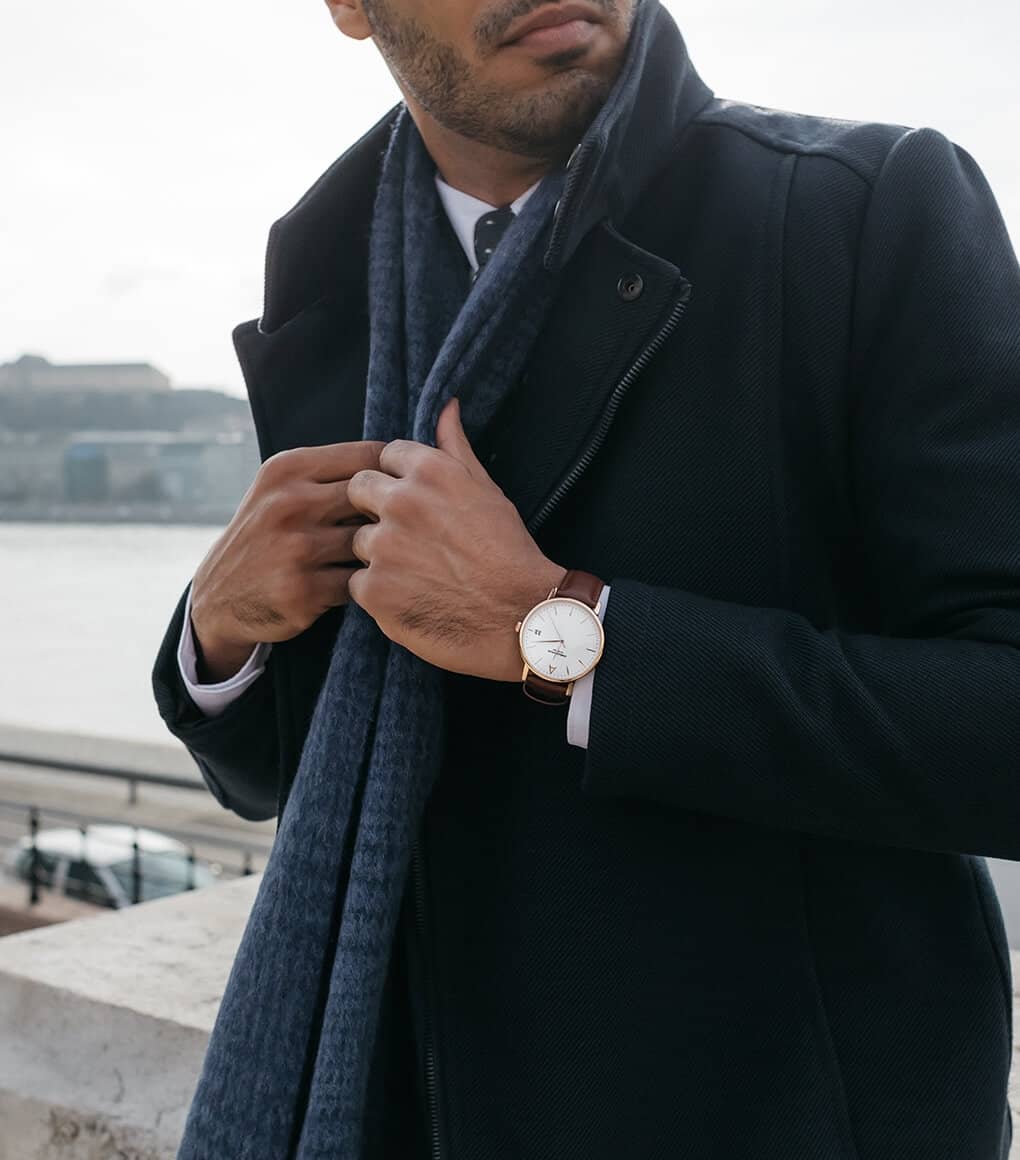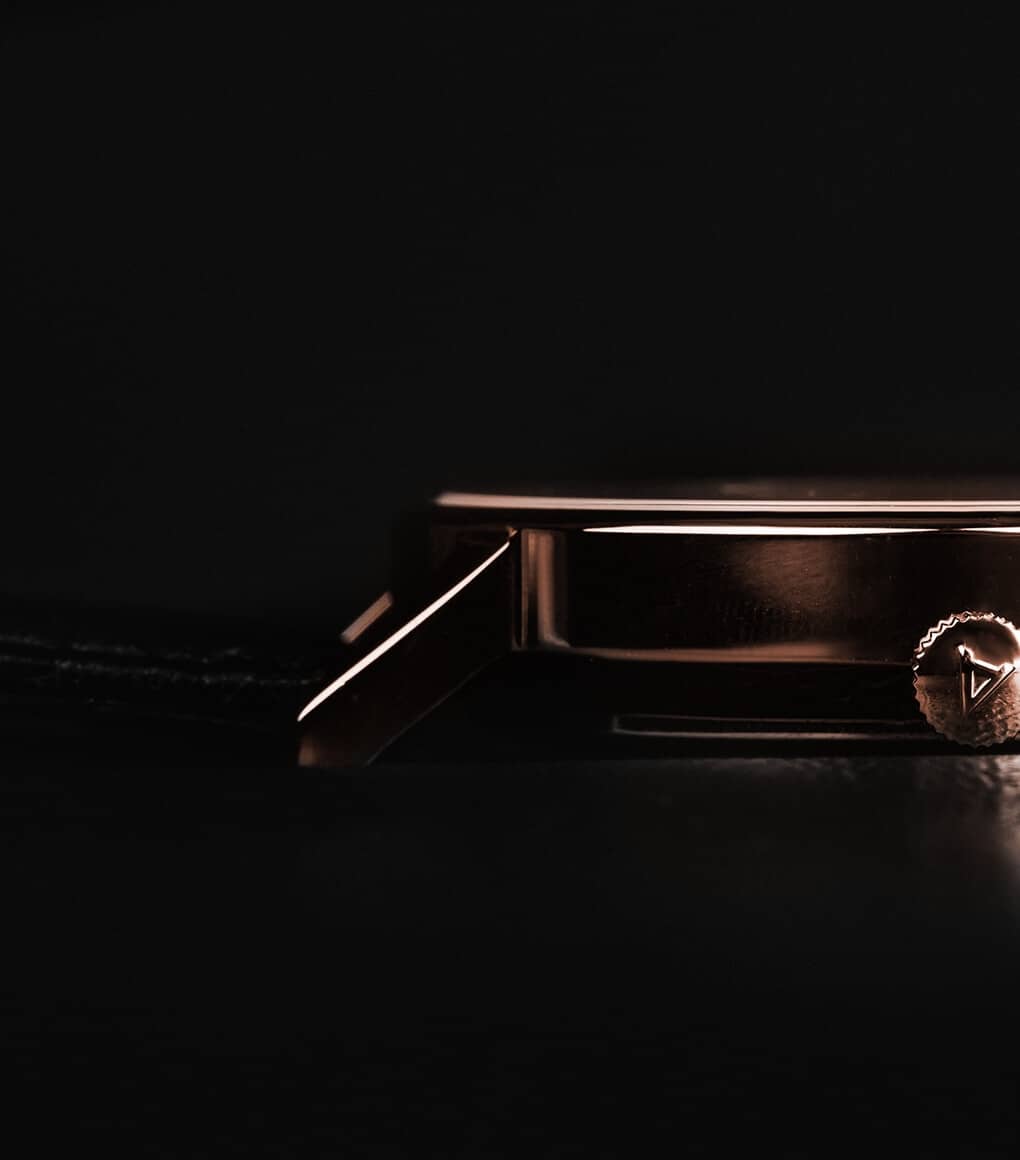 Case Diameter:

40mm Polished
316-L Stainless Steel

Dial:

Concentric circular pattern
With date window

Case Thickness:

9 millimeters

Movement:

Miyota Japanese Quartz
±20s accuracy per month

Strap:

Fully interchangeable
Brown Leather Strap

Crystal:

Sapphire Crystal Glass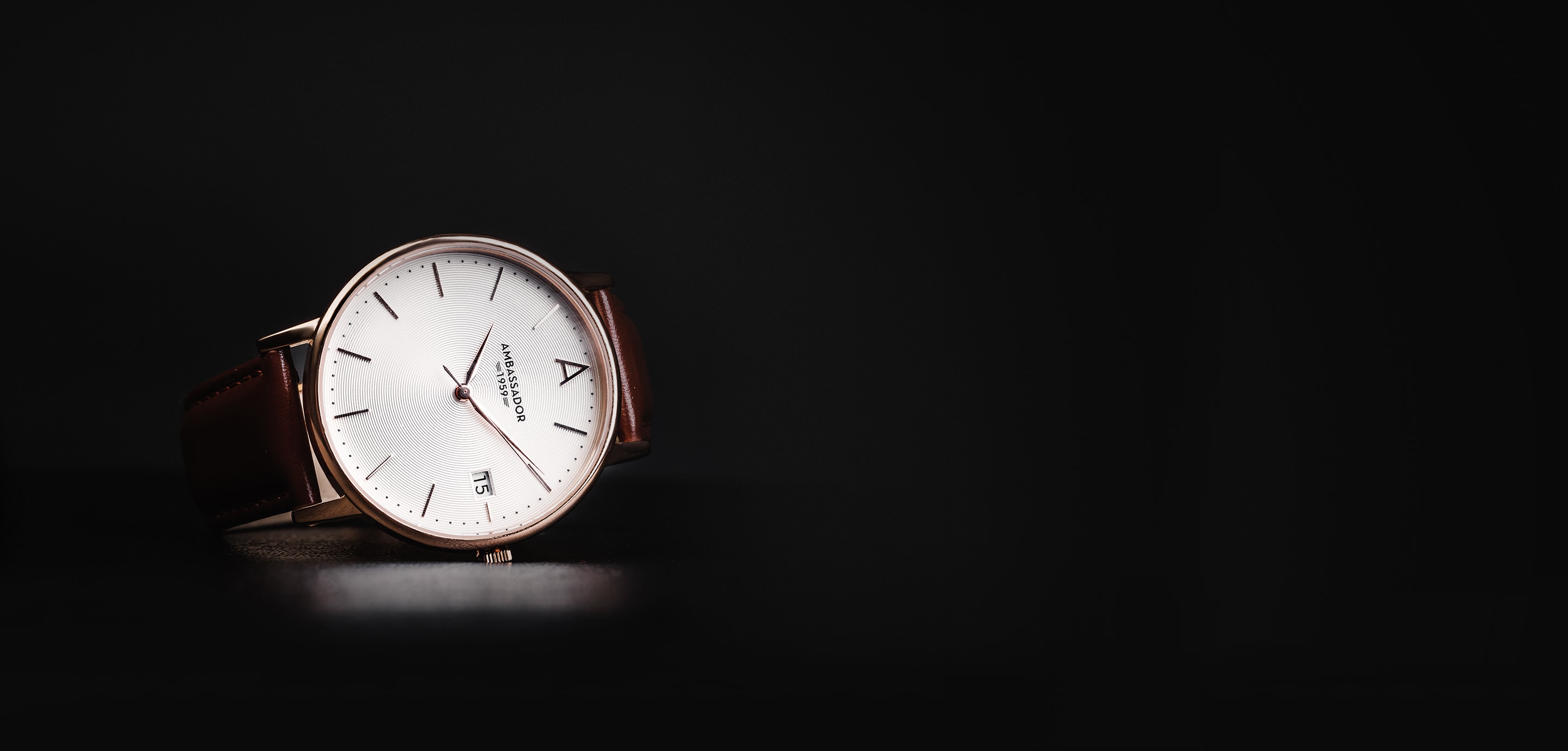 The Origin Of Heritage 1959
We have always been impressed by watches from the middle of the 20th century. The Heritage 1959 was designed to be a true tribute to the spirit of the "Golden Age" that takes after its tones of expansionism and financial prosperity. To make this refined vintage look even more exceptional, we shortened the lugs on our design, included a sleek date-window on a gorgeous unique dial, and topped off the number markings with the trademark Ambassador 'A'.
Watch the video
"Heritage 1959 is pure perfection."
- Ambassador customer
The Ambassador Size Guide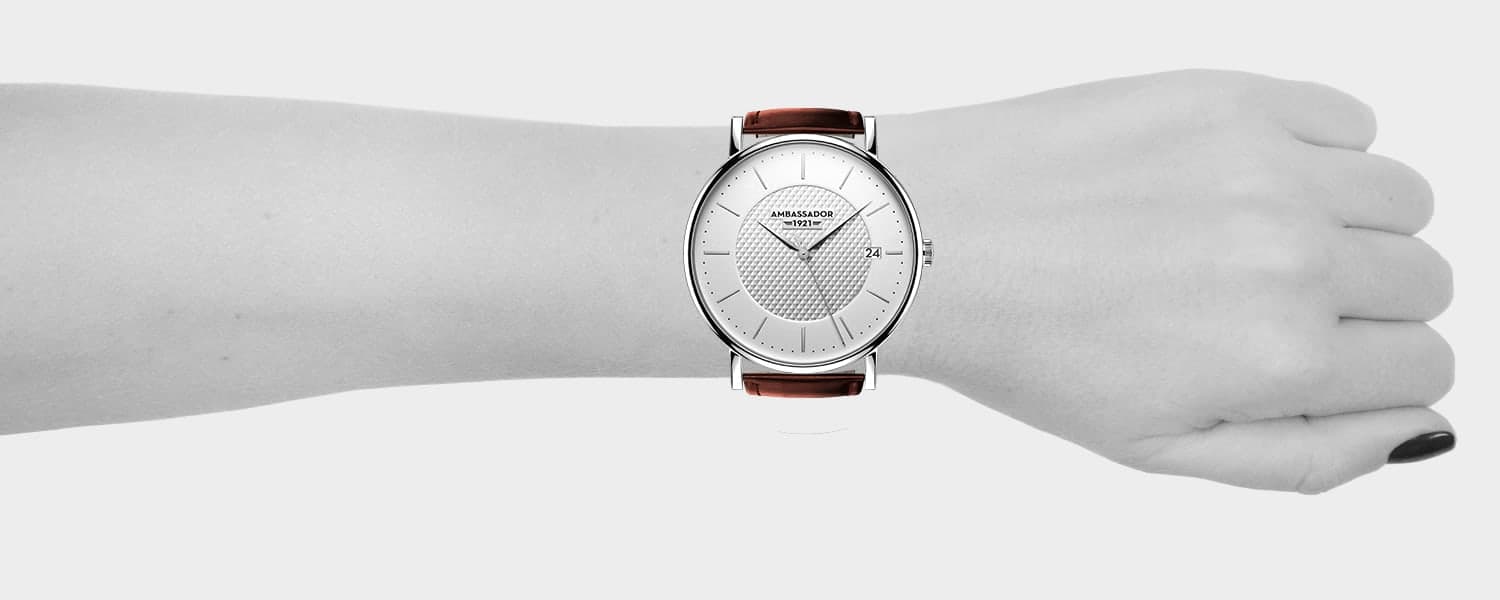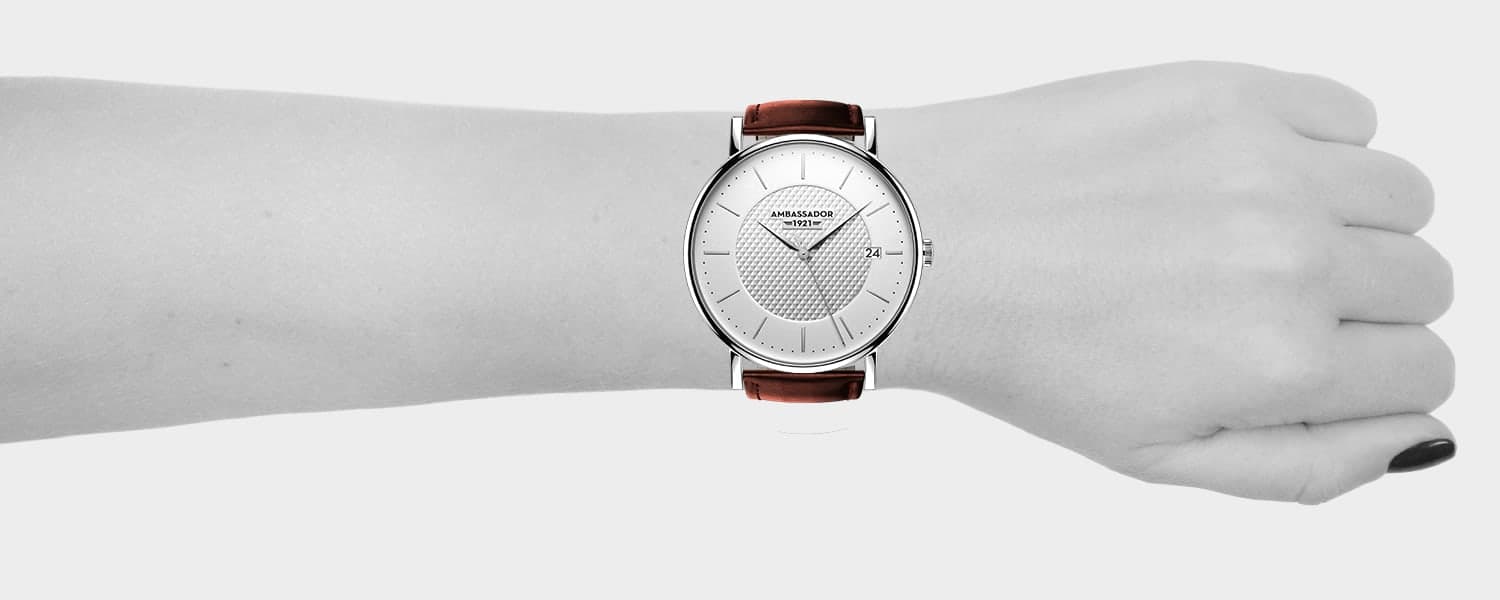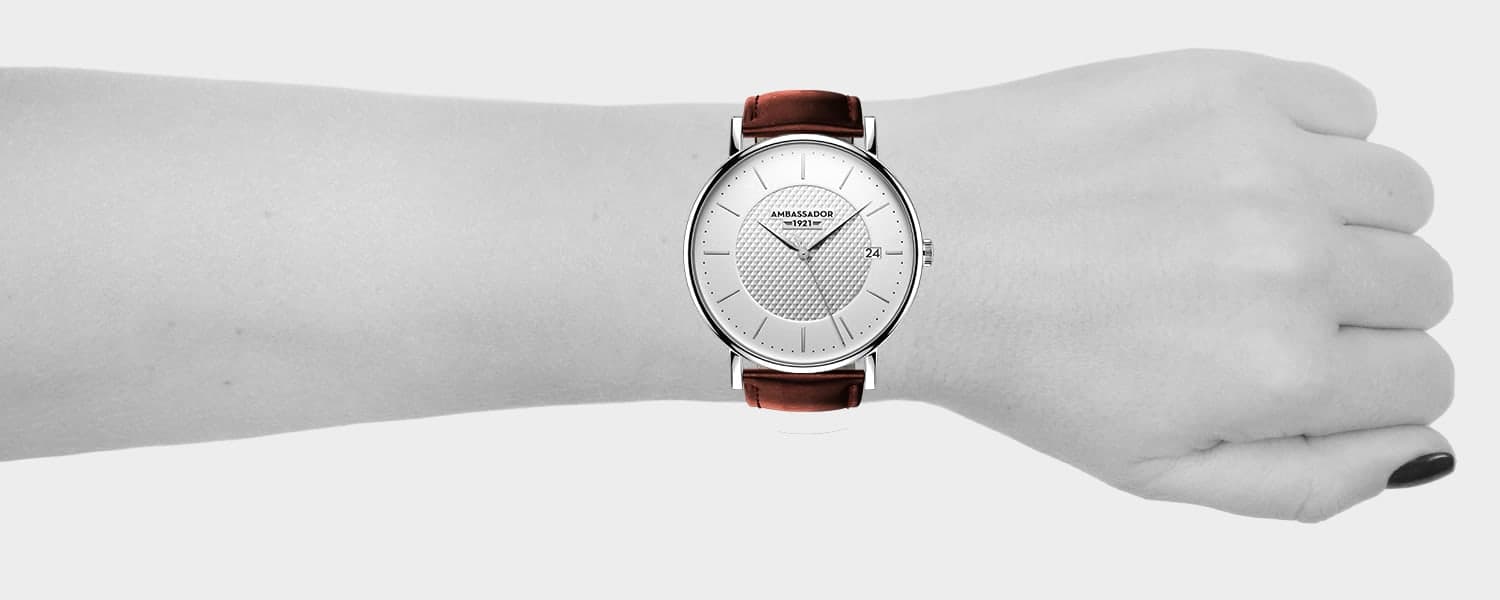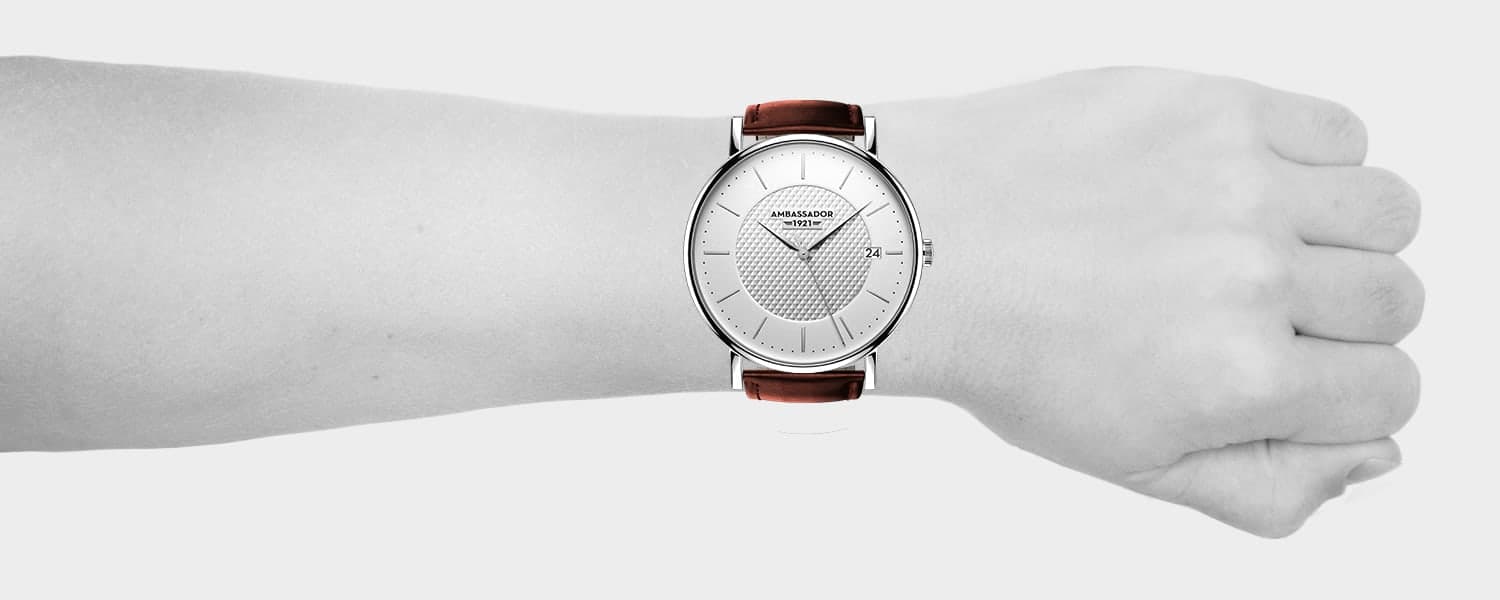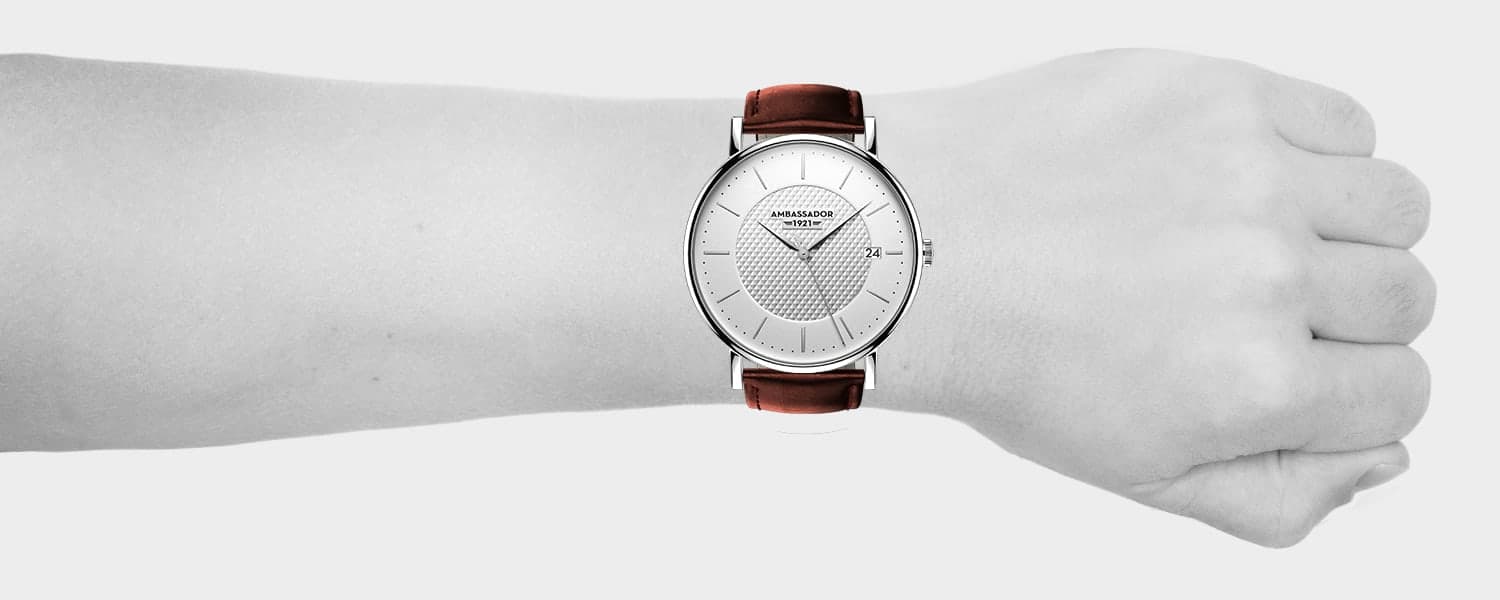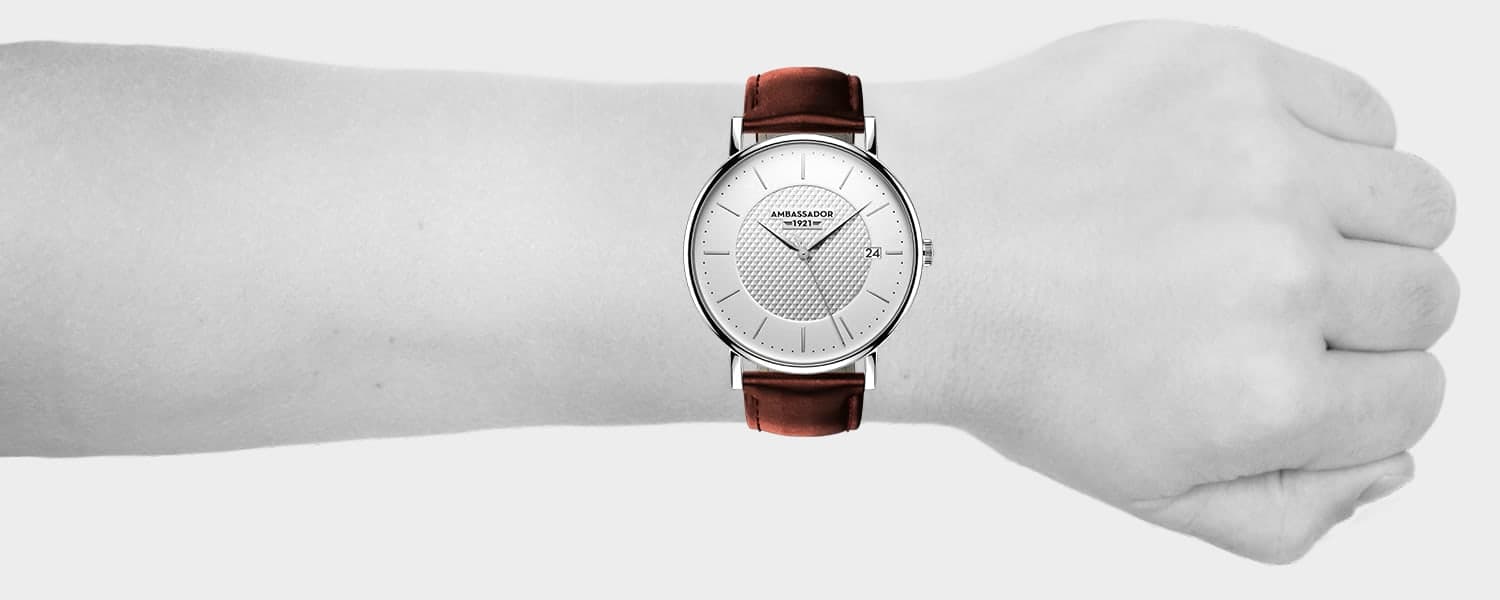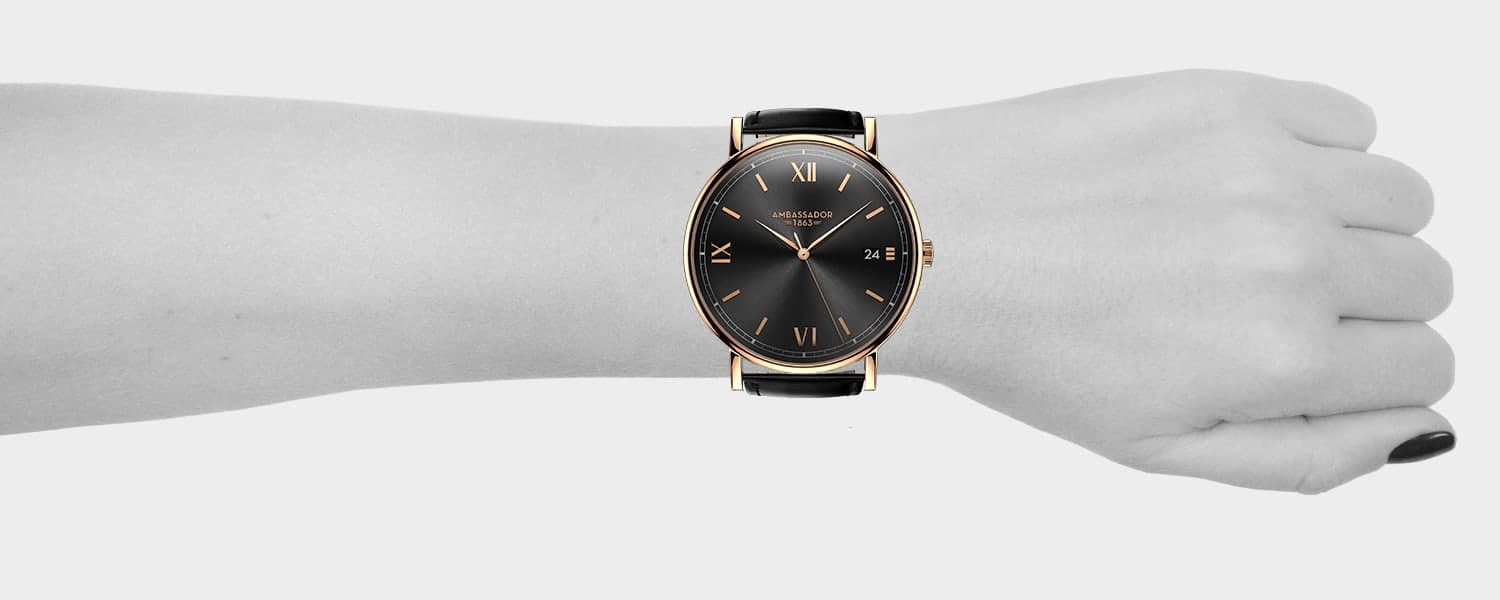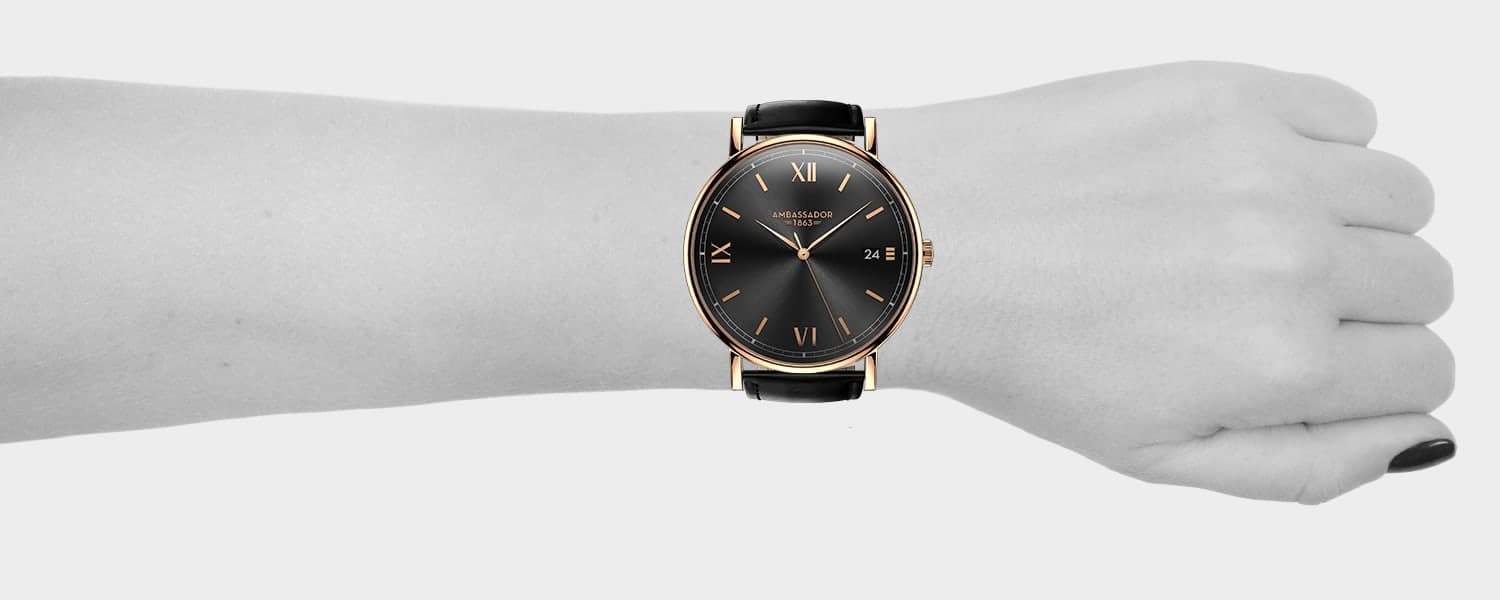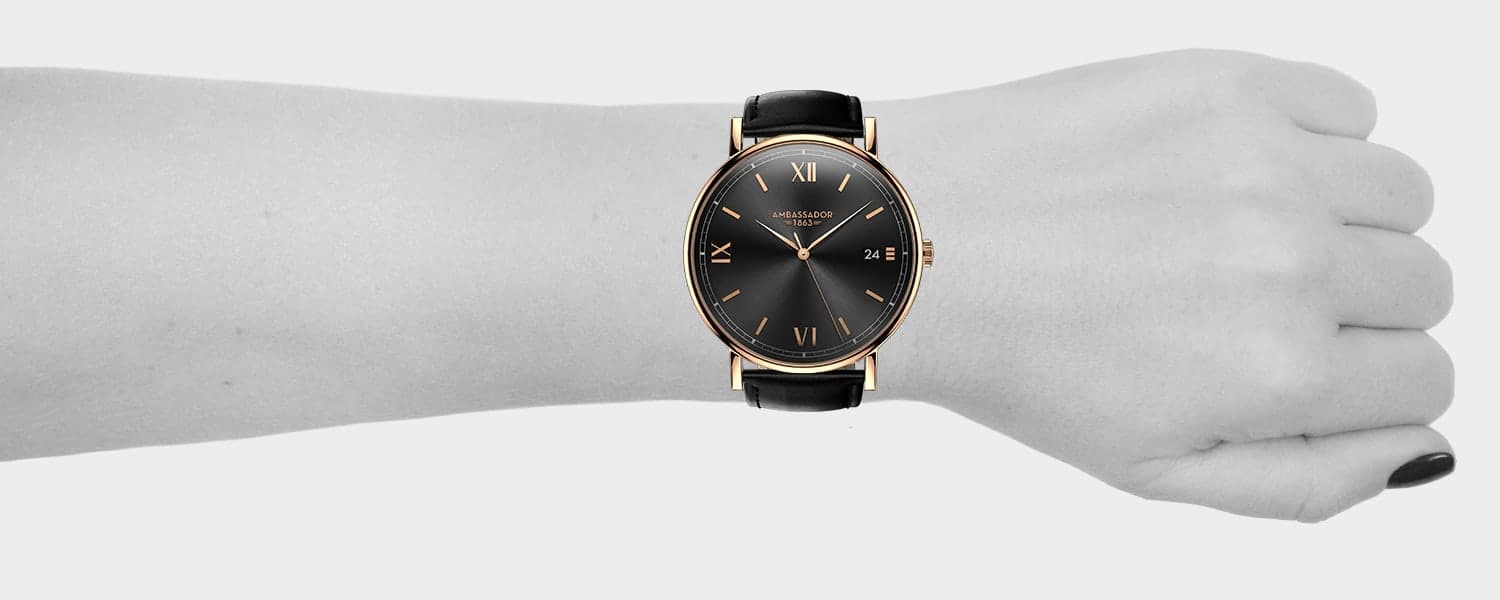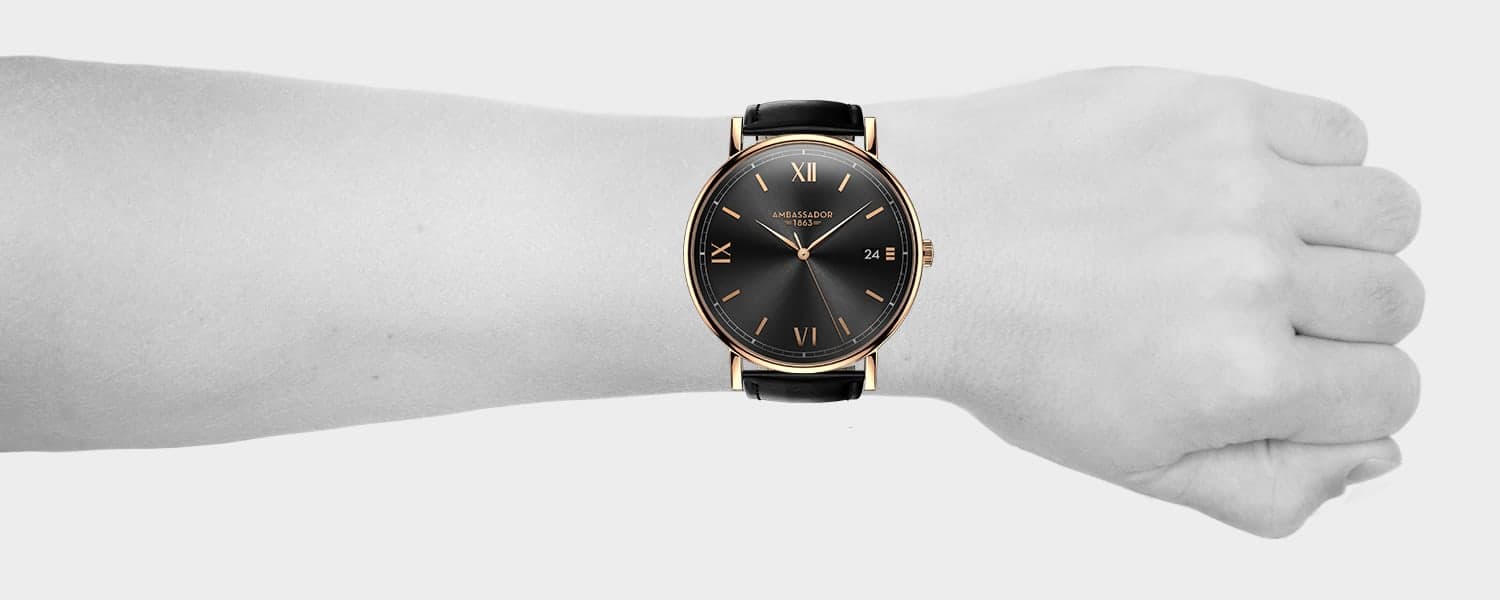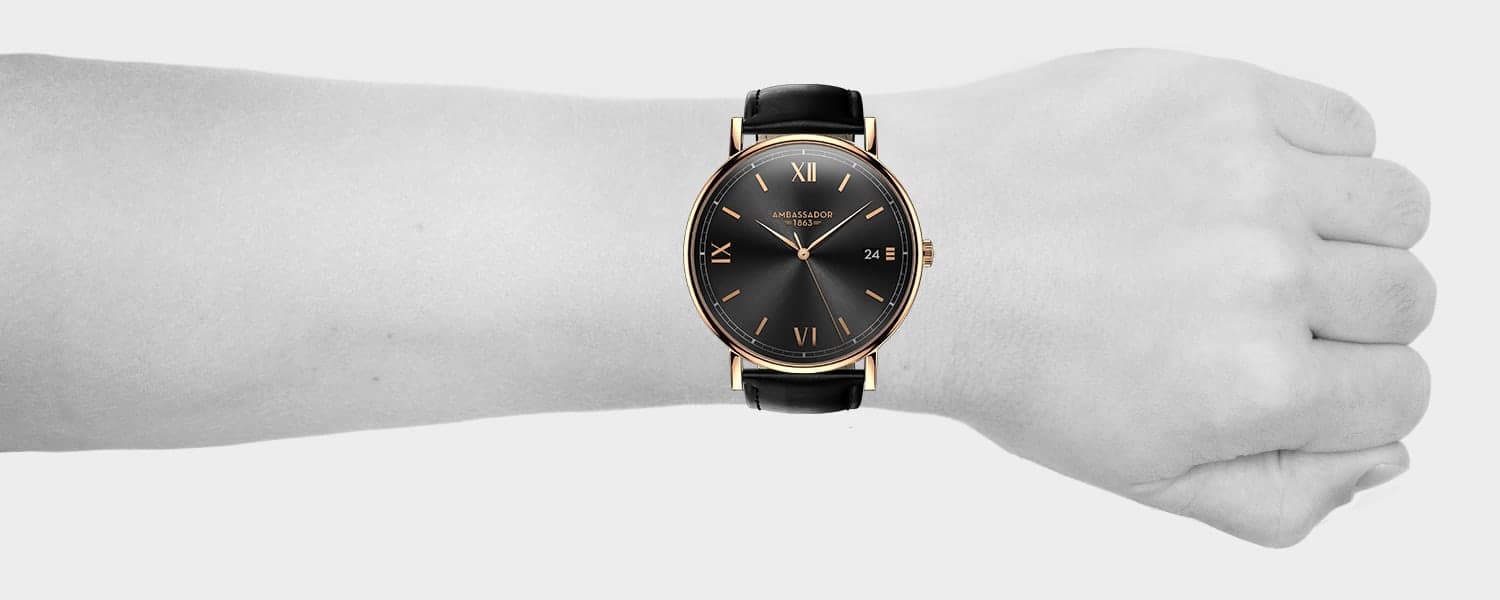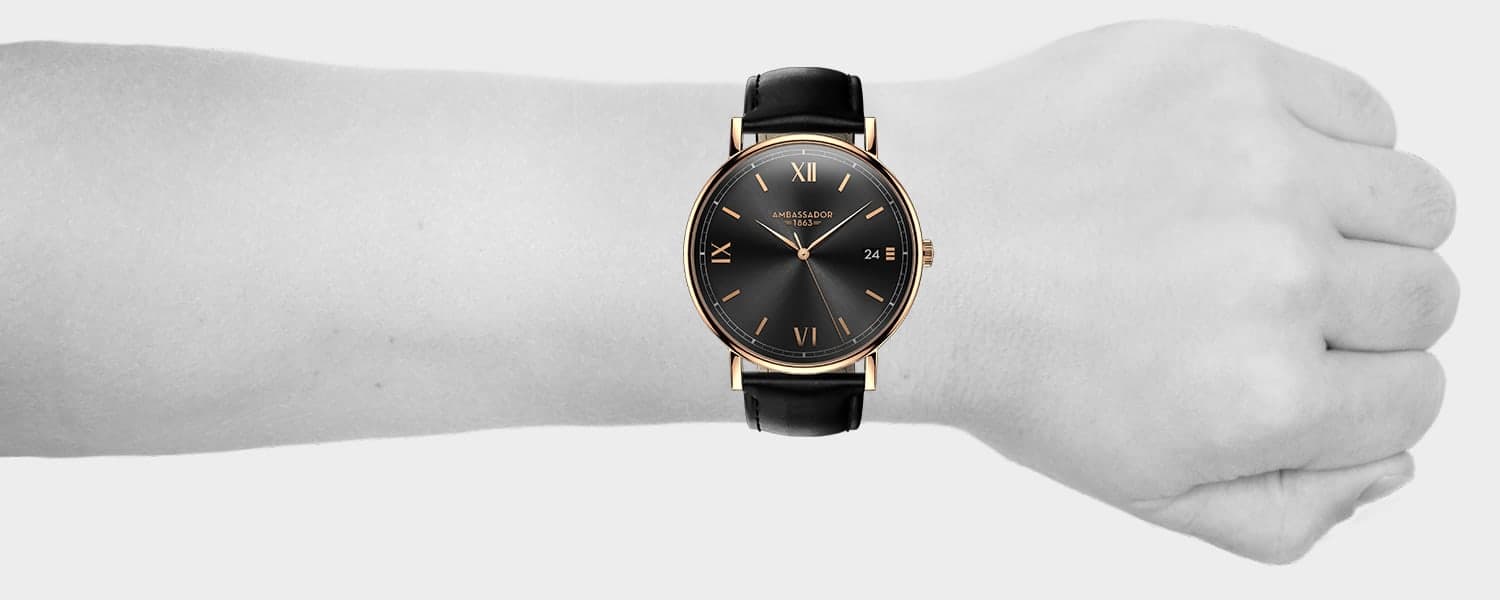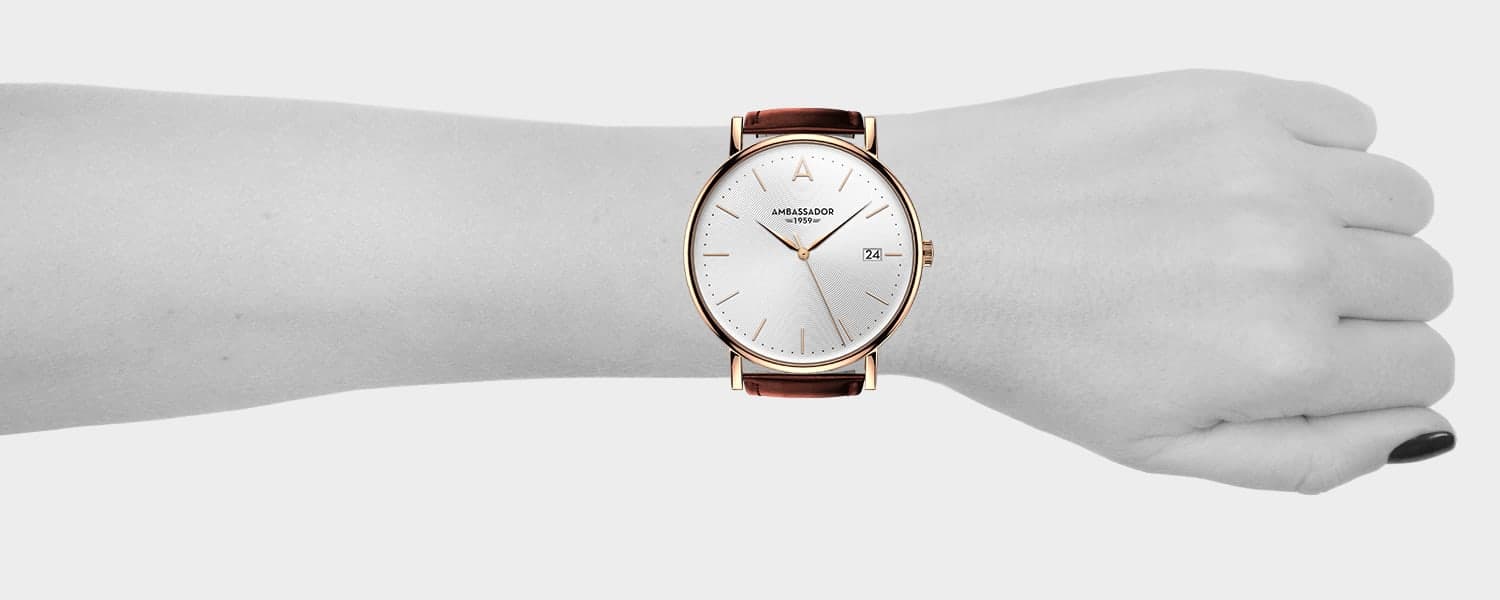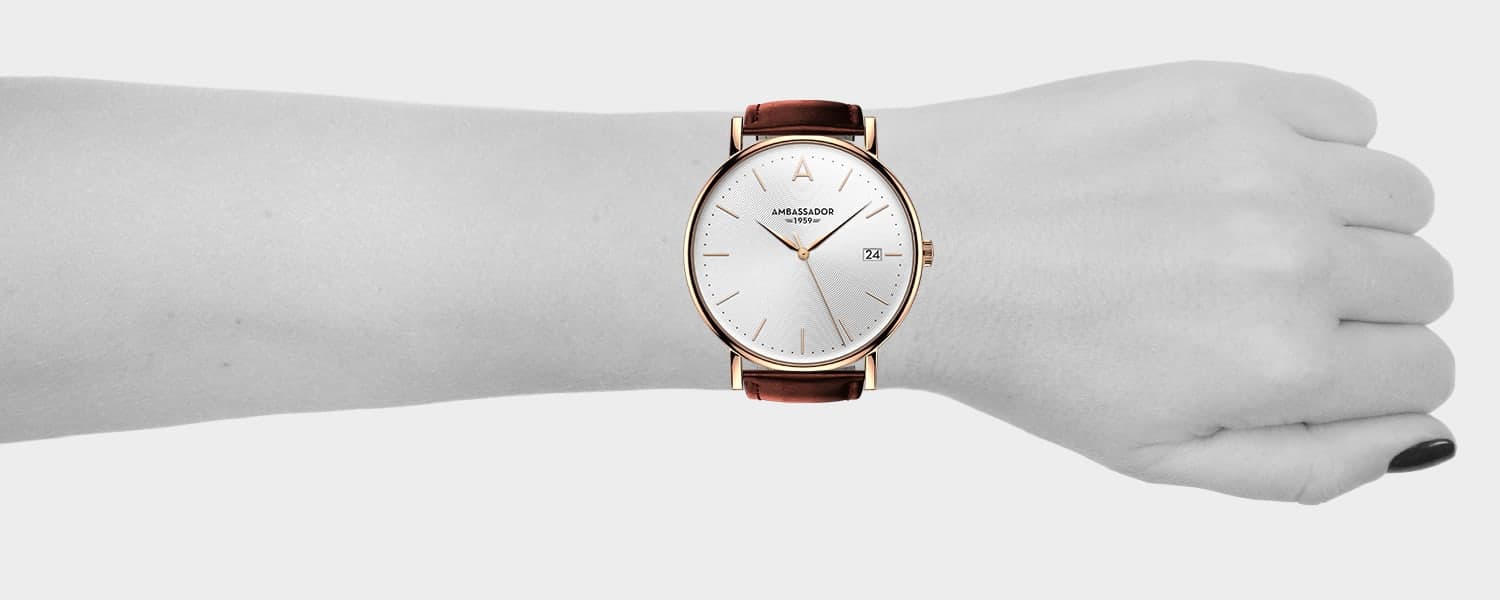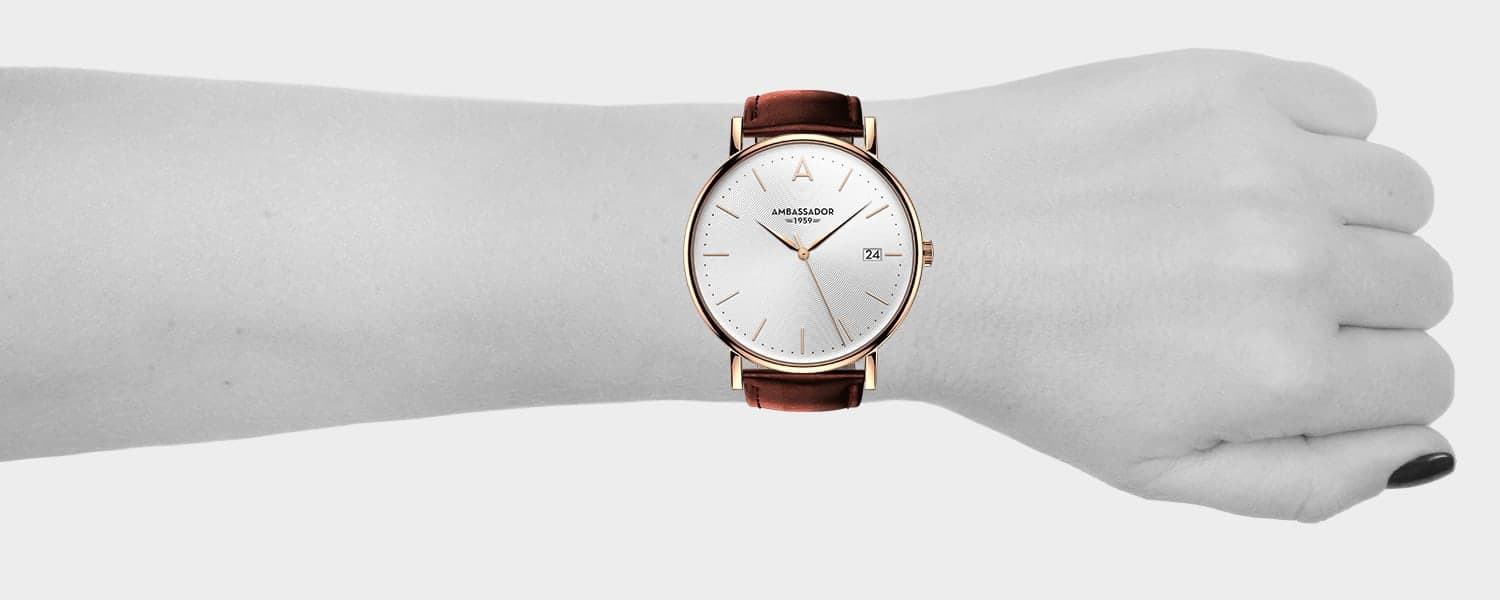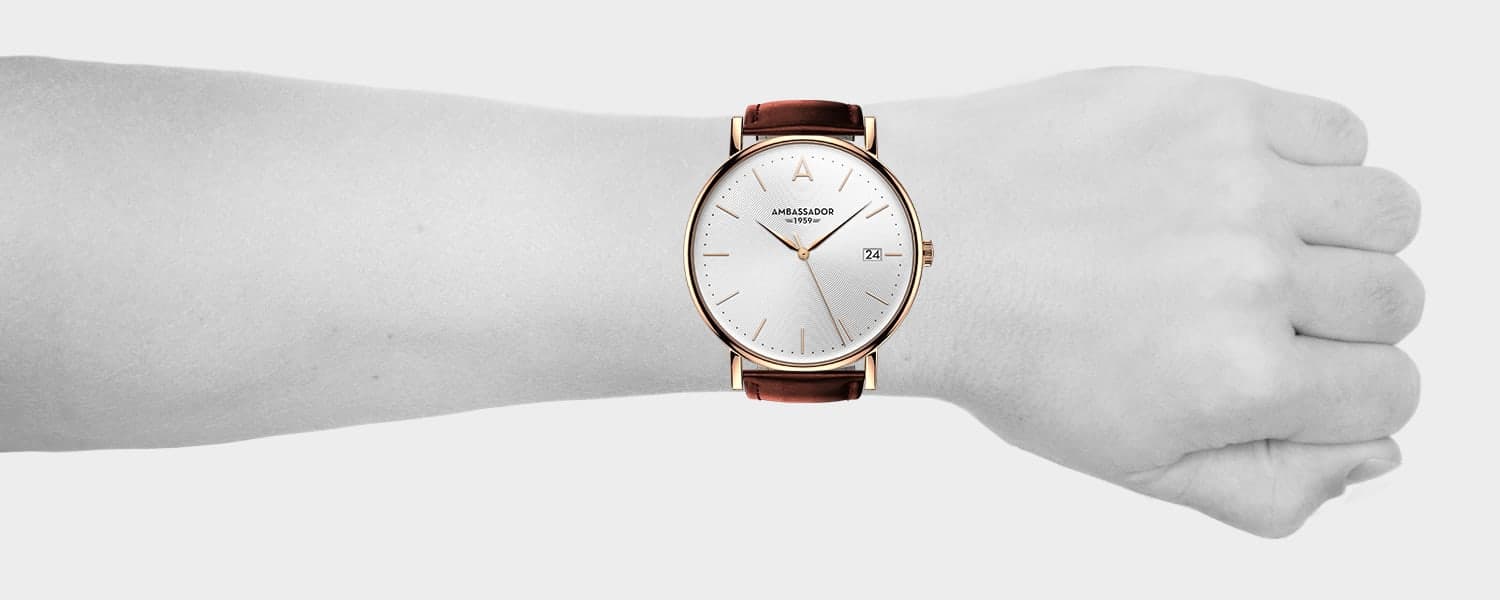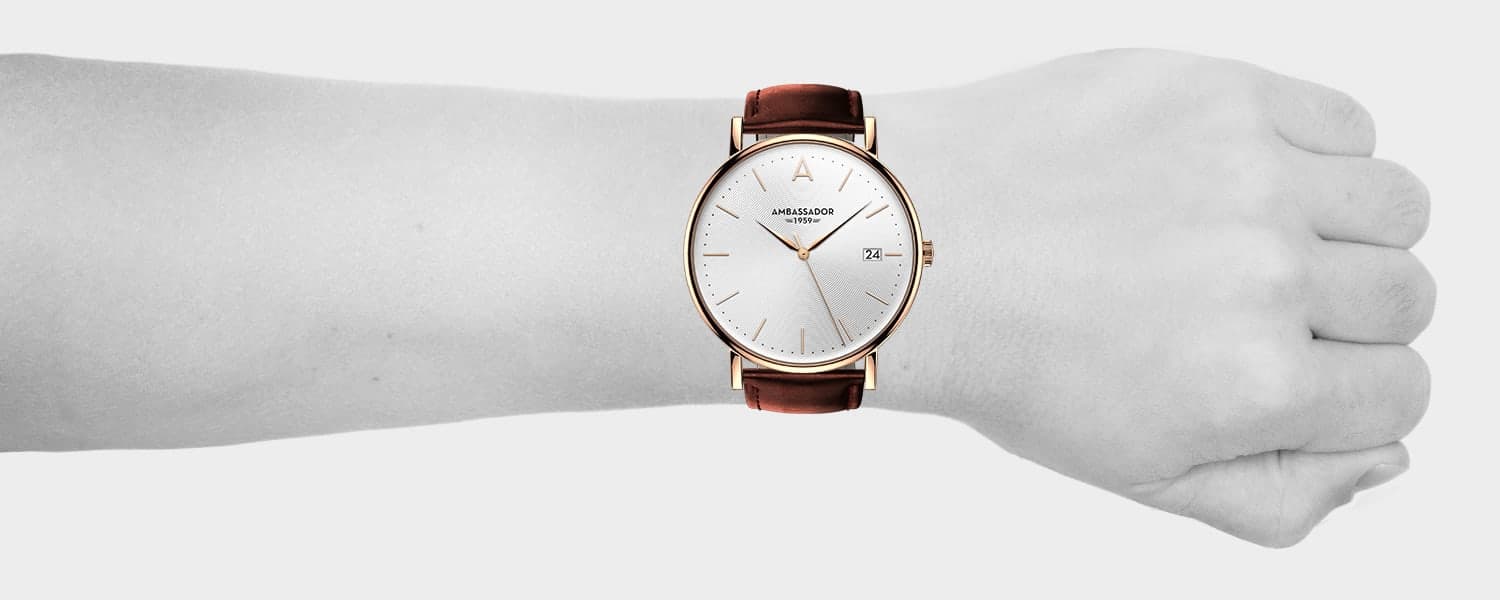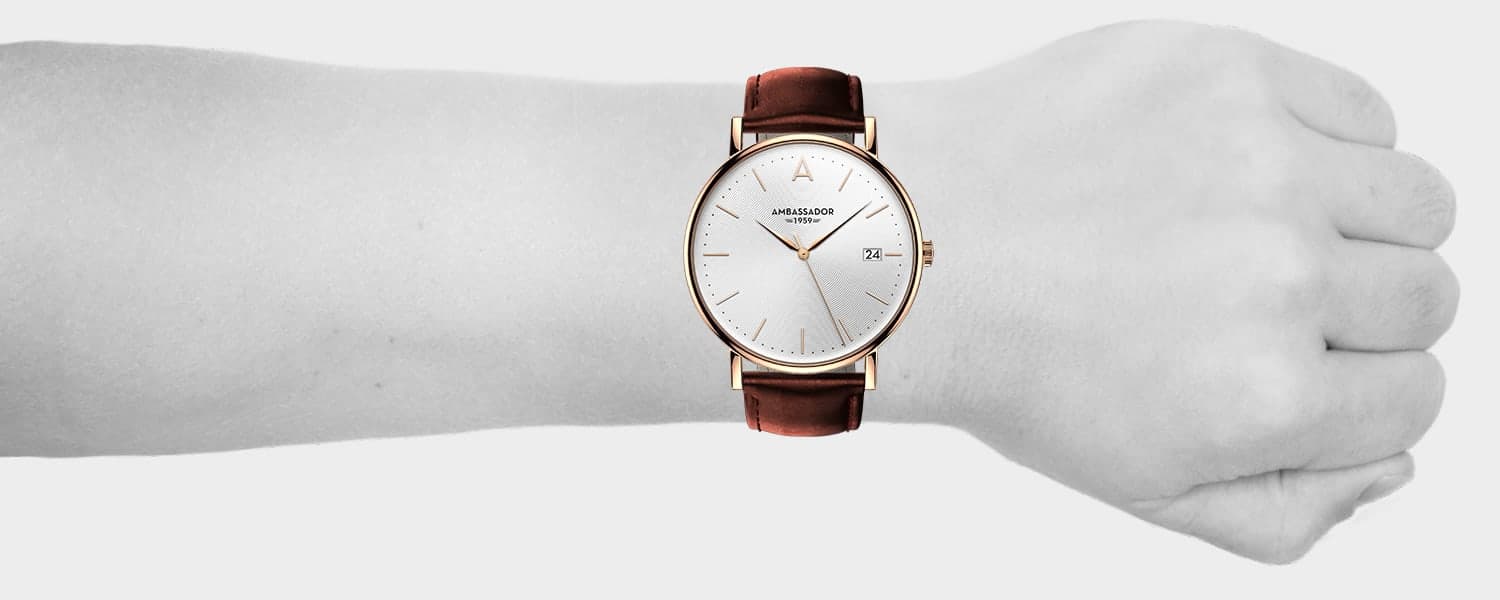 (4.0 - 5.5 inches | 10 - 14 cm)
(4.5 - 6.0 inches | 11 - 15 cm)
(5.0 - 6.5 inches | 12 - 16 cm)
(3.5 - 5.0 inches | 9 - 12 cm)
(4.0 - 5.5 inches | 10 - 14 cm)
(4.5 - 6.0 inches | 11 - 15 cm)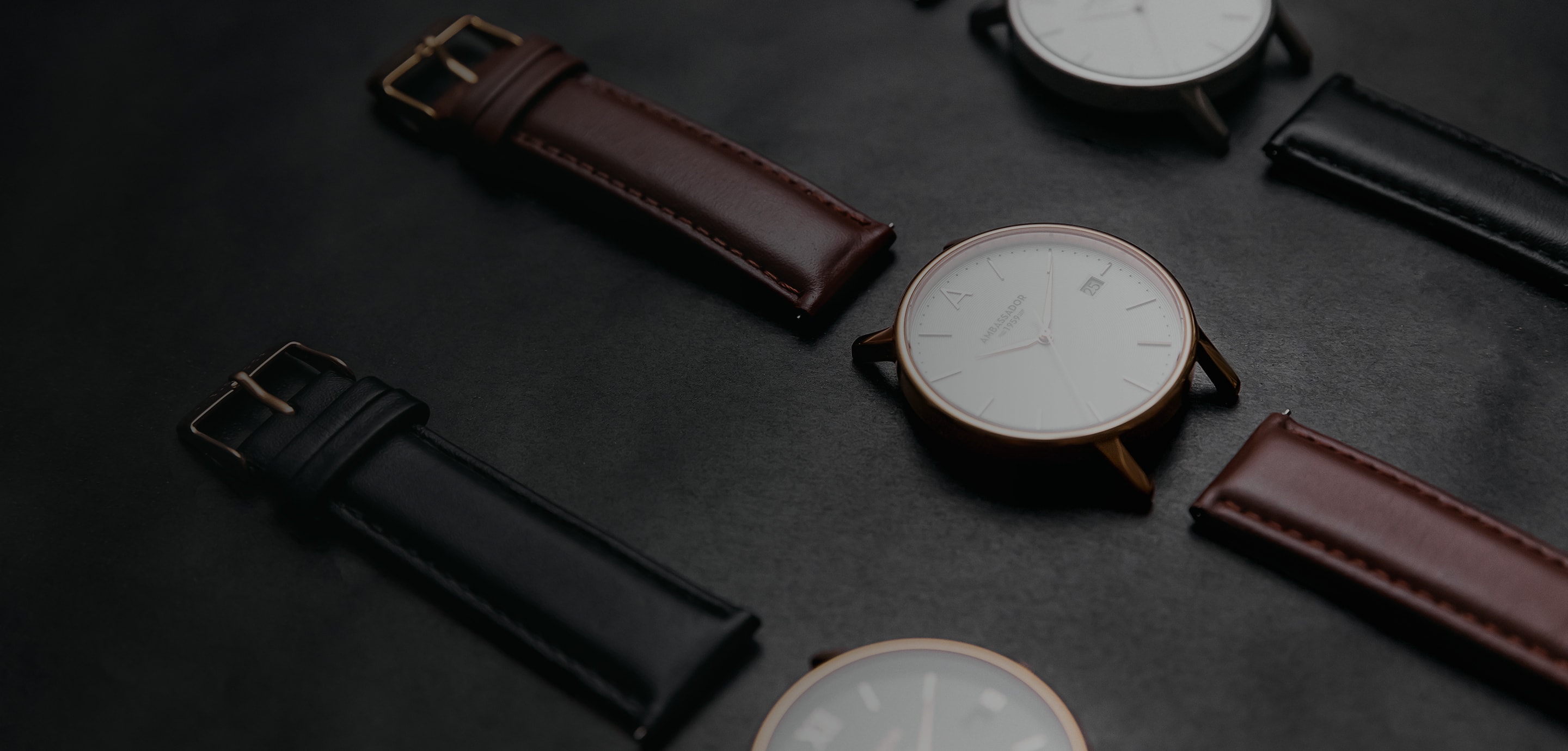 Interchangeable Strap System
With an Ambassador watch, your possibilities are infinite. That's why we have designed an easy-to-use interchangeable strap system, allowing you to truly personalize your timepiece, according to your style.
Watch the video
"It's easy and only takes a few seconds"
- Ambassador customer
Japanese Quartz Movement
The Japanese Quartz Movement is a pioneer in the world of watches because of the preciseness this mechanism uses to keep time. This type of movement depends on a crystal oscillator to generate a motion with an almost exact frequency, meaning a Japanese Quartz Movement will always keep time better than a mechanical watch.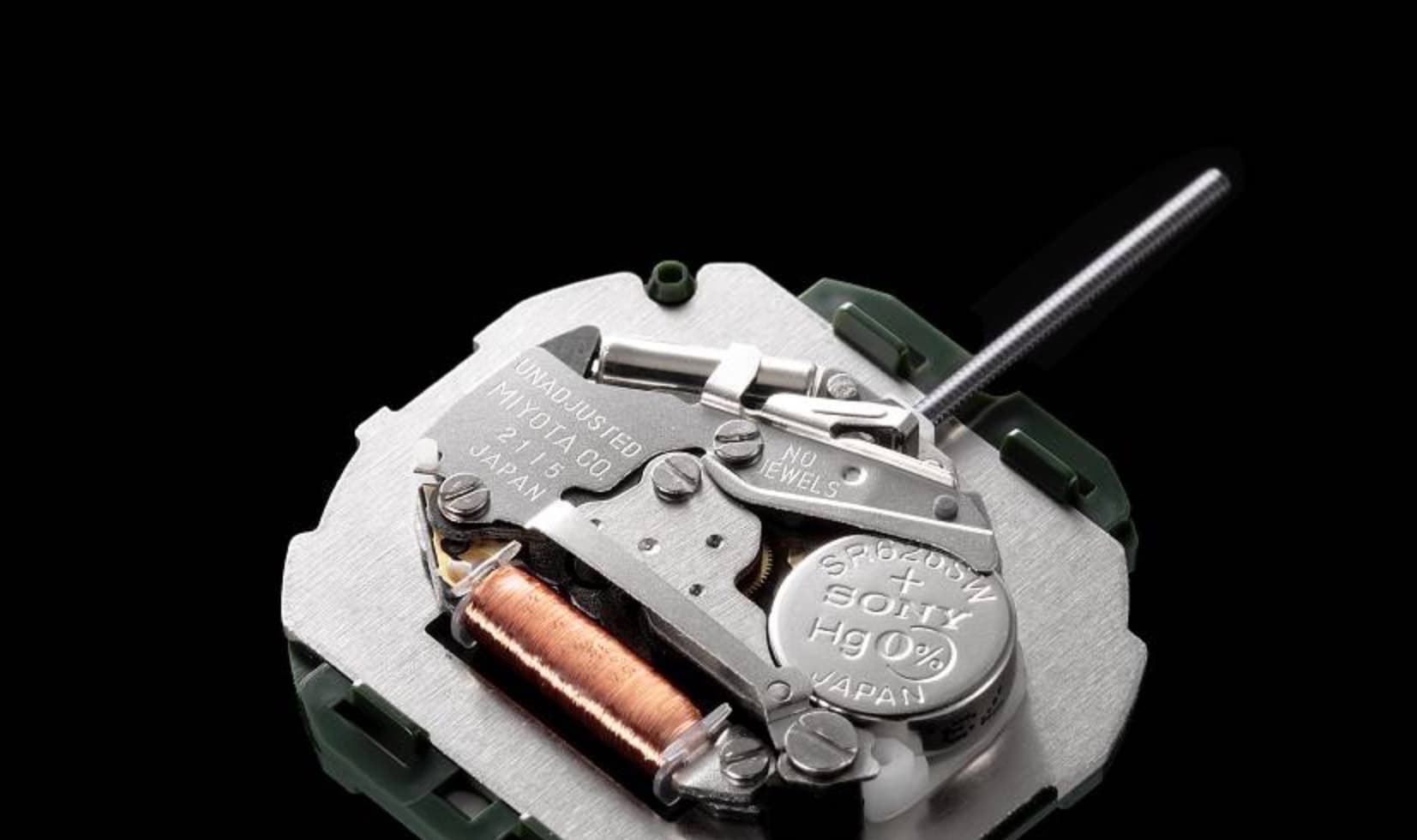 Luxurious Watch Box
It's just as important to store your watch in style as it is to wear it. Recognizing this, we've designed our custom high-quality leather watchbox, made to keep your watch in top shape for many years to come. The box is engraved with the model name of your watch and comes with a neat broschure that explains every feature of your new timepiece.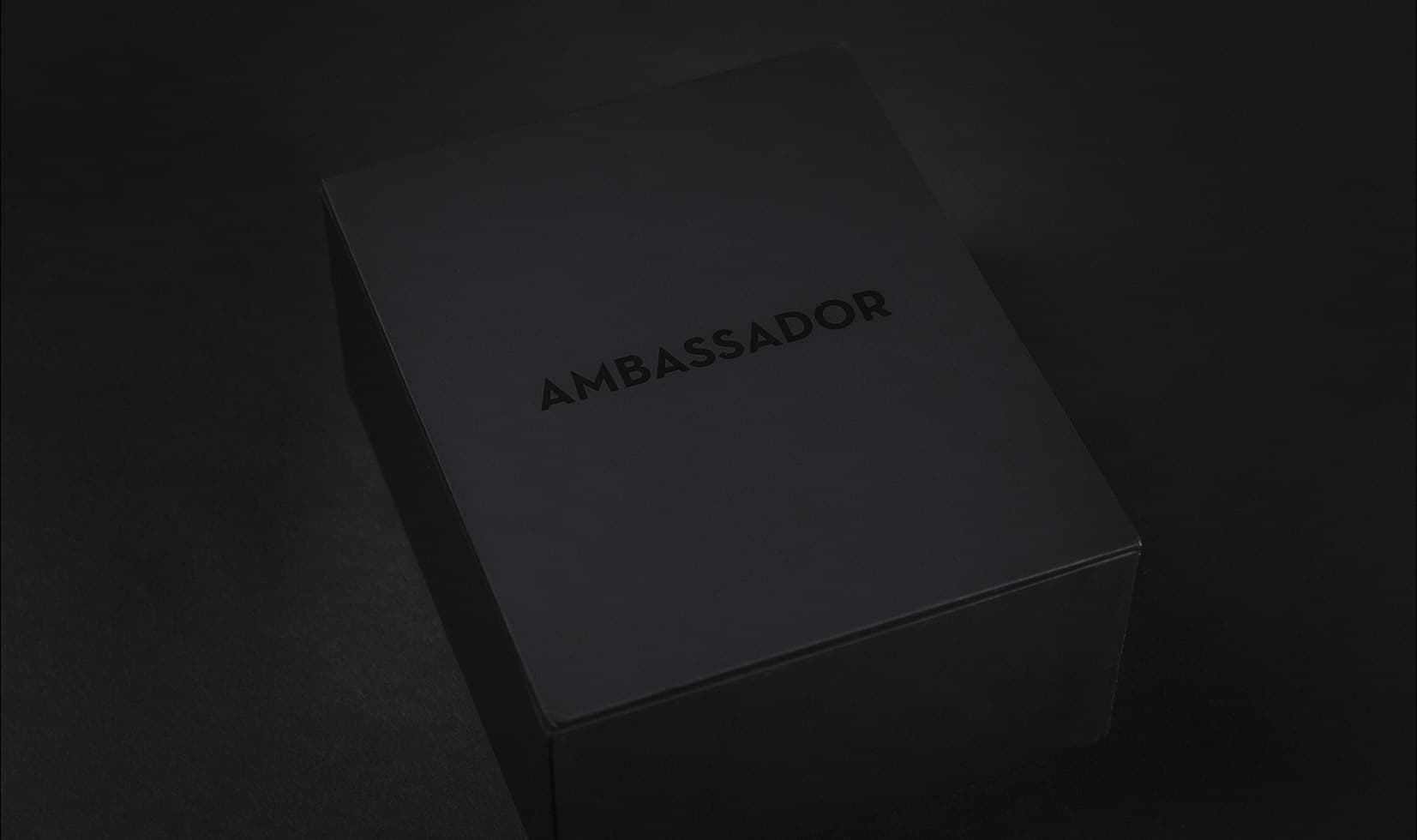 What's Included In The Box?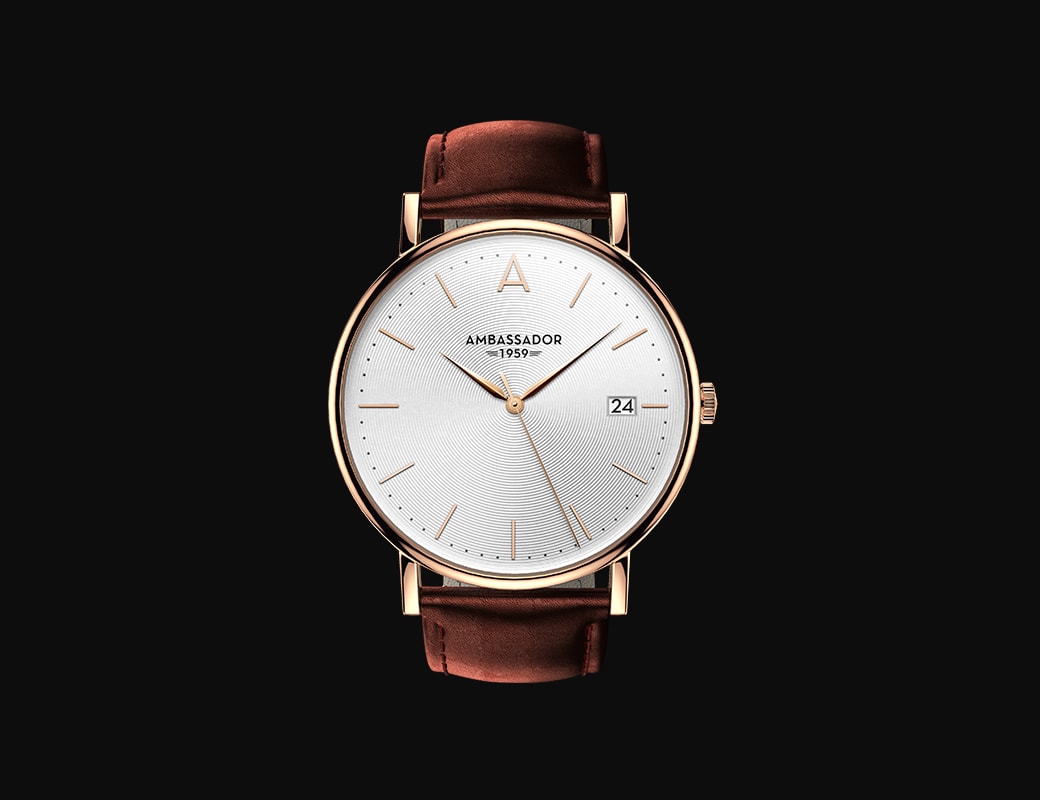 Ambassador Heritage 1959 Watch
The ultimate classical business watch with our signature brown leather strap.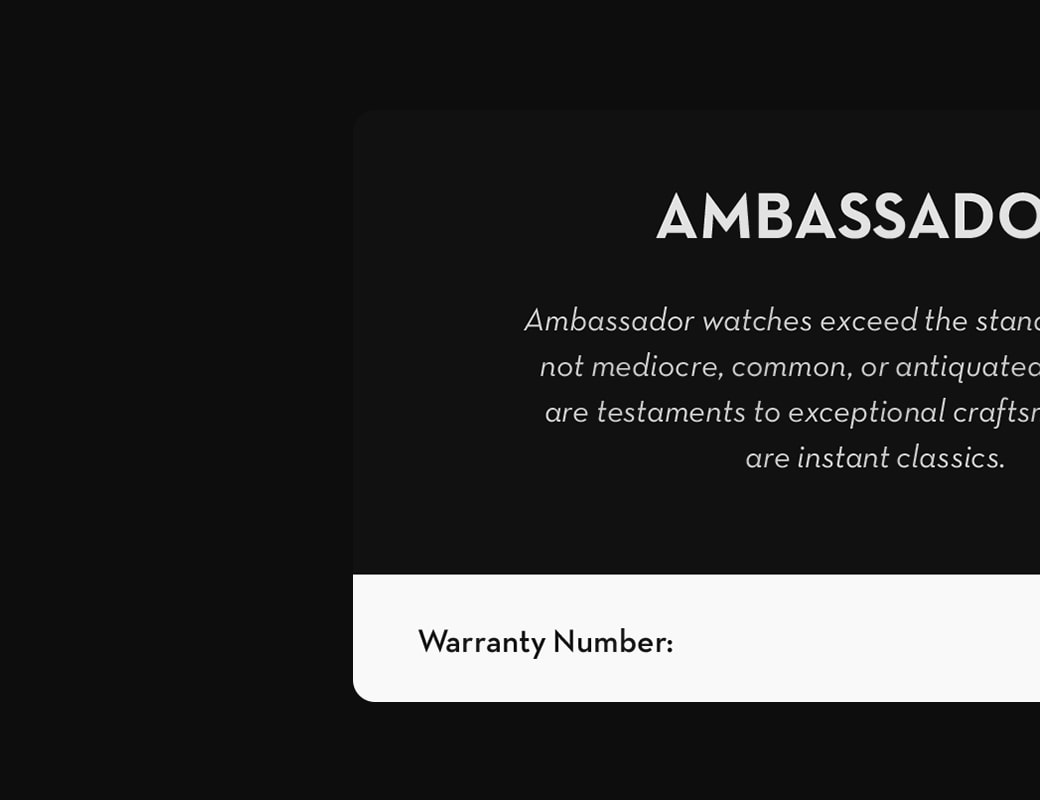 10-Year Warranty ID Card
This card is a physical certificate of authenticity for your timepiece.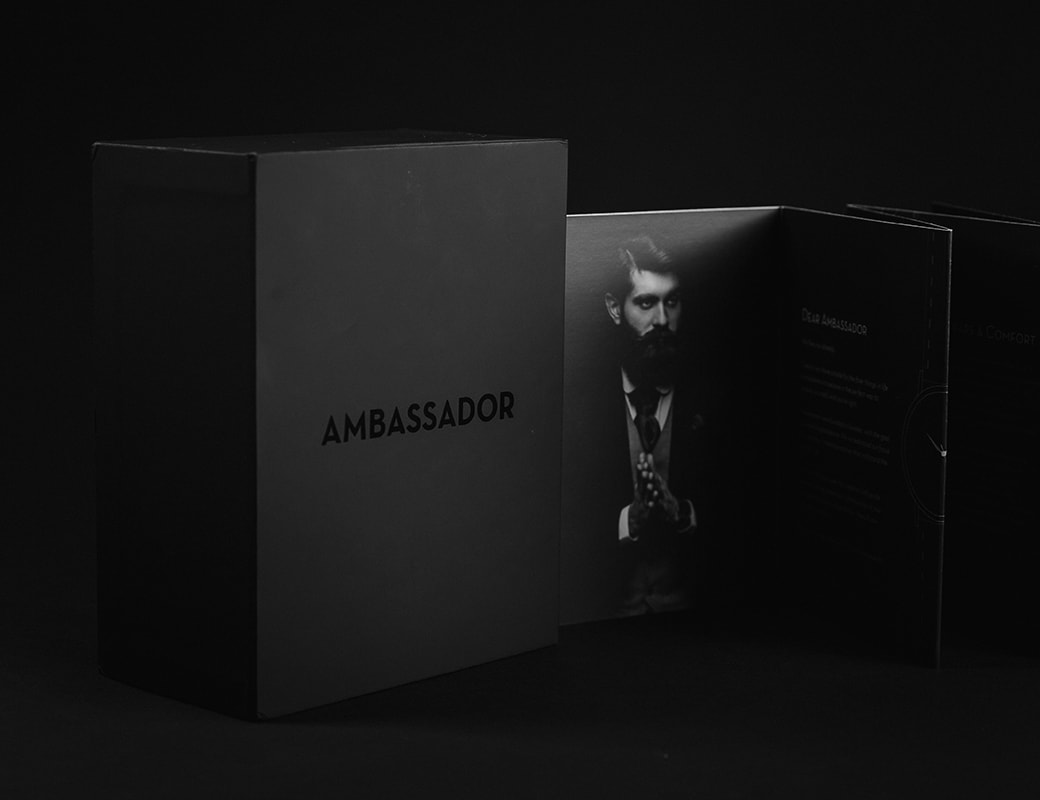 Luxurious Box & Brochure
Store your watch in style, and get to know your time piece inside and out.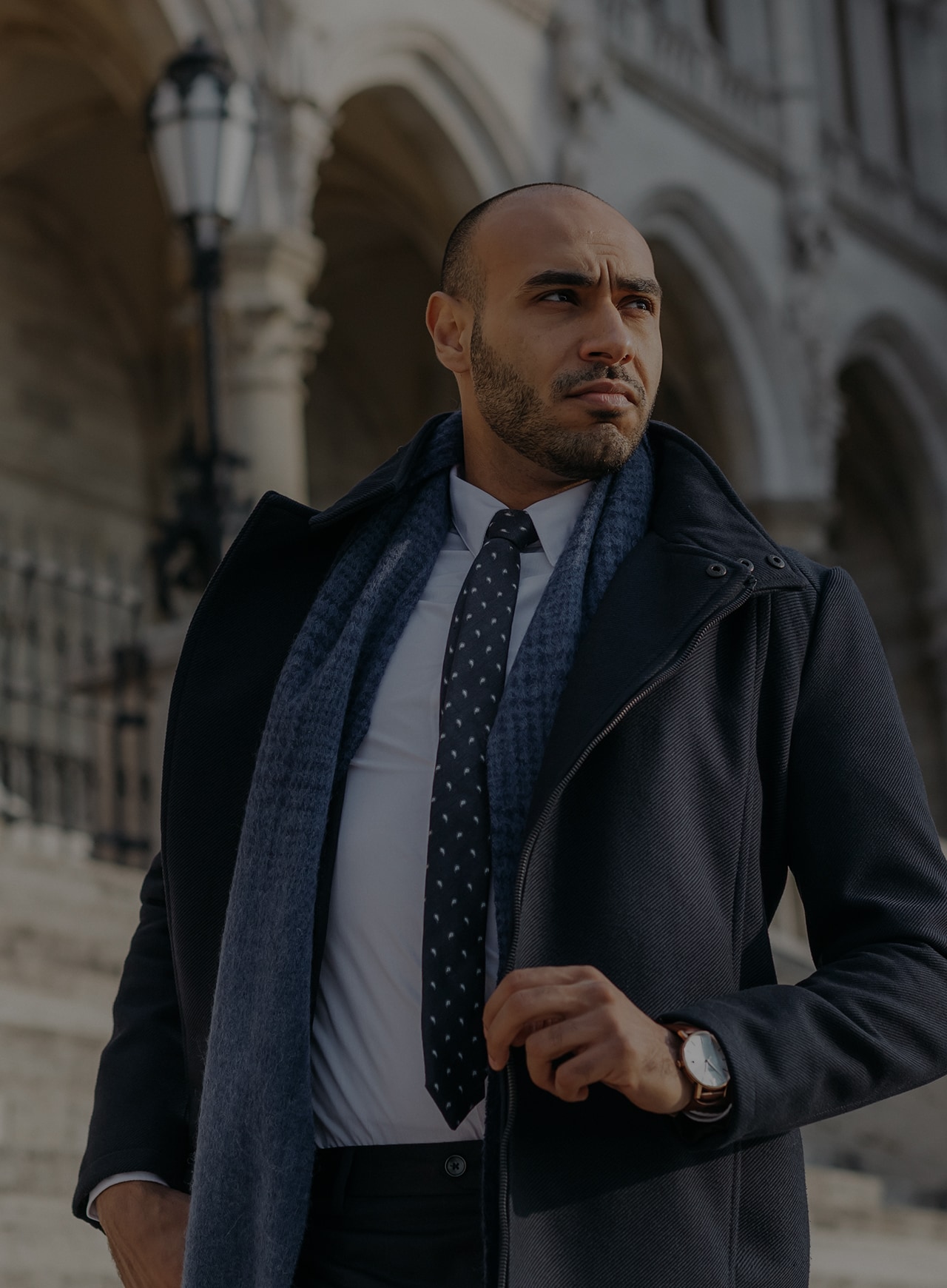 Worn By: Islam, United Kingdom
I believe that a good watch should have a design that reflects my personality and tells the story behind the watch itself. If I could only use three words to describe Ambassador watches - I love them! My Heritage 1959 is definitely the watch you'll find me wearing every day.
Read Interview
"One must work with time, rather than being stuck in a race against it - understanding it's value and learning how to manage it."
Shipping & Delivery Information

Delivery time between 1 and 3 business days

Your watch will be shipped from one of 4 distribution centers (United States, United Kingdom, Australia, and Sweden) depending on your location, to ensure fast and convenient delivery. The delivery time ranges between 1 and 3 business days. All of our shipments are insured and fully trackable via your order number.

Learn more about our shipping process

Returns & Exchanges Information

Free 60-day return/exchange policy

We offer a 60-day returns and exchanges policy, starting from the date you purchase your Ambassador watch. If you don't love your watch or decide that you'd like another style - you can send it back to us. No hard feelings and no questions asked.

Learn more about our returns & exchanges policy

Warranty & Authenticity Information

10-Year Full-Coverage Warranty

Our watches are exceptional, that's why we offer a world-class 10-year warranty on any manufacturing defects. Every Ambassador watch comes with a physical card that contains your warranty number - a unique identifier that you can register and use to validate the authenticity of your timepiece.

Learn more about our customer care program
Explore
Discover Ambassador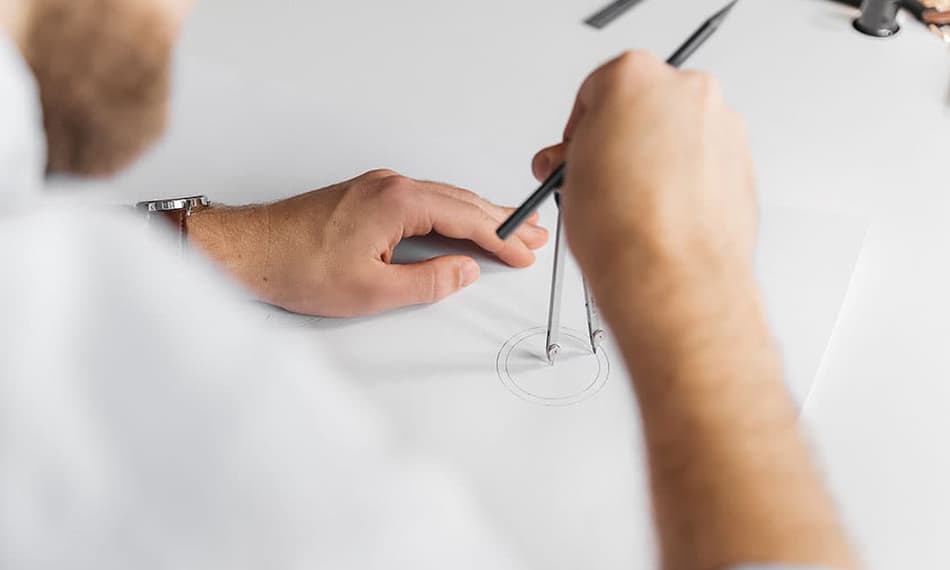 Designed in Sweden
Experience the excellence of true Swedish craftsmanship. Every watch we create is designed in-house, with meticulous precision and absolute perfection in mind.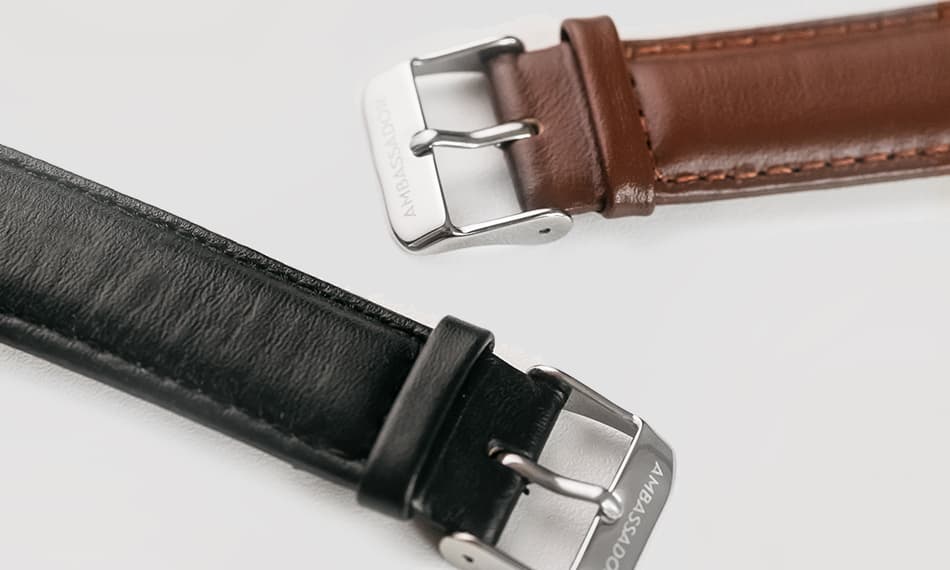 All Ambassador watches are built with extreme precision and attention to detail. We are committed to using the absolute best materials while still offering an affordable price.